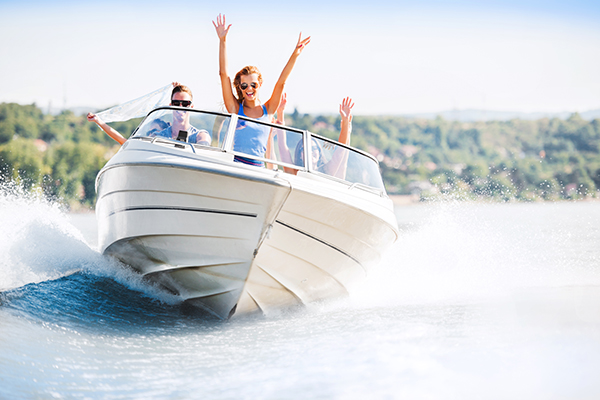 June 24, 2019 | Abby Caviness
With summer in full swing, families are out soaking up the sun and hitting the water to cool off. While soaking up Vitamin D and keeping cool is good for you, learning water safety will help you avoid dangers. USHEALTH Group® wants to make sure you are staying safe in all your summer activities. So, we have provided a list of the potential dangers of swimming and how you can avoid them.*
Drowning and "Dry" Drowning
According to the Centers for Disease Control and Prevention, drowning is the leading cause of injury death for children ages 1-14. Additionally, three children die every day as a result of drowning.1 Because of the prolificacy of the issue, parents should take all necessary precautions to prevent this fatal accident. However, if this incident does occur, parents should be CPR certified and prepared to perform CPR when needed. Still, there is danger lurking even after the kids have left the water.
Though "dry drowning" is a misnomer, it is a real risk. It refers to individuals who have breathed in the water while swimming. While those individuals may not drown at the moment, the water in their lungs can cause them to "drown" after leaving the water.2 This inhalation of water can cause excessive coughing, fatigue, and irritability. So, if your child or another individual is presenting these symptoms, seek immediate medical attention.2
You may be wondering how you can prevent these accidents and others from occurring. We provided a few tips and additional concerns you should be aware of when protecting yourself and your family.
Water Safety Hazards
               Water quality2
When you go for a dip in a lake or ocean, be sure you do not drink the water, get it up your nose, or have any exposed wounds. These waters are often riddled with bacteria and can be home to flesh and brain-eating bacteria, which can cause serious problems if you are not careful. Remember to also rinse off after swimming to avoid contamination. Similarly, be cautious with pools and hot tubs. The chemicals can be harmful to your skin and to those who have asthma.
               Water power2
Swimming in oceans, lakes or rivers can pose the risk of dangerous currents, undertows, or waves. These forces can pull and push swimmers underwater, disorienting them and putting them in danger of drowning. When weak swimmers like children are present, parents and supervisors need to be alert and careful to watch these individuals to ensure no fatal accidents occur.
               No supervision3
When you are at a pool party with several adults and several kids, it can be easy to get distracted and lose track of who is supposed to be watching the pool. This is why parents should rotate "pool-watching duty" throughout the party to ensure someone is paying attention to the kids at all times. If parents remain vigilant in this practice, the rate of accidents occurring could decrease drastically.
              Faulty floaties3
Floatation toys, such as inner tubes, rafts, noodles, and other similar items, can give parents a false sense of security that their child is safe from drowning when using these devices. Approved, effective floatation devices should include a collar for head support and a head strap between the legs for proper protection. However, even with this precaution in place, parents should always have eyes on their children. In addition, signing your child up for swim lessons is crucial so kids can learn how to swim when those devices fail.
              Kiddie pools3
While these little blow-up pools are fun for the kids, they are also fun for bacteria to grow in. The warm water and typically untreated tap water make kiddie pools the perfect breeding ground for water-borne infection and can harm your child if you are not careful. Emptying the pool after each use and storing it upside down to prevent collecting rainwater will ensure your pool stays clean and safe. In addition, children can drown in as little as two inches of water, so parents should be wary even in the shallow water.
               No barriers3
Another danger of swimming pools is how easy they are to access. If your backyard swimming pool does not have a barrier separating it from the rest of the yard, you may want to get one. In addition, if you have an above-ground pool, make sure you move the attached ladder away from the pool when not in use to keep children from climbing into the pool when you are not looking. This way, you decrease the chances of an accident occurring.
Takeaway
Swimming is a great and fun way to keep cool in the summer heat. However, if parents are not careful, serious accidents may occur. So, educating yourself on water safety and taking the necessary precautions is important to ensure all pool parties and lake days continue to be just fun days in the sun!
For additional tips and reminders, the American Red Cross provides information on home pool and hot tub safety, so you can educate yourself on more ways to reduce the risks.4
*This material is provided by USHEALTH Group for informational/educational purposes only and should not replace medical/clinical advice or direction from your health care provider.