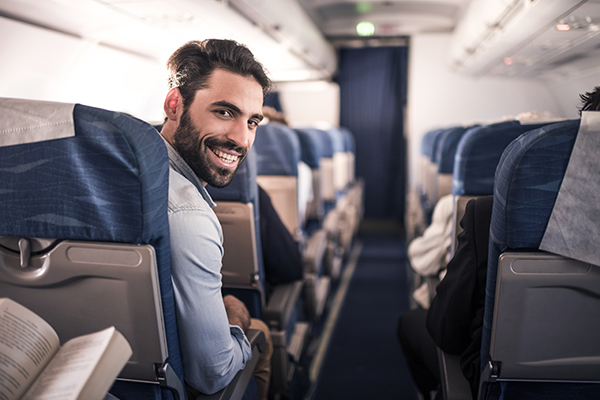 Everyone is afraid of something, and fear tends to get in the way of people doing things they enjoy and things that could make them more successful. For example, if someone is afraid of spiders, they may be hesitant to go hiking or camping, and if they fear failure, they may steer clear of taking risks. Some individuals have a fear of flying (aviophobia), which can keep them from experiencing parts of the world inaccessible by car. However, fears can be conquered by taking a few steps to ease your nerves. To help, USHEALTH Group® is providing a few tips to ease flight anxieties and overcome aviophobia so you can broaden your horizons!
Flying Facts
A fear of flying—aviophobia—is pretty common and also very
manageable.1  According to a
2014 YouGov survey,
one third of Americans admitted to being anxious about flying, while 16 percent
said they are too afraid to fly. However, there are some key points people
should be aware of to help them feel better about this mode of transportation.1
Flying is one of the safest ways to travel
Fear of flying can sometimes be due to other
related phobias, like fear of heights
Treatment options include cognitive behavior
therapy (CBT)
There are ways to plan a trip to minimize the
impact of aviophobia
According to the International Civil Aviation Organization's
latest safety report, there were only 92 commercial airlines accidents out of
33 million estimated flights worldwide in 2015.2 However, only six
of those accidents were fatal. Compare this number to the 32,166 fatal car
accidents in the U.S. alone reported to the National Highway Traffic Safety Administration
in 20153—you can see the significant difference in safety.
However, while the numbers are promising, some individuals are still not convinced. So, keep reading to find out some ways you can begin boarding planes with confidence!
Adiós Aviophobia
Tips for overcoming your fear of flying can be sectioned off
into three categories: Before you fly, at the airport, and on the plane. There
are steps you can take before you leave the ground that can help ease your
anxieties, as well as things you can do while you are airborne. Implementing
some of these tips can help you stay calm and keep you anxiety at bay on your
next great adventure!
Before you fly
If your anxiety stems from not knowing what is going to
happen before, during, and after your flight, doing some research before your
trip can make all the difference. This research can include what the airport
looks like, what the inside of your plane looks like, and some basic tips for
getting through security without a hitch. In addition, here are some more steps
you can take:4
Familiarize yourself with your plane and your airport
Pack all the things you might need on your flight in a carry-on back
Choose an aisle seat, especially if you are claustrophobic
Avoid airplane disaster movies, negative news coverage, and other scary media
Think positive
Making sure you do your research before the flight can help
to ensure you are not surprised by anything on your trip, which could trigger
anxiety. So, once you feel you are completely prepared for your trip, what else
can you do to ease your fears once you reach the airport?
At the airport
Airports can sometimes be very overwhelming, especially international airports in major cities. However, if you have done your proper research before you even reach the airport, you should be able to get through security and find your gate with ease. So, here are some additional ways to remain calm while you navigate your way to the gate:4
Get there early and take your time
Wait for your flight in an airport lounge
Distract yourself with reading or music
Grab a snack and drink some water
Waiting to board your flight can be the moment all your anxiety can begin to rush to the forefront of your mind. Remembering these tips to keep you calm can ensure you are at ease when it is time to board the plane. Then, when you finally board the plane, find your seat, and stow away your belongings, you will be ready and relaxed for take-off. Still, aviophobia can creep up on you if you are not prepared once the plane lifts off. So, how can you combat this anxiety while you are up in the air?
On the plane
Once you have boarded the plane and are sitting safely in
your seat, you can now take some additional actions to maintain the relaxation
your created before stepping foot on the plane. For example:4
Meet the crew
Listen to music
Take deep breaths
Read or watch a movie
Avoid caffeine
Turn on the air vents above you
Each of these actions should help you to relax and get
comfortable in your seat. In addition, if there are other activities you enjoy
and you can take on the plane, have those items packed in your carry-on and
ready to go when you need a good distraction. You know yourself, your mind, and
your body better than anyone else, so you know what steps will work best for
you. If that step gets you where you want to go in a healthy manner, go for it!
Takeaway
Airplane rides do not have to be scary or stressful—though a
mind consumed with aviophobia will be hard to convince. However, taking some
extra steps to keep yourself calm on your flight will help you to be more open
to trips in the future and even more adventures. So, start facing your fears
and taking care of your anxieties—the world is waiting for you!
*This
material is provided by USHEALTH Group for informational/educational purposes
only and should not replace medical/clinical advice or direction from your
health care provider.
Cowley,
Goretti, "Fear of flying (aviophobia): How to defeat it," MedicalNewsToday.com,
last modified July 18, 2017, https://www.medicalnewstoday.com/articles/10609.php
International Civil Aviation Organization,
"Safety Report," International Civil Aviation Organization, accessed July 8,
2019, https://www.icao.int/safety/Documents/ICAO_SR%202016_final_13July.pdf
National Highway Traffic Safety Administration,
"Department of Transportation Quick Facts 2015," U.S. Department of
Transportation, last updated May 2017, https://crashstats.nhtsa.dot.gov/Api/Public/ViewPublication/812348
Schlichter, Sarah, "18 Tips to Overcome Your
Fear of Flying," SmarterTravel.com, published February 4, 2019, https://www.smartertravel.com/fear-flying-18-ways-cope/