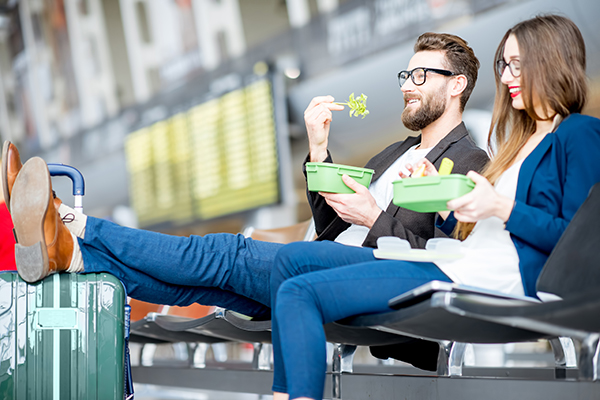 Traveling can cause unhealthy eating habits—eating fast food, overeating delicious foreign foods, or perhaps under-eating due to unfamiliar cuisine. If you are trying to kickstart or maintain a healthy lifestyle, traveling could make staying on track harder. However, USHEALTH Group® is providing some tips to help you stick to your plan and continue eating healthy on-the-go!
Pack
Healthy Snacks1
Avoiding quick, unhealthy meals is a
lot easier if you make sure you always have something healthy to keep you full.
So, pack a lot of healthy, non-perishable snacks like dried nuts, protein bars,
and jerky to keep you satisfied. Additionally, if you stick to a plan of eating
a snack every three to four hours, you will stay ahead of hunger and ensure you
are not tempted by fast food on your trip. However, if you do not want to carry
a bunch of snacks with you, especially if you are flying, you can visit a local
grocery store at your destination and pick up these snacks.
Stay
Somewhere with a Kitchenette1
If you have an arsenal of easy meals
to prepare and feel comfortable doing some grocery shopping when you arrive,
try booking a place to stay with a kitchenette available. While you are also
saving money you would otherwise spend eating out, this method can ensure what
you are eating is healthy. In addition, preparing your own meals also allows
you to maintain your normal eating time routine, which is a healthy practice.
Eat
Veggies Every Meal1
If you are traveling somewhere with
unique, intriguing cuisine, it is perfectly reasonable to splurge a bit for
your meals. However, if you put a rule in place to always eat vegetables at
every meal, you are more likely to give your body the nutrients it needs. This
way, you are not missing the local delicacies, but you are also not
backtracking on your health plan.
Eat
a Healthy Breakfast2
Wherever you go, make sure you eat breakfast every morning. However, if you did not pack breakfast items or cannot go to the store, Starbucks offers plain oatmeal. In fact, if you pair this with a side of blueberries or banana, you have a filling and nutritious breakfast. So, if you can make it to a store or pack these items in your bag (minus the fruit, which is perishable), making this breakfast on your own will save you money and keep you healthy!
Stay
Hydrated2
Drinking plenty of water is extremely important for staying healthy on your trip, especially if you travel by plane. Because the air in planes is so dry, drinking water will help you to not become dehydrated. Additionally, eating fruits like pears, oranges, and strawberries will help you to stay hydrated. If you are flying internationally, just make sure your destination allows foreign fruits to enter the country. So, when you are packing for your trip, be sure to include an empty, refillable water bottle to fill up at the airport and keep yourself hydrated.
Skip
the Salt2
Another way to keep yourself hydrated is to avoid salty foods. Because salt absorbs the water in your body, it can speed up dehydration caused by the lack of moisture in the airplane. So, if you were planning to include chips, salted nuts, or any other salty snack in your arsenal, perhaps you would be better off leaving them at home. Instead, bring snacks like dried fruit, granola, and unseasoned nuts. These snacks will keep you full while also allowing you to stay hydrated!
Avoid
Sugary Drinks3
If you are feeling tired or jet lag is starting to get the best of you, try drinking coffee, tea, or ice water before you go for a sugary soda or fruit juice. In fact, you can save yourself several hundreds of calories throughout the day by drinking non-calorie drinks instead of these sugary beverages. So, if you decide to ingest more calories than you usually would, do not waste them on your drinks!
Pack
Your Own Meals3
Odds are, the meal served on your flight or meals your find on the road will not be on track with your healthy lifestyle choices. So, to avoid caving into these unhealthy meals, pack your carry-on bag or a snack bag with your lunch or dinner. However, if you do not have room in your bag, opt for purchasing a meal at the airport before you board the plane. In fact, there will most likely be better, healthier options for you in the terminal compared to what is served on the plane. Additionally, on road trips, you will be less tempted to pull over at a fast-food restaurant.
Avoid
Mindless Eating3
While it is important to keep snacks on you, so you do not eventually go crazy at a fast food joint and overeat, make sure you are not mindlessly snacking throughout the day. In fact, unless your snack of choice is plain fruits or vegetables, these calories can add up fast and make your efforts to eat healthy meaningless. However, if you are mindful of every food entering your body, you can easily stay on track to keeping yourself healthy on the go!
Eat
Your Protein4
If you are struggling to remain energized on your trip, odds are you are not eating enough protein. In fact, eating enough protein will stabilize your blood sugar, enhance your concentration, and keep you strong. So, no matter what your activities are—hiking, driving, or relaxing on the beach—protein will keep you healthy, happy, and energized enough to conquer all the sightseeing your heart desires.
Be
Mindful of Where You Stop4
Road trips are the best times to just
pull off the road to a convenient fast-food joint, but your options for a
healthy meal will be severely limited. However, if you stop at a grocery store,
you will be more likely to find healthy foods such as fruit, baby carrots,
nuts, hummus. Or, if you are lucky, the grocery store will have a salad bar you
can go crazy at. This way, your options are expanded, and you will be less
tempted by the junk food at fast-food restaurants.
Avoid
"Feel Bad" Foods4
While on vacation, you may feel
tempted to satisfy your craving with foods that comfort you. However, these
foods can also make you feel bad. Contrary to protein, which makes you happy
and energized, these foods will drain you of your energy and dampen your mood.
Examples include:
Simple
carbohydrates, like fruit juice, soda, refined grain products, or sugary snacks
Deep-fried
foods
Nonfat
desserts and sweeteners
Anything
partially hydrogenated, like nondairy creamer, jiffy-style peanut butter,
margarine, and most packaged baked goods
Avoiding these foods will not only
keep you healthy, but they will make sure you are feeling your best during
every activity. So, do not let them ruin your day!
Takeaway
A sizable portion of your health has to do with what you eat
and drink. Travel puts stress on your body, so adding an unhealthy diet to the
mix can make the experience even more harmful. However, following some (or all)
of these tips will help you stay on track for a healthy lifestyle and a healthy
trip—no matter where you go!
*This material is provided by USHEALTH Group for informational/educational purposes only and should not replace medical/clinical advice or direction from your health care provider.
References
Bruno, Audrey, "How Registered Dietitians Eat Healthy While
Traveling," Self.com, published September 7, 2018, https://www.self.com/story/how-registered-dietitians-eat-healthy-while-traveling
Gorin, Amy, "A Nutritionist's Tips for
Eating Healthy While Traveling," FoodNetwork.com, accessed July 25, 2019, https://www.foodnetwork.com/healthyeats/healthy-tips/2016/11/a-nutritionists-tips-for-eating-healthy-while-traveling
Rice, Lori, "How to Eat Healthy While Traveling
for Business," USAToday.com, accessed July 25, 2019, https://traveltips.usatoday.com/eat-healthy-traveling-business-1476.html
Men's Fitness Editors, "6 Tips for Eating
Healthy on the Road," MensJournal.com, accessed July 25, 2019, https://www.mensjournal.com/food-drink/6-tips-for-eating-healthy-on-the-road/