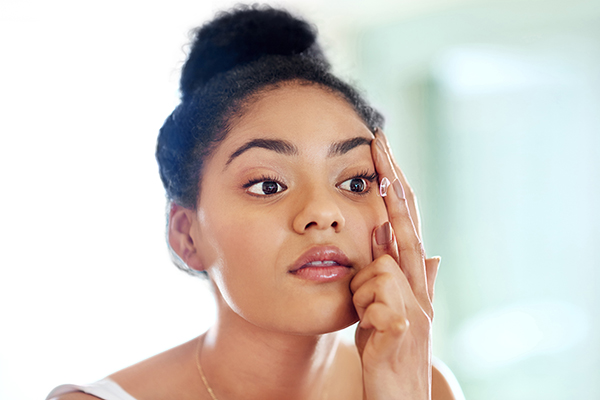 In 2014, the Center for Disease Control and Prevention (CDC) created Contact Lens Health Week to educate the public on proper lens wear and care. In fact, this year's theme, according to the event's page, is "Contact Lens Health Starts with You," which encourages individuals and eyecare providers to "take an active role in ensuring and caring for their eye health."1 So, to both celebrate and educate about proper eyecare, USHEALTH Group® is providing some useful tips and tidbits to keep your eyes—and your contacts—working well for you!*
Unhealthy Contact Lens Habits
While contact lenses provide a sense of freedom to the wearer, wearing contact lenses pose more risks than glasses. In fact, according to the CDC, approximately 41 million people in the U.S. wear contact lenses. However, they also reported between 40 and 90 percent of those individuals do not properly care for their lenses.2
Some common mistakes include:
Napping while wearing contacts
Showering while wearing contacts
Not replacing your contacts as recommended (i.e. every three months)
Swimming while wearing contacts
"Topping off" contact lens solution
Sleeping in your contacts overnight
These habits can be easy to let slide if individuals become lazy with their eyecare. Though you may not experience immediate irritation, continued infractions will increase your risk of infection. These dangers range in severity, but it is important to be aware of the different problems should they arise. This way, you will know what actions to take.
Risks of Improper Lens Care
Contact lenses were made to improve an individual's vision. However, when not taken care of properly, contact can do the opposite and hurt your eyes. Improper lens care can introduce bacteria to the surface of your eye, causing irritation and/or infections that could seriously damage your eyes.
Hopefully, you are taking care of your contact lenses. However, if you are behind on your routine and experiencing some irregularities, it is important for you to know the symptoms of an infection so you can know what to do.
For example, if you experience any of the following symptoms, you may have an eye irritation or infection:
Discomfort or pain
Excess tearing or other discharge
Unusual sensitivity to light
Itching, burning, or a gritty feeling
Unusual redness
Blurry vision
Swelling
These symptoms could be evidence of common infections and irritations, such as pink eye (conjunctivitis) or corneal abrasions.3 However, improper care of your contact lenses can cause more serious issues, which could land you in the ER with permanent damage.4 And what is even more astonishing, according to the CDC, is 1 in 4 infections resulted from easily avoidable behaviors like the ones listed above.4 So, if you are not following a proper regimen for taking care of your contact lenses, keep reading for some useful tips!
Contact Lens Health Habits
Depending on what type of lens you have, there are different procedures for proper care. For example, disposable/single-wear lenses need the least effort since you through them away after wearing.5 However, conventional/reusable lenses need some extra attention.
Follow these tips to ensure your lenses are always clean and prepped for you to use:5
Wash your hands with mild soap before touching your contact lens and your eye
Dry your hands with a clean, lint-free towel
Keep your fingernails short and smooth to avoid scratching
Put on eye makeup after putting in your lenses and take your lenses out before removing makeup
Use disinfecting solution and eye drops recommended by your doctor. Warning: Some eye drops are not safe for contact wearers
Never put tap or distilled water directly on your lenses
Never put a contact in your mouth to rinse it
Clean your contacts by rubbing it gently with your index finger to remove surface buildup, then place in sterile solution
Clean your lens with sterile solution or hot tap water every time you use it
Replace your lens case every three months
Never wear someone else's contacts
Do not let the tip of your solution bottle touch other surfaces
Wear sunglasses or a wide-brim hat while outside, since contacts can make your eyes more sensitive
Keep up with your routine
These are just a few tips and steps you can take to keep your contacts and eyes free from bacteria and infection. If you begin to experience issues, immediately take your contacts out and do not wear them again until you have visited your eye doctor. However, if you follow these steps carefully and consistently, you are less likely to experience any issues.
Takeaway
If you struggle to maintain healthy contact lens practices and have yet to experience infection or irritation, you are in a perfect position to start caring for your eyes. Rather than waiting for a problem to arise to start taking your eye health seriously, begin following a careful routine to prevent your eye from getting infected. Then, you can continue to enjoy the freedom of contact lenses and the ability to wear those new sunglasses you just got!
*This material is provided by USHEALTH Group for informational/educational purposes only and should not replace medical/clinical advice or direction from your health care provider.