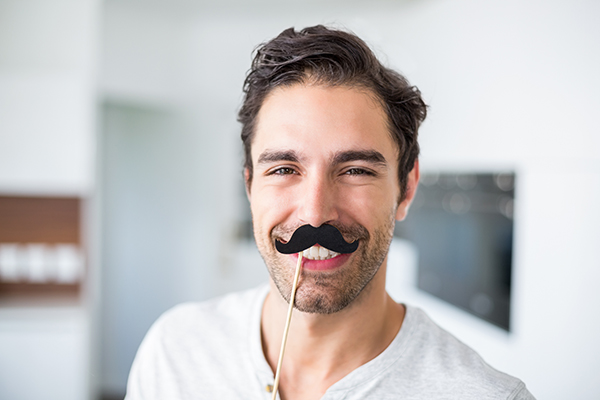 November 11, 2019 |
Abby Caviness
During the month of November, you may notice an increase in the number of mustaches you see. Odds are, this new trend is not due to the cold, but because of Movember, a phenomenon dedicated to raising awareness of men's health. To explain more about the program, USHEALTH Group® is answering some of the most popular questions relating to the event.*
What is the Meaning of Movember?
Humble Beginnings
In 2003, two men from Australia started the program to fundraise and raise awareness about the rising number of premature deaths in men all over the world due to cancer and suicide.1 To participate, individuals had to grow a mustache during the month of November and donate $10 to the cause.
Growth Opportunities
By 2004, the foundation decided to begin donating their money to the Prostate Cancer Foundation of Australia (PCFA) and formally partnered with them in 2005. Today, they also partner with beyondblue, a national depression and anxiety initiative, and other cancer foundations across the world.
In 2003, there were only 30 participants from Australia.
Today, there are more than 5 million men and women across the world advocating
for the improvement of men's health.1
Is Movember Still a Thing?
Yes! The event and foundation are still thriving. In 2018, there were 321,975 "Mo Bros and Mo Sisters" involved in the initiative across the world, and they raised more than $74.2 million for men's health.2
What is Movember in Aid Of?
This program started as a way to raise awareness of prostate cancer but has evolved to also include testicular cancer and suicide prevention.1 The foundation has helped fund more than 1,250 projects in each of these areas over the past 16 years.3
Can You Grow a Beard for Movember?
While no one is stopping you from growing a beard during the month, the focus is solely on the mustache.4 The director of the foundation in the U.S., Mark Hedstrom said, "What we're asking them to do is participate by changing their appearance. What that fosters is a conversation."4 Since sporting a mustache is a bit out of the norm for fashion these days, growing one out of the blue will be more of a challenge than a full-on beard.  In fact, according to its website, the foundation only allows mustaches for individuals to truly participate.5
What Are the Rules of Movember?
According to the foundation website, there are only five rules individuals must follow to participate. These are:6
Register on the homepage and begin the 1st of November with a clean-shaven face
Each "Mo Bro" must grow and groom a mustache during the entire month
No beards, goatees, or fake mustaches are allowed
Use your mustache to start conversations and raise funds for men's health
Conduct yourself like a true gentleman
Do You Have to Shave Before Movember?
Yes. Rule number one is to start with a clean-shaven face.5 While some individuals may struggle to grow a full mustache in a month, the event is less about the quality of the 'stache and more about starting a conversation and raising funds for men's health. So, do not worry about the state of your mustache at the end of the month, because that is not the point!5
When Can I Shave My Movember Mustache?
At the end of the month, you have two options: keep the 'stache or shave it off. Nevertheless, once the month is over, you are free to do whatever you please with the mustache you have grown.7 However, the conversation about men's health should never end. The foundation continues to function and work toward bettering men's health during the other 11 months and you should, too.
How Do I Participate in Movember?
Like we said, there are only five rules for participating, which pretty much boil down to: sign up, grow a beard, and raise money. Anyone can participate (even women) and everyone is invited to join the cause.
How Much Money Does Movember Raise?
Over the past 16 years, the foundation has raised more than $911 million for men's health. In 2018, $74.2 million was raised globally, with $18.4 million coming from the U.S. alone. Of all the funds raised, a portion is used to pay for foundation costs, retained funds, administration costs. The remaining 72.9 percent is used to fund men's health programs around the world.2
How Can Women Participate in Movember?
Though women cannot grow mustaches, they are encouraged to participate by signing up and committing to the MOVE challenge. The MOVE challenge encourages participants to be active every day of the month. Women can also support the movement by wearing mustache apparel during the month, starting conversations about men's health, and fundraising with a team.8
Is it "No Shave November"
or Movember?
While both programs benefit similar initiatives, they are completely different entities. No Shave November asks participants to grow out all their facial hair and donate the money they would have used on grooming to the American Cancer Society. They even encourage women to skip shaving their legs for the month. No Shave November was founded in 2009 on Facebook.4
Takeaway
If you are looking for a cause to support, this foundation just might be what you are looking for. Take part in a fun challenge and raise money to help the men of this world live longer and healthier lives!
*This
material is provided by USHEALTH Group® for informational/educational purposes
only and should not replace medical/clinical advice or direction from your
health care provider.
Resources