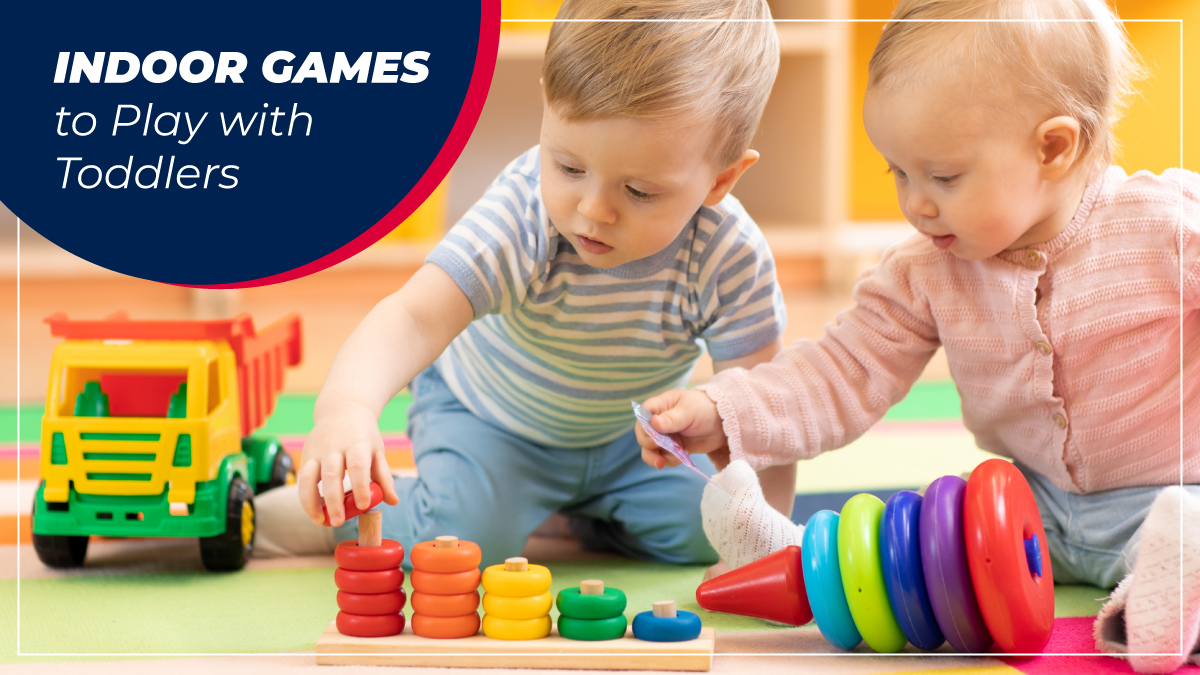 During the first few years of life, your child's brain grows at an incredible rate. 
Between the ages of 12-36 months, toddlers learn to walk and run, talk, and assert their independence. They develop a knack for getting into everything and continuously ask "why" over and over. Play enables them to discover the world around them and understand how people and things relate to each other. 
Through play, children acquire the following:
Social, language, and communication skills

Problem-solving skills

Motor skills

Imagination and creativity

Confidence

Feeling loved, happy, and safe
6 Indoor Games for Toddlers That are Fun and Educational
Boost your child's cognitive, physical, and emotional skills. Start playtime with these fun indoor games that will spark their imagination, unlock a world of learning, and keep them happy and stimulated. 
1. Play Pretend 
Skills Learned: Creativity, imagination, language skills, and social development
Encourage your child to his or her imagination. Here are some ideas to get you started:  
Birthday/Tea Party

: Throw a birthday party for your toddlers' dolls, stuffed animals, or action figures. Use leftover party supplies from a previous party

or make your own. 

Laundry Basket Sailboat

: Combine this game with pirate day for a fun-filled adventure on the choppy seas of your living room floor.   

Pirates

: Create hats out of cardboard, eyepatches from construction paper and string, and a telescope out of a cardboard paper towel or toilet paper tube. Hide the buried treasure and make a treasure map for them to follow.   

Dinosaurs, Lions, Monkeys, etc.:

Pretend to be dinosaurs, lions, or any other animals they love.   

Character Dress Up

: Have them dress up as their favorite character.  

Grocery Shopping

: Kids love to do anything you do. Place plastic items on the couch or easy to reach surfaces and have them collect what they want in a basket or make a list of things for them to collect.   
2. Simon Says
Skills Learned: Gross motor skills, following directions, and receptive language 
Get silly and let loose with this classic game. Start with simple directions like "Simon says, touch your nose." Then slowly encourage more complex actions such as jumping like a frog, spinning in a circle, or balancing on one leg. This is a great way to teach them the names of their body parts and channel some of that endless energy.  
3. Scavenger Hunt/ "I Spy"
Skills Learned: Teamwork and problem-solving 
Scavenger Hunt

: Using crayons, draw shapes or letters in different colors on a piece of paper. See if your little one can find objects around the house that match those colors, shapes, or letters.
"

I Spy"

: Pick something in the room you are in, telling your toddler what you see, "I spy/see a yellow ball." In the beginning, help your toddler learn how to play the game by pointing at the object or giving them hints as they search for what you see.
These games are fun, super simple, and can be done using items you have in your house.   
3. Matching Games
Skills Learned: Boosts short-term memory, visual memory, and concentration
Match the Socks

: When folding laundry, lay out all the socks for your toddler and ask them if they can match up the pairs. This is a way for your little to be involved when you are doing tasks around the house. 

Match the Cards

: Draw colorful shapes on index cards and make an exact pair of each drawing. Start with 3 or 4 pairs, asking your toddler what the drawing is and see if he can find the other pair.   

Match the Shapes

: Trace items on a piece of paper – toy hammer, blocks, puzzle pieces, play food, anything that's easy to recognize. Place all the items in a bowl when done and have your little one match up each item with the traced shape on the paper.
3. Sensory Table
Skills Learned: Heightens their senses (touch, sight, smell, hearing, fine motor skills) and enriches their learning
Fill bowls with textured items like:  
Peeled grapes

Cold cooked spaghetti

Jell-O filled with plastic letters, toy boats, toy animals

Playdough
Ask them a different question about each item (option to use a blindfold or keep eyes closed).
What do they think the item is?

How does it feel, smell, taste, or sound?   
3. Puzzles
Skills Learned: Physical, problem-solving, cognitive, and emotional skills
Lego Puzzle

: Place a large sticker on stacked Legos and cut the sticker on the creases. Have your toddler restack them to put the sticker back together. 

Board Puzzle

: Remove pieces from one of their board puzzles and have your toddler put the pieces back in the correct spots. 

Picture Puzzle:

Take a simple picture from a magazine or draw one yourself. Cut it into four pieces and ask your toddler to put the picture back together again. As this gets easier, cut the image into more pieces and different shapes to make it more challenging.
Final Thoughts from USHEALTH Group
Playing by themselves may seem like the most natural thing in the world for toddlers, but your participation and encouragement are important. When children engage in play, they learn and develop essential skills they will continue to use throughout their lifetime. 
Subscribe to our blog to learn more about how you can share the joy of discovery with your toddler.
USHA-WB10-0920