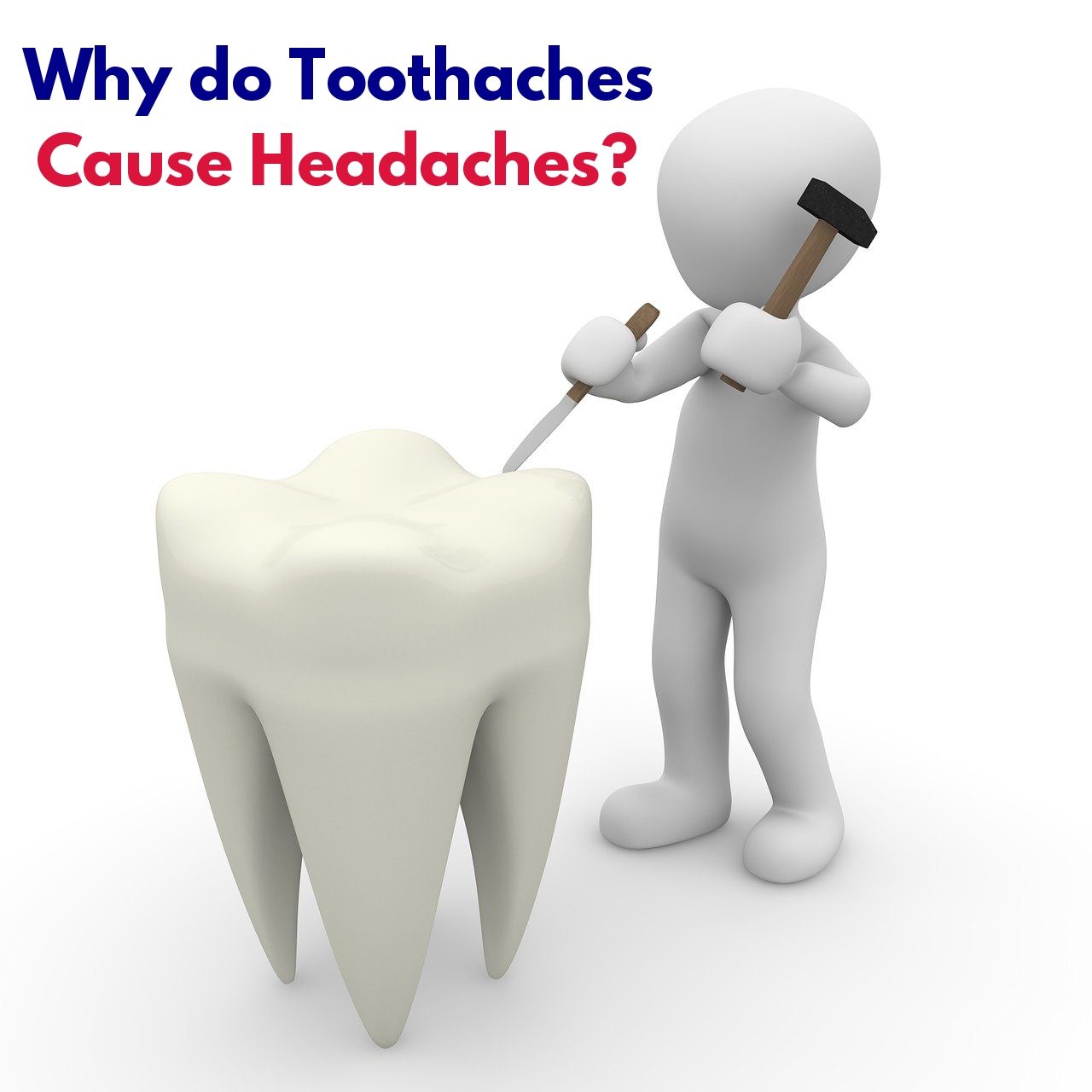 Headaches are the most common form of pain reported among adults in the United States. Although rarely serious, a headache can detract from a person's daily quality of life, making it difficult to concentrate at work or school and even interfering with everyday tasks like driving.
There are more than 150 different headache disorders. Some are classified as primary, while others are considered secondary. A primary headache occurs independently and is not linked to any other medical condition. A secondary headache is a symptom of another health issue, causing pressure on nerve-endings in the body and signaling pain receptors in the head.
Secondary headaches can result from infections, stress, high blood pressure, head injury — and even oral health issues. People who experience toothaches and headaches simultaneously are usually experiencing a secondary headache resulting from a problem with their teeth or gums.
This article explores why toothaches cause headaches and explains how people can avoid headaches related to oral health issues.
Is It Possible to Prevent Headaches Related to Toothaches?
There are many possible reasons for a toothache to cause a headache. Given the diversity of reasons – and the fact that some of these can be quite serious – it's always important to seek medical attention.
The great news is that many of the reasons for a toothache-caused headache are easily preventable. All it takes is basic oral hygiene. Here is what a comprehensive oral hygiene routine looks like, as recommended by the American Dental Association:
Brush teeth twice a day with a fluoride toothpaste
Eat a healthy diet low in extra sugars
Floss every day, preferably before bed a night
Use a low-alcohol antimicrobial mouth rinse
Quit or avoid smoking
These simple steps are enough to prevent issues like cavities, which can cause both toothaches and headaches.
What Dental Health Conditions Cause Headaches and how can you Prevent them?
Oral health encompasses the teeth, gums, and underlying jawbone. This section identifies problems in these areas that can lead to toothaches and subsequent headaches, and how to potentially prevent them.
With any of the following issues, it's critical to seek treatment for the root cause. While painkillers will temporarily eliminate pain caused by toothaches and headaches, they won't fix the underlying problem. Furthermore, overreliance on painkillers can result in dependency problems. Dental pain has been identified as a common motivation for first encounters with opioids, a common source of addiction.
This section explains what people can do to help prevent these health issues – and what they can do if they are already experiencing headaches and toothaches due to these causes.
Headaches Caused by Dental Damage
Can a broken tooth cause a headache? Absolutely. How is this possible? First, it's essential to understand the anatomy of a tooth. The outer layer of the tooth is encased in tough enamel. A highly mineralized protective coating, the enamel is the hardest part of the tooth. Underneath the enamel is a softer material, dentin. This encases the pulp cavity. Inside the soft pulp are blood vessels and nerves.
If a tooth is cracked or chipped deeply enough, the nerves inside of the tooth may be affected. This can cause tooth pain and, subsequently, a headache. The tough enamel on the outside of the tooth usually prevents such damage. However, enamel wears away with age, making teeth more vulnerable to chipping and cracking the older a person gets.
Protecting enamel helps avoid dental damage. Biting down on tough foods or drinking very acidic beverages, like colas and wine, will quickly wear away enamel. Individuals can protect their enamel by using a soft-bristle toothbrush, avoiding teeth grinding, and steering clear of hard foods and acidic drinks.
For people already experiencing toothaches and headaches due to dental damage, a dentist can help. A professional can fix a chipped or cracked tooth with dental filling or bonding. An adhesive material is applied and shaped to look like a natural tooth. If the damage is more severe, a dental cap or crown can be installed.
Headaches Caused by Advanced Dental Decay
Can a cavity cause a headache? Yes. A person's mouth is full of bacteria. Oral hygiene habits like brushing and flossing remove bacteria from the mouth. If a person fails to do this, the bacteria will coat the teeth in a sticky substance known as plaque. This wears away the enamel of teeth, allowing bacteria to infiltrate the inside of the tooth and leading to tooth decay.
Over time, tooth decay can create a cavity – localized damage to the tooth. Cavities can cause sensitive teeth and, later, pain and headaches. Signs of cavities include holes or pits in the teeth. Sometimes a cavity will be visible as a black, brown, or white stain.
The best way to prevent cavities and decay is to practice good oral hygiene by brushing and flossing twice per day and regularly seeing a dentist for checkups. A dentist can catch early signs of a cavity, providing prompt treatment before the issue worsens.
A cavity can be treated with a filling. Untreated cavities can result in more advanced decay and require a root canal. If decay spreads to the inside of the tooth, the tooth may need to be removed. A dental implant with a fake crown can be installed in its place.
Headaches Caused by Bruxism
Bruxism refers to teeth grinding or clenching. Many people unconsciously perform this behavior, for example, while they are sleeping or stressed. Bruxism reportedly leads to dull pain in the head, often starting behind the eyes and "wrapping around" the head.
This may be accompanied by sore jaw muscles and a clicking sound in the jaw joint when a person tries to open or close their mouth. Another problem with bruxism is that the clenching and grinding can wear down the enamel, which increases the risk of decay and damage – as mentioned above.
People with bruxism can benefit from a tailor-made mouthguard crafted by a dentist. Wearing this at night cushions the teeth, helping to prevent headaches and toothaches.
However, the cure for bruxism depends on the underlying cause. While a mouth guard helps prevent toothaches and headaches, it doesn't cure the cause. Possible treatments include Botox injections to relax the muscles in the jaw or medication for stress and anxiety.
Headaches Caused by a Sinus Infection
Also called sinusitis, a sinus infection results from swelling of the tissues that line the sinuses – empty, air-filled cavities in a person's cheekbones, forehead, and nose. In total, each person has four pairs of these air-filled spaces. The sinuses produce mucus, which normally drains through the nasal cavity. If these spaces become blocked, the mucus may build up. An infection may develop as a result.
Tooth pain and headaches are two of the most common signs of sinusitis. Most people notice pain in the top teeth at the back of the mouth. This is because the back of the mouth is located closest to the sinuses in the cheekbones and nose.
The best way to prevent sinus infections and related discomfort is to avoid allergens and irritants, which might cause a blockage. People with asthma should take their medication as recommended, as they are at increased risk. In some cases, if a person experiences repeated sinus infection, a doctor may recommend a steroid spray to prevent a recurrence.
Treatments for sinusitis include over-the-counter pain relievers, decongestants, and saline nasal sprays to clear out the blockage. Nasal corticosteroids can also help treat inflammation. In rare instances, a doctor may prescribe antibiotics.
Headaches Caused by Cavernous Sinus Thrombosis
Although cavernous sinus thrombosis also is related to the sinuses, this condition is much more severe than sinusitis. It occurs when a blood clot blocks the vein running through the hollow space behind the eye sockets and underneath the brain. This vein is responsible for carrying blood from the head back to the heart.
Such blockage is severe and potentially life-threatening. Headache is the primary symptom. What do teeth have to do with it? Unfortunately, a dental infection, such as an abscessed tooth, is a preventable cause of cavernous sinus thrombosis.
Good oral hygiene is a small and simple step people can take to decrease their risk of developing this serious illness. Clean teeth and gums are less susceptible to infection, which may trigger the immune system to create the dangerous clot responsible for cavernous sinus thrombosis.
Treatment requires urgent action. Corticosteroid medications may be administered to reduce inflammation, and in some cases, blood thinners may be necessary to get rid of the clot. High-dose antibiotics are usually required, administered via an IV, to get rid of the underlying infection. In some cases, people may require surgery.
Headaches Caused by Temporomandibular Joint Disorder
Temporomandibular Joint Disorder, or TMJ or TMD, affects the jaw joint and the surrounding muscles. The jaw is like a hinge, with a joint on either side of a person's face. Both sides are located in front of the ear. TMJ causes headaches that can radiate along the temple, neck, and jaw. The pain is often triggered by toothaches and activities that engage both the teeth and jaw, like chewing food.
There is no one way to prevent TMJ because the causes are varied. In some cases, it may be due to stress. Lifestyle changes, like increasing exercise and trying meditation, can help in this case. In other cases, TMJ may be due to actual structural issues with the jaw. In this case, oral splints may help.
TMJ treatment will likewise depend on the cause. Diagnostics, including x-ray, CT scan, or MRI, may be needed to figure out the issue. Treatments range from muscle relaxants to corticosteroid injections into the joint. If conservative measures don't work, open-joint surgery can repair or replace the jaw joint that is responsible for problems.
Headaches Caused by Trigeminal Neuralgia
This is a rare pain disorder linked to irritation of the trigeminal nerve, which allows people to perceive sensations to the face and controls the jaw movement. When the nerve is irritated, a sharp, stabbing pain can occur in the face, usually on one side only. The nerve may become compressed for various reasons, such as the presence of a cyst or tumor, or inflammation.
There is no surefire way to prevent trigeminal neuralgia because the causes are so diverse. People who have been diagnosed with the condition can minimize common triggers, however. These include stimulation on the cheeks, for example, from eating. A person who is affected on the right side of their face might chew on their life side only, for instance.
Medications can help block the pain signals being sent to the brain due to trigeminal neuralgia. Moving or relocating the blood vessels that were coming into contact with the nerve is called microvascular decompression. It is one of the surgical treatments for trigeminal neuralgia.
When Should Someone Get Medical Help for a Toothache?
It's essential always to have a dentist check out a toothache. Most likely, the cause is relatively simple, like a cavity, and thus easy to fix. Still, the sooner such issues are solved, the better. For example, a cavity can worsen, with decay spreading further into the tooth and even affecting adjacent teeth, if it isn't promptly treated.
In some cases, a toothache requires urgent care. These situations warrant emergency dentistry:
Severe and painful damage, like a severely fractured or dislodged tooth
Signs of infection in the mouth, such as visible discharge from the gums or a bad taste in the mouth (which can indicate pus that isn't visible)
Loose or bleeding teeth, for example, after a traumatic blow to the head in an athletic or sports accident
Bleeding in the mouth may indicate an emergency
If not treated, these problems may result in more severe health issues – and more discomfort. An abscessed tooth can cause a sinus infection, resulting in a headache, for example.
Frequently Asked Questions About Toothaches and Headaches
The above guide provides an in-depth overview of possible reasons for a toothache to cause a headache and some tips on preventing and treating these health issues. Here are some last frequently asked questions about the connection between toothaches and headaches.
Can a Rotten Tooth or an Exposed Nerve Cause a Headache?
A "rotten" tooth is a tooth that has been seriously affected by a cavity and related decay. If the tooth has severely deteriorated, the pulpy interior (usually protected by the harder dentin and enamel encasing the pulp) may become exposed. This exposed nerve in the tooth may then cause a headache and toothache. At this point, a dentist will have to perform a root canal or pull the tooth out completely.
Can Someone Have a Toothache and Headache at the Same Time?
Yes, and in most cases, the two types of pain are related. Dental issues like cavities, a chipped tooth, bruxism, and infection of a tooth's pulpy center can all contribute to a headache. In other instances, a headache can radiate and make it feel like a person is having a distinct toothache – when, in fact, it's just radiating pain from the headache.
How Are a Toothache, Jaw Pain, and Headache Related?
One possible reason for simultaneous tooth, jaw, and head pain may be a temporomandibular joint disorder, TMJ. This is related to an issue with the jaw joint and surrounding muscles and can cause radiating pain throughout the head, often worsening when a person eats. Bruxism, or teeth clenching or grinding, is another reason why a person may experience pain in all three of these areas.
Is There a Fast Toothache Migraine Remedy?
The guide above addresses preventive measures and solutions for various types of toothache-related headaches. It's always important to get the underlying cause of a toothache or headache diagnosed and treated by a medical professional. For fast migraine relief, an over-the-counter pain reliever can offer temporary respite. This will only treat the symptom (the pain), however, and not the cause.
Summary
Toothaches and headaches are uncomfortable and can make it difficult to carry on everyday tasks like eating and talking. What's more, this kind of pain can often indicate a more serious underlying health issue – such as cavernous sinus thrombosis, a potentially fatal condition. Luckily, simple, fast, and affordable oral hygiene measures can help avoid many types of toothaches and headaches.
USHA-WB3-1120