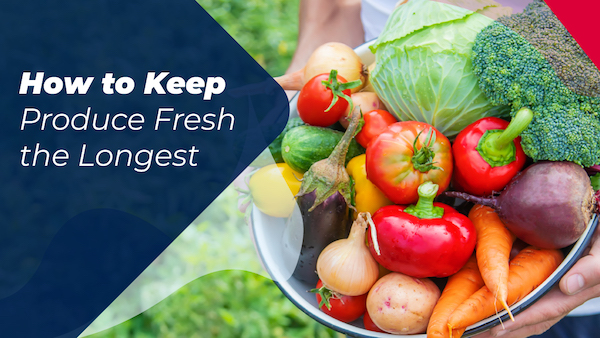 Everyone loves fresh produce but keeping it fresh can be difficult. Fruits and vegetables decay at different rates depending on how and where they are stored. Keeping some of them out on the counter can cause them to rot while keeping others in the fridge can cause the spread of bacteria. There are key components to note when it comes to keeping your produce fresh.
The 3 Best Ways to Keep Produce Fresh
When it comes to keeping produce fresh, these are 3 things you should always keep in mind.
1 Make Sure It's Fresh from the Start
The best thing you can do when it comes to keeping your produce fresh is to make sure it starts out that way. When shopping at your local grocery store or farmers market, always check your produce thoroughly for bruises, soft spots, brown or black spots, mold, and any other noticeable signs of spoilage. Before you purchase any produce for the first time, research it ahead of time so that you can readily tell if it is ripe or rotten.
2 The Right Conditions
For all produce, temperature and air conditions are a deciding factor in whether or not they will remain fresh. Certain produce cannot be stored in a refrigerator as this will cause their decay to speed up, while others can last weeks when refrigerated.
Produce like onions, garlic, winter squash, tomatoes, bananas, and potatoes should not be kept in the refrigerator as this will cause them to decay faster. Winter squashes and tomatoes can be kept at room temperature on the counter without a container. Bananas can also be kept at room temperature and on the counter (once bananas ripen you can refrigerate them as well). Onions, garlic, and potatoes must be kept in a dark cool place with good airflow and the right humidity level (low for onions and garlic, high for potatoes).
Produce like leafy greens, cabbage, broccoli, cauliflower, mushrooms, berries, roots, tubers, citrus fruits, apples, pears, and mangoes will all last longer in a refrigerator. Make sure that your produce is ripe before storing them in a refrigerator as refrigerating them before they are ripe will stop the ripening process altogether. Once the fruits and vegetables are ripe, storing them in a refrigerator will ensure that they stay fresh for a few weeks.
3. Produce Storage is Key
To keep your produce fresh, you must store it appropriately. Apples and pears should be kept in plastic bags, especially when refrigerated. Roots, tubers, lettuces, leafy greens, cabbage, broccoli, and cauliflower must be kept in sealed plastic containers. Potatoes, onions, garlic, citrus fruits, mangoes, and winter squash can be stored in open containers or loose on counters. Mushrooms should be kept in a paper bag with lots of ventilation.
Bearing in mind, some produce should be kept separate from others. Apples, bananas, and pears should always be kept away from leafy greens, cabbage, broccoli, cauliflower, carrots, mangoes, winter squash, and citrus fruits as they give off ethylene gas which will degrade the other produce. Keeping these specific fruits and vegetables away from each other, along with keeping in mind their storage methods, will keep your produce fresh.
Final Thoughts from USHEALTH Group
Follow these 3 rules and your produce will last for weeks. Stay healthy and store your produce with confidence knowing it will stay fresh longer.
USHA-WB2-1020