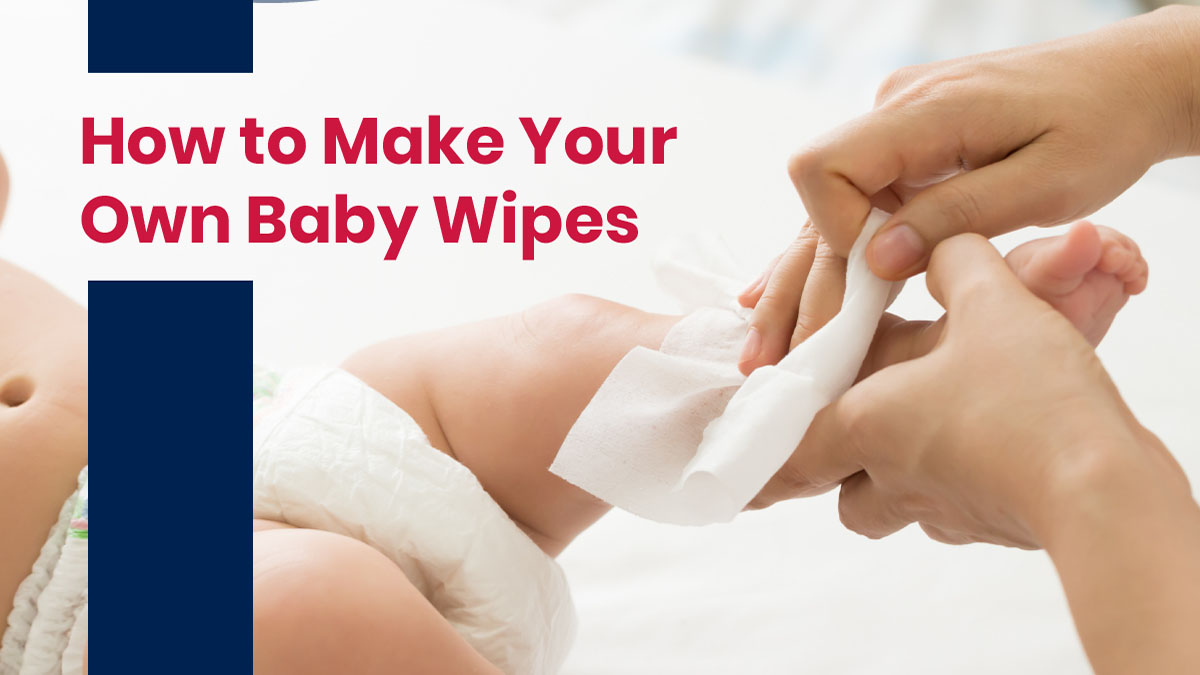 Baby wipes are one of the necessities expectant parents stock up in preparation for a new baby. However, no matter how much of these are stacked up ahead of time, baby wipes are a reoccurring expense new parents eventually have to come to terms with.
With how fast babies go through them, the cost of store-bought baby wipes can add up. One way to save money on baby items is to learn how to make your own baby wipes.
How to Make Natural Baby Wipes
Baby wipes should be gentle enough so that they do not irritate the baby's delicate skin. Good quality baby wipes are essential for this purpose. Even better, natural baby wipes ensure that your baby's sensitive skin is not exposed to unnatural or toxic substances that can cause irritation.
Babies do not have the same tolerance thresholds that adults do and using baby wipes with artificial ingredients may lead to unpleasant skin conditions like eczema, nappy rash, and more. Natural baby wipes not only keep your baby safe, fresh, and clean, but they also have soothing and moisturizing effects on the skin.
To learn how to make natural baby wipes, you need a few easily-sourced items:
Fabric: You can use bamboo fabric, organic cotton flannel, soft baby washcloths, or paper towels.
Solution: Here, you can explore different mild organic additives. You'll need distilled or filtered water, a natural preservative like Vitamin E oil, a light moisturizing oil (such as almond oil, olive oil, or grapeseed oil), essential oil (to be used very sparingly), pure aloe vera juice/gel, and some liquid castile soap.
Once you have these assembled, you can combine them in a spray bottle (and spray on cloth wipes before use), a squirt bottle (to squirt directly onto the baby's diaper area, then wipe), or a repurposed baby wipe container with cloth/paper towel wipes. If going with the latter option, make sure that the wipes are moist, but not drenched in the solution.
Homemade Baby Wipes Ideas
Depending on the brand, you can spend up to five dollars for a box of wipes while homemade wipes usually cost less than a dollar to make.  Learning how to make your own baby wipes not only saves you a chunk in expenses, but you are also entirely in control of what goes in it.
Here are a few ideas for homemade baby wipes to safeguard your baby's skin and health.
Reusable Baby Wipes
A major advantage of reusable baby wipes is that they cut down on waste. To make reusable baby wipes, you simply need fabrics that can be easily washed and stored away till you need to use them again.
There are different fabric options to choose from that are gentle enough on your baby's skin, yet absorbent enough to properly wipe. Flannel, organic cotton, or muslin used in making baby washcloths and face towels are great fabric choices for reusable baby wipes.
Baby Wipes from Paper Towels
You can also make homemade baby wipes from paper towels. These make great disposable wipes and are safe for both your baby's skin and the environment.
You'll need:
A roll of premium quality paper towels
A round bin with a lid
A serrated knife
Cut the roll of paper towel in half and keep one of the halves for future use. Place your paper towel (cardboard tube and all) in the round bin with baby wipe solution and let it soak for about 10 minutes. Flip the roll over and allow to soak for another 10 minutes. Drain out extra liquid and take out the cardboard tubing. Pull out sheets of saturated paper towels from the middle of the roll.
You can simply flush these down the toilet after each use.
Baby Wipes with Coconut Oil
Coconut oil is a very versatile natural oil. It is composed of fatty acids that repair the skin and keep it soft and moisturized. Its function as a natural cleanser makes it a staple in many homemade baby wipes solutions.
This organic oil is antibacterial, anti-inflammatory, and anti-fungal. Consider including coconut oil in your baby wipes solution to protect your baby's skin and fortify it against potential pathogens.
Baby Wipes with Castile Soap
Nearly every homemade baby wipes solution recipe calls for castile soap. This is because it is a naturally-sourced soap that gently removes dirt and germs without drying out the baby's skin. It is non-toxic and traditionally made from olive oil and other vegetable-based products.
When making your DIY baby wipes solution, be sure to stick to unscented castile soap.
Save Costs with Homemade Natural Baby Wipes
A new baby often means several reoccurring expenses, but you can save costs if you go the DIY route. Many of the ingredients used in making natural baby wipes are already in your home, the rest can be easily purchased at your local grocery.
Learning how to make your own baby wipes means that you'll be in control of exactly what goes on your baby's skin and be able to make healthy choices for your child.
USHA-SM-26-0121