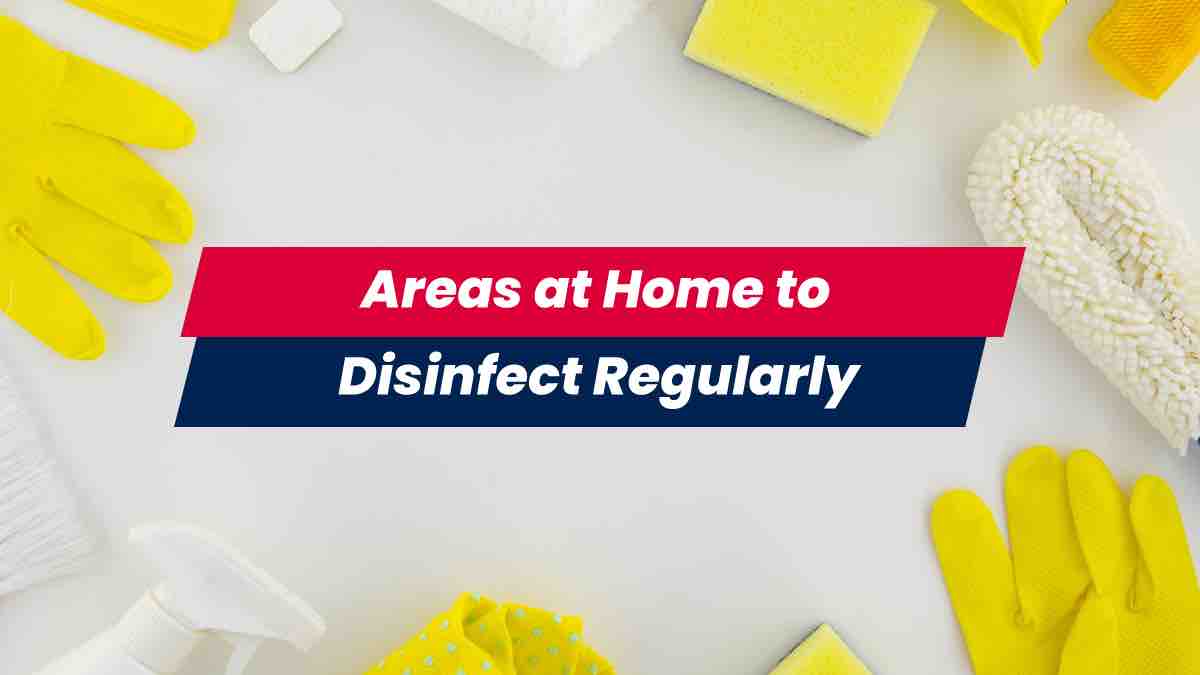 Individuals are taking cleaning and disinfecting much more seriously to ensure their loved ones stay happy and healthy. Having a home disinfecting schedule is a great place to start – you just want to ensure that you are paying attention to the most crucial areas at home to disinfect regularly.
With more adults returning to the workplace and students returning to their classroom settings, the spread of bacteria and viruses can and should be expected. However, instead of living in fear of what may or may not cause illness, you can set your mind at ease by implementing a regular cleaning and disinfecting schedule for your home.
If you're trying to implement a new schedule in your household, you'll want to make sure you know which areas of the home you should be disinfecting regularly and the most important cleaning and disinfecting best practices.
5 Areas at Home to Disinfect Regularly
When determining the areas at home to disinfect regularly, you don't always want to think about the areas that get the most cluttered or most soiled first. OF course, those are the most obvious. However, cleaning and disinfecting requires you to pay attention to the home areas that are most frequently utilized as these are areas that tend to harbor those unseeable bacteria and viruses.
If you're not quite sure where to begin, then you'll want to make sure you prioritize some of the dirtiest surfaces in the home, including:
1. Your Kitchen
Believe it or not, your kitchen is one of the dirtiest, germiest rooms in your entire home. Not only do you have the constant traffic of your family members and guests, but the food you bring in from the store could be harboring different bacteria, viruses, and yes, even fecal matter. Not only that, but your dish rags and sponges are also full of germs that could cause illness if not properly washed and disinfected.
2. Your Bathroom
Your bathroom is another area of high traffic, and much like the kitchen, is a prime area for the growth and spread of a variety of bacteria and viruses. Not only are there many commonly touched and shared surfaces/products, but this room's humidity levels often fluctuate quite a bit, encouraging the growth of hidden bacteria.
3. Frequently Touched Surfaces
Frequently touched surfaces include anything that is touched by multiple people in the household and/or those who visit your home. Some of the most common surfaces include:
Telephones/Cellphones
Tablets
Laptops/Keyboards/Mice
Tables
Light switches
Children's toys
Handrails
Doorknobs
Chairs
Pet toys/bedding/crates
Each of these surfaces has the potential of spreading various germs, bacteria, and viruses between family members and needs to be cleaned and disinfected more often than you may think. If someone in your home shows signs of illness, you should be disinfecting each surface they touch each time they do so if you genuinely want to stop the potential spread.
4. Laundry Room
Your laundry room is another area that is much dirtier than you may think. In fact, if you aren't taking the time to clean and disinfect your washing machine adequately, then it could be a breeding ground for bacteria, viruses, and even multidrug-resistant pathogens.
Not only that, but you could be unknowingly shaking these organisms throughout your laundry room if you shake out soiled clothing/linen before putting it into the machine, which is why you should never shake out your clothing/linen before putting it into the wash.
5. Items Used Daily
Finally, you can't neglect the other items you encounter daily. Now, these may not be frequently touched surfaces because they are more often personal use items and may include:
Clothing
Bedding/Linen
Makeup/Brushes
Personal care items
Credit/Debit cards
Car keys/Garage door openers
Handbag/purse
Your travel bottle of hand sanitizer
Handkerchiefs
Essentially, if you touch it or it comes into contact with a surface that others come into contact with should be considered a daily use item that needs to be included in your cleaning and disinfecting schedule.
Home Disinfecting Best Practices
Identifying the area at home to disinfect regularly is only the first step in building your home disinfecting schedule. The next step is understanding the most crucial home disinfecting best practices so that you can ensure the health and safety of everyone around you.
Wear Adequate Protection
When working with cleaning solutions and disinfectants, you want to make sure you are wearing plenty of protection. From protective eyewear to gloves and long sleeve shirts – you want to minimize exposure to the harmful/irritating chemicals found in these solutions.
Ensure You Have Plenty of Ventilation
Along with adequate protection for your eyes and skin, you want to ensure you have plenty of ventilation when using disinfectants such as chlorine, bleach, hydrogen peroxide, and alcohol. These chemicals give off gases that can cause significant side effects when inhaled and can cause coughing and difficulty breathing.
Never Touch Your Eyes, Nose, or Mouth While Using Disinfectants
Whether you're wearing protection or not, you need to avoid touching your eyes, nose, and mouth when working with disinfectants of any kind. These are extremely sensitive areas of your body that can have severe reactions to the chemicals. It can cause immediate burning, stinging, and swelling, which can lead to loss of vision and other severe side effects if not treated and flushed immediately.
Wash Surfaces with Soap and Water, Then Disinfect
When cleaning your home and its many surfaces, you want to make sure you are taking the time to first clean with soap and warm water. Not only does the warm water and friction of scrubbing/rubbing the soap on the surface help to dislodge bacteria and viruses from the surface, but it helps to break down their outer layer. This allows the disinfectant to penetrate the organisms better and rid your surfaces of them.
You'll want to make sure you are paying attention to the directions on how to use your disinfectant of choice. This is because many disinfectants require you to let the product sit on the surface for a while and then wash it away with more warm, soapy water.
Take the Time to Clean/Disinfect Visibly Dirty Surfaces
While you may have a set schedule of when and how often you want to clean certain areas or surfaces of the home, you really don't want to let a visibly dirty surface sit until it's designated time. While this may seem a bit obvious, letting that pile of damp towels sit on your bathroom floor until laundry day can become a potential breeding ground of bacteria.
The same can be said of letting minor spills evaporate on the kitchen counter instead of cleaning it immediately. Even a few drops of raw chicken juice can harbor untold amounts of germs, and letting it sit there will only encourage the spread.
Keep Your Loved Ones Safe and Healthy with a Home Disinfecting Schedule 
While trying to clean and disinfect your home can seem like a never-ending process, if you set a home disinfecting schedule and break up the work across the week, you'd be surprised at just how easy it can be to keep your loved ones happy and healthy, even during the sick season.
So, take the time to identify the areas at home to disinfect regularly and incorporate them into a regular cleaning and disinfecting regimen.
USHA-WB1-0421