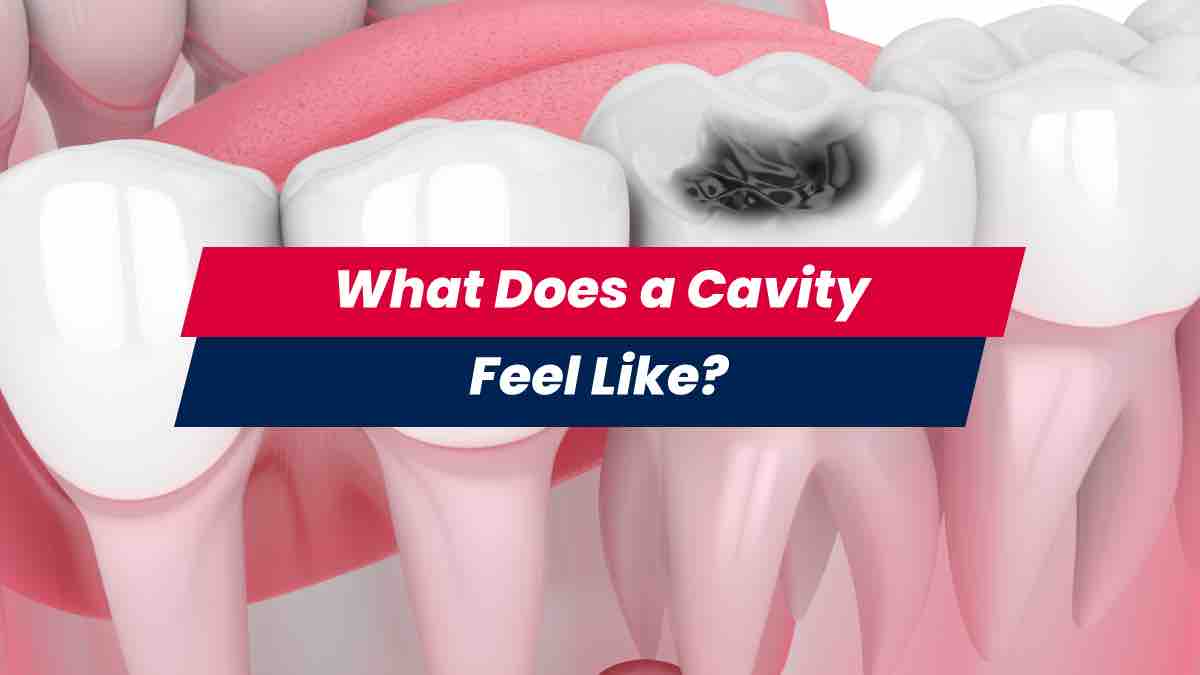 According to the Centers for Disease Control and Prevention, about 65.6 percent of Americans saw a dentist in 2018 alone. However, it's estimated that as many as 100 million Americans fail to visit a dentist each year.
Routine visits with a dentist help prevent and treat dental health problems while improving oral health. The American Dental Association recommends that Americans of all ages visit a dentist every six months, even if they do not experience declining oral health symptoms.
What is a Cavity?

Cavities, also referred to as tooth decay or caries, are among the most common oral health problems. They are so common that it's estimated that up to 26.5 percent of adults have untreated cavities. A cavity is a permanently damaged area of a tooth that has begun to develop small holes and openings. They are prevalent in older adults, teens, and children. Left untreated, cavities can grow larger and lead to severe pain and other oral symptoms.
Signs and Symptoms of a Cavity
Many Americans have asked, "How do I know if I have a tooth cavity?" Cavities are common oral health problems that affect Americans of all ages. The symptoms of a cavity can vary greatly depending on their location and severity. As decay spreads, the following signs and symptoms may appear:
Tooth sensitivity
Pain when eating or drinking something hot, cold, or sweet
Pain when biting down
Spontaneous or persistent toothache pain
Back, brown, or white staining on the surface of a tooth
Visible pits or holes in a tooth
When a person begins to experience any of these oral symptoms, they must visit their dentist as soon as possible. Their dentist will determine if they have a cavity or if any other dental health problem is present.
What Does a Cavity Look Like?
When cavities first begin to form, they are not generally visible to the naked eye. Dentists can detect the early formation of cavities through x-rays and probing a patient's teeth for soft areas using dental instruments.
As cavities worsen, a patient may begin to see staining on the affected tooth. This staining may be black, brown, or white. Cavities can also form pits or small holes within the tooth's surface as they worsen.
While holes and pits in teeth are most likely cavities, this is not always the case. Holes in teeth that aren't cavities can occur from genetic diseases, atypical dental structure, aggressive teeth brushing, tooth grinding, and natural grooves in teeth. However, if a patient suspects that they may have a cavity, it is strongly recommended that they visit a dentist right away, even if they are not experiencing painful symptoms.
What Does a Cavity Feel Like With Your Tongue or Fingers?
A commonly asked question is, "Can you feel a cavity with your finger or your tongue?"
In some cases, pits and holes that a cavity creates can be felt with a person's finger or tongue. However, these pits and holes do not form until the decay has spread and a cavity becomes more severe. When these symptoms begin, fingers may also be used to check for toothaches or unusual sensitivity, both common symptoms of a cavity.
What Does the Beginning of a Cavity Feel Like?
When cavities first begin to form, they are unlikely to cause symptoms. Most people are not even aware that they have a cavity forming. Generally, cavities do not start to cause pain until the tooth decay has become severe enough that a person begins to experience symptoms. These symptoms may be gradual, or they may come on spontaneously.
What Causes Cavities?
Cavities develop over time and need intervention to stop from spreading and worsening. Tooth decay is caused by several factors, including frequent snacking, sugary drinks, bacteria, and poor oral hygiene.
Foods that contain starch and sugar cause a transparent, sticky film known as plaque to coat teeth. If a person's teeth are not brushed and flossed regularly, this plaque may harden above or below their teeth. Hardened plaque becomes more challenging to remove outside of a dentistry office, and it can create a shield for the bacteria within it.
Once the dental plaque has formed, the first stage of cavity growth begins. Acids inside of the plaque begin to eat away at the outer enamel of the tooth. Beneath this outer, protective layer is the dentin, a softer layer of the tooth that is less resistant to the acid found in dental plaque. At this point, a patient may begin to experience pain, tooth sensitivity, or other symptoms. That's because dentin contains small tubes that communicate with the nerve of the tooth.
As the cavity continues to worsen, the bacteria and acid within the dental plaque continue to progress through the tooth until it reaches the inner tooth material, the pulp. The pulp contains blood vessels and nerves that can become swollen, irritated, and inflamed by the bacteria. This swelling can cause severe pain because the pulp cannot swell beyond the tooth that it is contained within. Swelling can cause nerves to become compressed, and that pain may even radiate down to the bone.
Who is at Greater Risk to Develop Cavities?
While anyone can develop cavities, several factors can increase a person's risk of developing cavities. Those factors include:
Age: Cavities can develop at any age. However, children and teens in America are found to develop cavities more commonly. Seniors also pose a greater risk for tooth decay as teeth wear down over time, becoming more vulnerable. Many seniors also take medications that can reduce saliva, resulting in a higher risk for cavities.
Tooth location: Patients are more likely to experience tooth decay in their molars and premolars. These teeth have more grooves and crannies, which allow food particles to become trapped. Because these teeth are further back in the mouth, they can be harder to clean than front teeth.
Specific Drinks and Foods: People who consume many starchy or sugary foods and drinks have a higher risk for tooth decay. Drinks and foods like dried fruit, honey, sugar, ice cream, hard candy, chips, and milk can cling to teeth for a more extended period and increase the risk of decay. This risk is only increased further with frequent snacking or drinking of these items.
Poor Oral Hygiene: Those with poor oral hygiene have a much higher risk of developing cavities because of dental plaque buildup. It is recommended that everyone brush and floss multiple times a day to reduce tooth decay risk.
Lack of Fluoride: Fluoride is a naturally occurring mineral that helps prevent tooth decay and reverse early tooth damage stages. Fortunately, fluoride is added to many public water supplies. However, bottled water does not contain this essential mineral. Many mouth rinses and kinds of toothpaste contain fluoride.
Dry Mouth: Saliva plays an essential role in preventing cavities. Saliva helps remove plaque from teeth and wash away food particles that could otherwise harm tooth enamel. Certain medical conditions and medications can reduce saliva production, leading to dry mouth an increased risk for the development of cavities.
Weakened Dental Fillings and Damaged or Ill-fitting Dental Devices: When dental fillings become worn and weakened, they begin to break down and develop rougher edges. It is easier for dental plaque to cling to these edges, and it can be more challenging to remove it when brushing or flossing. Similarly, dental devices that are worn or ill-fitted can allow dental plaque to decay teeth beneath the devices.
Heartburn: Gastroesophageal Reflux Disease (GERD) and heartburn cause stomach acid to flow upward into a person's mouth. This acid can wear away at tooth enamel and make teeth more susceptible to dental plaque and tooth decay.
Eating Disorders: Certain eating disorders, such as bulimia, can further wear down tooth enamel and reduce saliva production. The process of purging or repeated vomiting can cause stomach acid to breakdown the enamel of a tooth and lead to tooth decay.
How Long Can You Leave a Cavity Untreated? 
Many Americans have found themselves asking, "How long can you leave a cavity untreated?" due to financial concerns, fear of the dentist, or lack of availability. However, not every cavity develops and worsens at the same rate. By the time that a cavity causes symptoms, tooth decay has already spread beyond the tooth's enamel and will only continue to worsen.
Cavity Complications if Left Untreated
The longer a person waits to treat a cavity, the worse the cavity may become. When cavities are left untreated, tooth decay can lead to severe, lasting complications, including:
Pain that becomes severe enough that it interferes with daily life
A tooth abscess, which in rare cases, can lead to a severe or life-threatening infection
Pus or swelling around the affected teeth
Broken or damaged teeth
Difficulty chewing and eating, potentially resulting in nutritional problems or weight loss
Tooth loss
Reducing Cavity Symptoms
Americans must seek treatment for cavities as soon as possible to avoid these lasting and painful complications. However, if treatment is not possible immediately, patients can take some steps to reduce painful symptoms while waiting for a dental appointment, including:
Using toothpaste that is designed for sensitive teeth
Avoiding foods that are sweet, hot, or cold
Brushing teeth with warm water
Over-the-counter pain relievers
How Do You Fix a Cavity at Home? 
Many Americans have asked, "How do you fix a cavity at home?" and "Can you brush away a cavity?"
Unfortunately, once a cavity has developed, it cannot be brushed away or treated with at-home remedies. At-home remedies can help to reduce painful symptoms, but they will not reduce or eliminate tooth decay.
Can a Cavity Go Away on Its Own? 
Cavities will not go away on their own once they have developed. Tooth decay will continue to spread through an infected tooth until it is treated, or the decay causes tooth death. Tooth death refers to the nerve's death inside the tooth, leading to pain, the tooth's color darkening, and potential infections or abscesses. In many cases, the tooth would need to be removed by a dentist.
How to Get Rid of a Cavity 
Depending on the severity of a cavity, several treatment options may be available. Dentistry offices work with patients to discuss their tooth decay severity and the best course of action. The sooner a patient seeks treatment, the better their outcome, and the best chance they will have to prevent a cavity's progression and prevent tooth loss. Cavity treatments include:
Fluoride Treatments: Fluoride treatments can help early-stage cavities by reversing the damage done to tooth enamel. These treatments contain a higher amount of fluoride than the amount found in water and dental products and may be foam, gel, or liquid.
Fillings: Fillings are one of the main treatment options for tooth decay. Fillings may be composed of dental amalgam, composite resins, porcelain, or other materials.
Crowns: If a cavity is extensive, a dentist may choose to drill away all of the decayed areas of a tooth and fit what is left of the tooth with a custom-fitted covering.
Root Canals: Once tooth decay has reached a tooth's pulp, a root canal may be the best treatment option. Root canals are the last step before the extraction of a tooth. In a root canal, the infected tooth's pulp is removed, and medication may be used to clear an infection if an infection is present. The pulp is then replaced with a filling.
Tooth Extraction: When a cavity becomes so severe that a tooth cannot be restored, it must be removed through a tooth extraction. When this happens, bridges or dental implants are generally recommended to prevent the gap left behind from causing a person's other teeth to shift.
Preventing Cavities From Forming 
Cavities can be prevented in most cases. Preventing cavities prevents painful symptoms, financial hardships, and potential long-term complications. Cavities can be prevented by:
Completing dental exams and teeth cleaning every six months
Brushing with toothpaste that includes fluoride after eating or drinking
Drinking tap water
Regular flossing
Avoiding sugary or starchy foods or frequent snacking and sipping of these foods
Conclusion 
Cavities are common dental health problems in America. As they worsen, they may cause tooth sensitivity, pain, infections, or other complications. The sooner a cavity is treated by a dentist, the better the outcome for the patient. That's why it's crucial that Americans commit to routine dental exams and communicate with their dentist if they are experiencing any cavity symptoms.
USHA-WB10-0421