Accident
Protector - Excess Medical Expense Coverage
Accident Protector is an excess medical expense coverage insurance plan, designed to help fill the gap of out-of-pocket expenses you may incur as a result of accidental bodily injury. The plan pays up to the selected excess medical expense amount after the applicable deductible is met.
Extra Coverage for Life's Unpredictable Mishaps
Accident Protector provides extra coverage to help cover out-of-pocket expenses related to an accident.
Utilize Accident Protector to provide You with a financial advantage:
Provides lump sum payouts if Your Injury is due to an accident and results in a loss.
Excess Medical Insurance that helps cover the cost of deductibles, co-pays, and other expenses not covered by insurance.
When it Comes to Accidents…You Can't Be Too Careful.
Accident Protector provides extra coverage to help fill in the gap between Your Accident Plan's Calendar Year Deductible, Access Fees, and out-of-pocket Coinsurance expenses!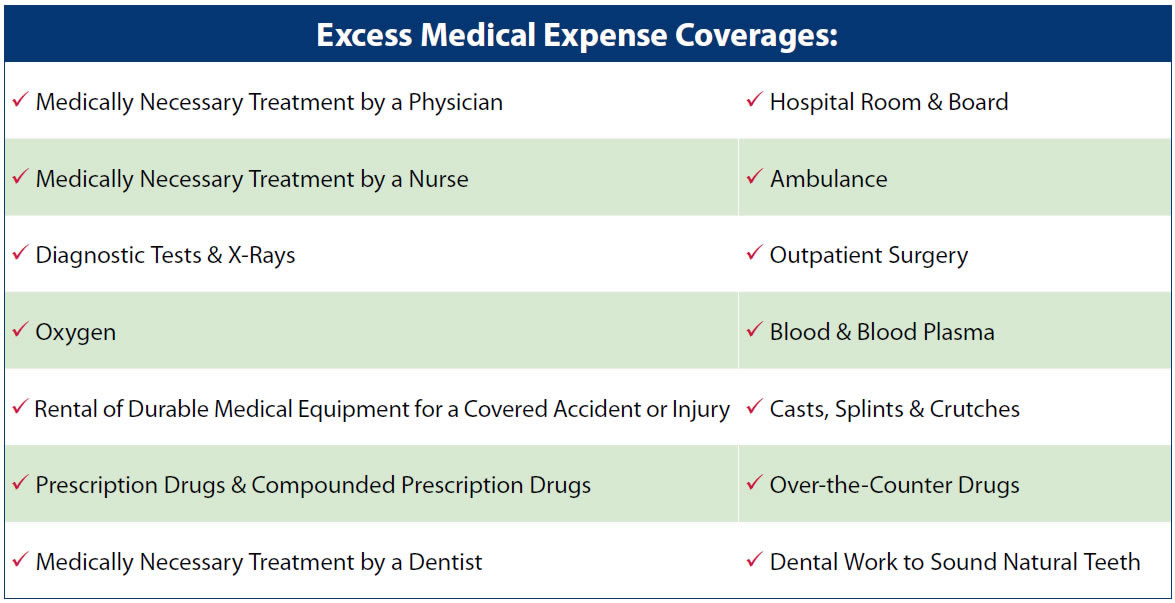 Accidental Death and Dismemberment1
Unintentional Injuries continue to be the fifth leading cause of death in America. With Accident Protector, if an Insured's Injury results in a loss, We will pay You up to 100% of the AD&D maximum2 based on this schedule: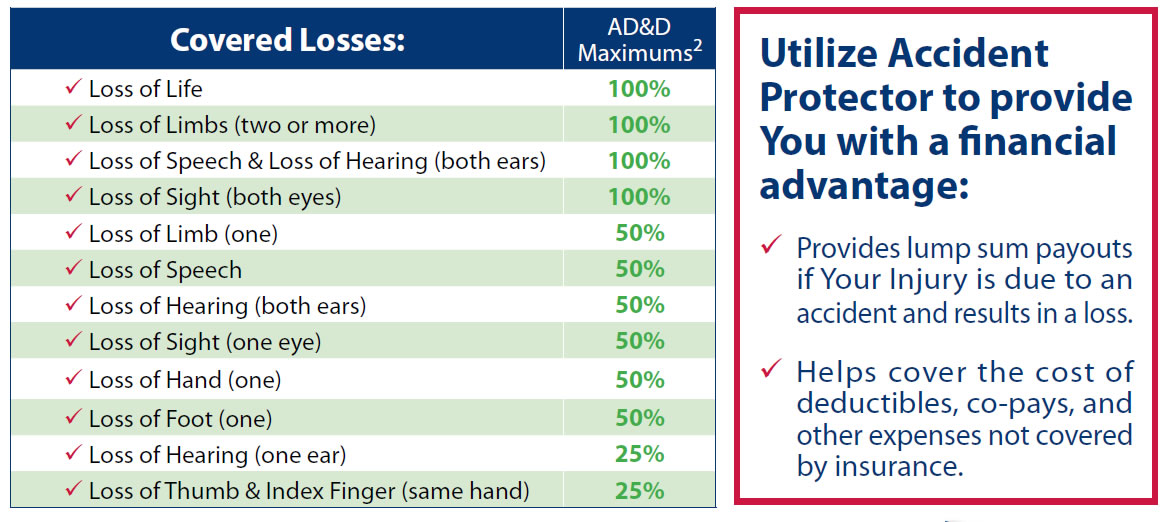 Many accidents require emergency transportation to a Hospital or other facility. You can rest easy knowing we've got You covered regardless of the Excess Medical Expense Coverage selected.
Up to $4,000 per Accident per Insured
Your coverage includes the amount of Emergency Air Ambulance expense up to the maximum of $4,000 per Accident per Insured for Medically Necessary transportation by air to the nearest Hospital qualified to render treatment in an Emergency within 90 days from the date of Injury sustained in an Accident.
We give You the option to select coverage that fits Your budget and needs. Choose Your coverage amount from the list below:

When it Comes to Accidents…You Can't Be Too Careful.
1 Benefits reduce by 50% on the 65th birthday of the Primary Insured and the spouse of the Primary Insured.
2 AD&D Maximum equal to Excess Medical Expense Coverage Maximum Benefit selected.
Accident Protector is not available in all states. Please contact a licensed agent for more information. Limitations, Waiting Periods and Exclusions may apply.
The Accident Protector Plan provides excess medical expense benefits for covered medical services in the treatment of covered accidental bodily injuries but is neither a traditional major medical plan nor a Workers Compensation plan under state law. The Accident Protector Plan is considered an "excepted benefit plan" under the ACA and is not a "minimum essential coverage" plan under the ACA. The ACA generally required individuals to maintain "minimum essential coverage" or be subject to the payment of the annual shared responsibility payment with the payment of their taxes to the federal government from 2014 - 2018. Congress eliminated the shared responsibility payment in 2019 and beyond for individuals who do not maintain ACA "minimum essential coverage" during 2019 or any year thereafter.