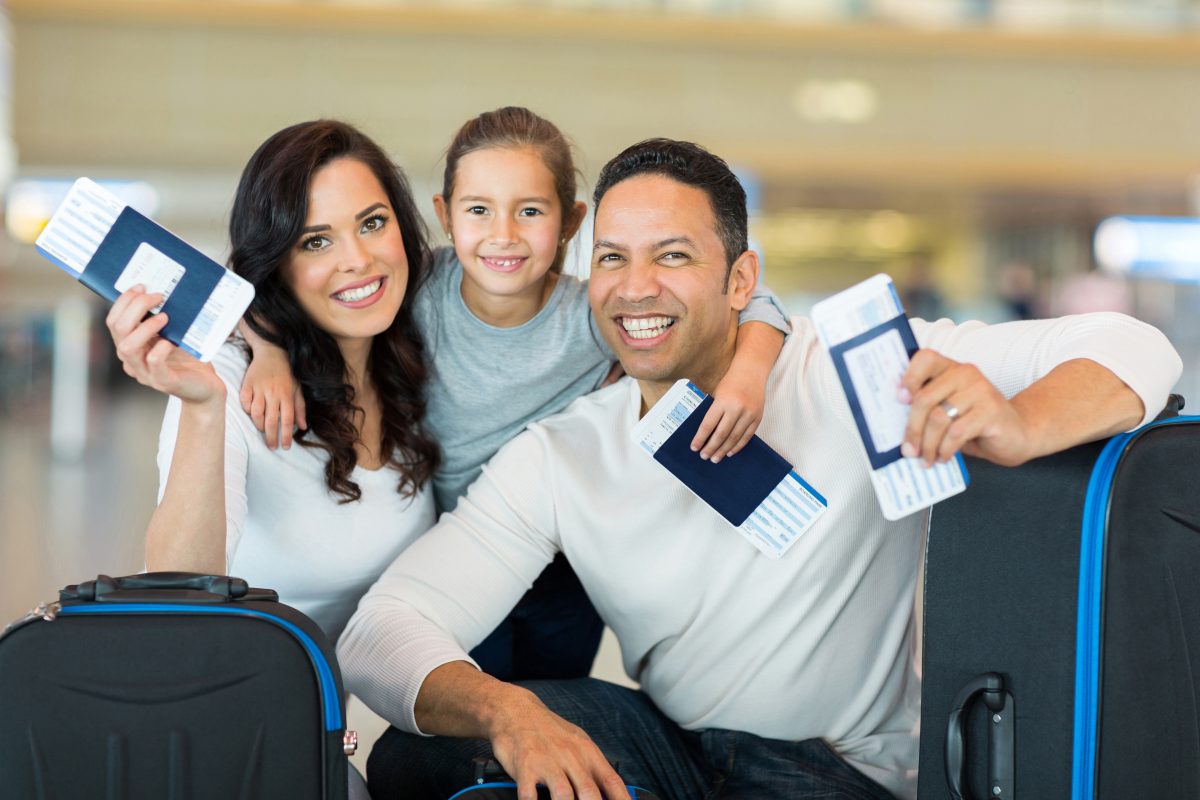 For many individuals, summer is the perfect time to travel. The kids are out of school, the beaches are open, and your mind is due for a much-needed break from work. However, while traveling is meant as a stress-reliever, there is one thing standing in the way of a relaxing getaway: your travel checklist.
Especially if you or your children have issues with certain travel—seasickness, carsickness, or fear of flying—there are steps you must take to ensure your trip goes smoothly. For example, an over-the-counter medicine for motion sickness can help you or your children keep from being miserable on the trip. However, USHEALTH Group® recognizes there are other concerns with travel, which is why we are providing a list of tips and tricks to get you to the relaxing vacation of your dreams.*
What to Pack
While each vacation and the mode of transportation warrants unique preparations, there are items you should keep with you regardless of your destination and how you get there. Adding some of these items to your travel checklist will ensure your trip is stress-free and fun! These items include:1
Medication
Both over-the-counter and
prescription medicine should be packed with you on vacations. Some recommended over-the-counter
medications include an antihistamine, motion-sickness medicine, pain relievers,
and upset-stomach or diarrhea remedies. When traveling, you may experience
different atmospheres and food, causing situations your body may not be used
to. So, keeping medication with you to prevent these ailments will keep your
vacation enjoyable.
Location-appropriate clothing
Make sure you research the weather
of your destination before your trip so you know what kind of clothes to pack.
Knowing what you are up against can help you stay comfortable and safe from any
sicknesses you can catch if you are not prepared. Just imagine showing up to
your destination, the weather is cold and rainy, and all you brought were
shorts. That is enough to ruin a perfectly good vacation.
Sunscreen
No matter where you go, the sun follows—even
if where you are going is overcast. So, make sure to pack some sunscreen with
you to protect your skin against those harmful rays!
Hand sanitizer
Whether you are in a plane, on a
cruise, or in your own car, traveling will bring you into contact with millions
of germs. Keeping some hand sanitizer with you will help you to keep clean and
safe from catching any sicknesses from people who cross your path.
Pillow
Long car rides and flights have you
sitting for long periods of time in possibly uncomfortable seats. If you are a
passenger in a car, you may want to take a nap during the trip, so a pillow
will make you more comfortable. If you are on a plane, there are few places to
lay your head, so a neck pillow may better suit your need.
Bringing some of these items with you on your trip can be
the difference between a dream vacation and a disaster vacation. In addition, while
car rides and cruise ships have similar packing suggestions, there are a few
items you may want to bring on a flight to protect yourself from illness and
stress.
Packing for a Flight
Though packing for a flight is a bit restrictive because there are limits to what you can bring, here are a few items you may want to add to your travel checklist:2
Extra change of clothes in your carry-on
Decompression socks
Neck pillow
Collapsible water bottle with filter (do not pack it with water already inside)
Facial wipes
Location-appropriate clothes
Snacks
Sweatshirt
Travel-size toiletries
Noise-cancelling headphones
In any situation, doing some simple research on what to
bring for your exact travel plans will save you trouble in the long run.
Besides packing, there are also things you may want to do before you leave so
your mind is not occupied while on vacation. If you put in the work before your
vacation begins, you are more likely to enjoy yourself when your trip arrives.
So, what can you do to ensure you are prepared when your trip rolls around?
Craft Your Travel Checklist
While spontaneous trips can be fun, the stress of under-planning
can take a toll on your health. So, no matter where you are going or what you
are doing, take some time to think through your trip and come up with a plan of
action. For example, if you are traveling internationally and do not have an
updated passport, getting one should be your first step and should be done months
in advance. With proper preparation, you can save your mind from stress, and
your vacation will be more enjoyable as well.
Additional travel checklist items you should consider before leaving for your trip include:2
Refill your prescription medicine
Make sure you are up-to-date on your
vaccinations3
Check out a book from the library to pass time
on a long flight or car ride
Arrange a ride to the airport ahead of time
Share your travel itinerary with a family member
in case of emergency
Throw away perishable food in your fridge so you
do not return to a mess
Research the weather for your destination so you
can pack accordingly
Unplug electronics in your house while you are
gone to prevent fires
Research your airline's baggage restrictions so
there are no delays on your trip
While this is not a comprehensive list of everything you should do before you leave, completing some of these tasks should help you have a fun time with your family and friends. Vacation is supposed to be a mental break for yourself and your family, so making sure you have prepared by packing and completing a to-do list will ensure your mind is at ease.
Takeaway
Of course, you know yourself and your family best, so if you know one of you has a certain issue with traveling, take the precautions that fit your family's needs. For example, if a member of your family takes medication, make sure they have enough to last the whole trip. Additionally, if you are traveling to somewhere with a lot of allergens in the air, an antihistamine should be high on your list of items to bring with you. Whatever the need is, have the forethought to take care of it before leaving can help you and your family get the vacation they need and deserve—a stress-free one!
*This
material is provided by USHEALTH Group for informational/educational purposes
only and should not replace medical/clinical advice or direction from your
health care provider.
Krystal, Becky, "What to pack in your travel health kit,"
WashingtonPost.com, published January 17, 2013, https://www.washingtonpost.com/lifestyle/travel/what-to-pack-in-your-travel-health-kit/2013/01/17/ba7ff8ac-5a6e-11e2-beee-6e38f5215402_story.html?noredirect=on&utm_term=.d9419035c070
McKay, Brett and Kate, "39
Things to Do Before Leaving on Vacation: A Handy Dandy Checklist,"
ArtofManliness.com, last modified May 28, 2018, https://www.artofmanliness.com/articles/39-things-to-do-before-leaving-on-vacation-a-handy-dandy-checklist/
NEA Member Benefits, "7 Things You Must Do
Before Your Next International Trip," NEAMB.com, accessed July 7, 2019, https://www.neamb.com/travel-and-vacations/7-things-you-must-do-before-your-next-international-trip