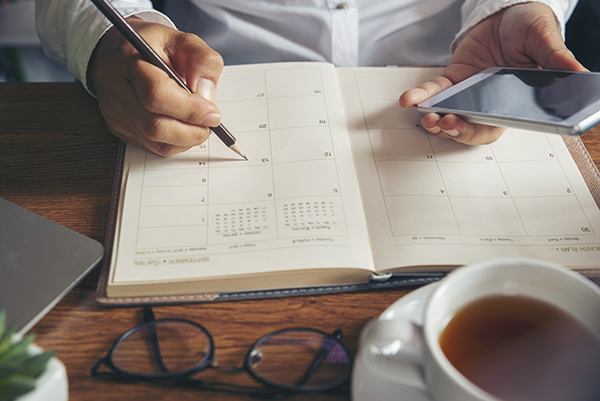 New Year's resolutions can be a big downer, especially when you choose a goal that causes you to bite off more than you can chew. If you fail to achieve your goal or uphold your resolutions, it can make you feel like a failure. However, if you choose a few smaller goals that are easier to juggle, you will feel a sense of accomplishment when you succeed in fulfilling them. Need good ideas? USHEALTH Group® wants to help you find a few simple health goals you can set for yourself for the new year!
Resolution 1: Limit Screen Time
Being on your phone too much can
take away from time with your family and friends and decrease your productivity
levels greatly. So, this year, resolve to spend less time on your phone, especially
when you are around other people.1
Resolutions 2 & 3: Go Grocery Shopping Regularly and Eat a Vegetable With Every Meal
Making sure your fridge is stocked
with snacks or food to prepare will keep you from visiting a fast food
restaurant on your way home from work. Just schedule time each week to visit your
grocery store, and make sure you buy nutritious items!1
Instead of resolving to change your whole diet all at once, vow to incorporate one vegetable into every meal. When you go to the grocery store, be sure to pick up vegetables to balance your diet with healthy additions! Add tomatoes to an omelet for breakfast, have a few slices of cucumber with your sandwich at lunch, and steam some broccoli for dinner! Eating healthier does not always have to be drastic, especially in the beginning. Take it one step at a time!1
Resolution 4: Find a New Hobby
The hobby you choose does not necessarily
have to be new—you may just pick back up an old hobby that used to bring you
joy. In fact, studies show participating in a hobby will help you live a
longer, happier life!1
Resolution 5: Use Healthier Household Products
The cleaning products you choose
can impact your health more than you think. This year, choose natural products
that are free from harsh and harmful chemicals to keep you and your family
safe.1
Resolution 6: Sit Less and Move More
Whether because of your job or
because you are binging your favorite show on TV, excessive sitting has been
shown to increase your risk of overall mortality. Even doing as little as a 15-minute
walk every day or walking five minutes every hour, the increase in activity
will better your health tremendously!1
Resolution 7: Clear the Clutter from Your House
The process can be as quick or long
as you would like. Maybe pick a room each day and clear it of all its clutter,
or maybe you clean out that dreaded "junk drawer" you have always hated!2
Resolution 8: Reconnect with an Old Friend
Today, reconnecting with old friends and family is easier than ever thanks to social media. So, send a quick message to a friend you have not talked to in a few years and let all the memories flood back!2
Resolution 9: Try Showing Up Earlier to Work
If you are in the habit of showing
up to work exactly on time, there can be stress in not having a bit of wiggle
room. Being 5-10 minutes early relieves the anxiety of being late and allows
you to prepare for a productive day.2
Resolution 10: Eat Less by Snacking More
Snacking throughout the day can improve
the way you eat as long as you follow some simple guidelines: snacks should be
150 calories or less, rich in fiber, and you must be truly hungry. You should
be mindful of your snacking to ensure everything you put in your body is
nourishing. If done right, you will find you actually eat less when you feel
like you are eating more!2
Resolution 11: Wash Your Face Every Night Before Bed
Along with drinking lots of water,
washing your face before bed will help your skin by ridding it of all the dirt
and debris from the day. Washing your face more than that will have the
opposite effect, stripping the skin of its natural oils and increasing the skin's
production of oils that cause acne. So, stick with one wash per night and you
will be on your way to clearer skin!2
Resolution 12: Keep Better Track of Your Blood Pressure
Knowing your blood pressure will help you combat your risk of strokes and heart attacks because you can better manage it. Management tools include diet, exercise, and stress relief. Meaning: eat better, exercise more, and worry less.3
Resolution 13: Eat Less Processed Foods
Processed foods have been linked with a variety of health problems, like weight gain, type 2 diabetes, and cancer. Cooking more meals at home, with more produce and plant-based proteins, will help you fulfill this resolution!3
Resolution 14: Do Something Outside of Your Comfort Zone
This resolution does not
necessarily have anything to do with your health, but you may find the activity
you choose to be a great source of joy. Anything you do that makes you truly
happy is sure to improve your health and quality of life!4
Resolution 15: Read One Book Each Month
Reading is proven to increase your
mental strength and maintain the health of your brain. So, reading one book
each month—however long or short you want—will ensure you continue to nourish
your brain with knowledge!4
Resolution 16: Floss Your Teeth More Often
Flossing is a task many people forget about or do not take seriously enough. If you vow to floss every day or even every week, you will improve your dental health tremendously and impress your dentist!4
Resolution 17: Take Your Dog on More Walks
Walking your dog is an easy way to
get your daily exercise if you are diligent about it. While it gives your
canine friend an opportunity to leave the house, the walk will help you stay
active every day as well!4
Resolution 18: Drink Water or Green Tea Instead of Coffee
Coffee can be very dehydrating if it
is all you are relying on for energy and neglecting your water intake.
Additionally, green tea can be great for weight loss and will still give you some
caffeine to keep you energized!4
Resolution 19: Keep a Journal
Journaling about your day can help
you unpack the stress of the day or give yourself some quiet time before a full
day at work. If you need a prompt, start by writing a few things you are
thankful for in any given day—the positive outlook should give your mood a
boost!4
Resolution 20: Spend More Time with Family
This resolution is as easy as
setting aside a few hours each week to enjoy with your family—without
distractions! Put away the phone, put your work on the backburner, and be
present in the moment. Your relationships and your happiness are sure to grow
stronger!4
Takeaway
Choosing one or two of these resolutions may improve your
health more than you think, along with providing you the satisfaction of
fulfilling them. Resolutions do not have to be major changes to achieve major
results. Sometimes, taking just a little step at a time will provide the greatest
outcome.
*This
material is provided by USHEALTH Group® for informational/educational purposes
only and should not replace medical/clinical advice or direction from your
health care provider.