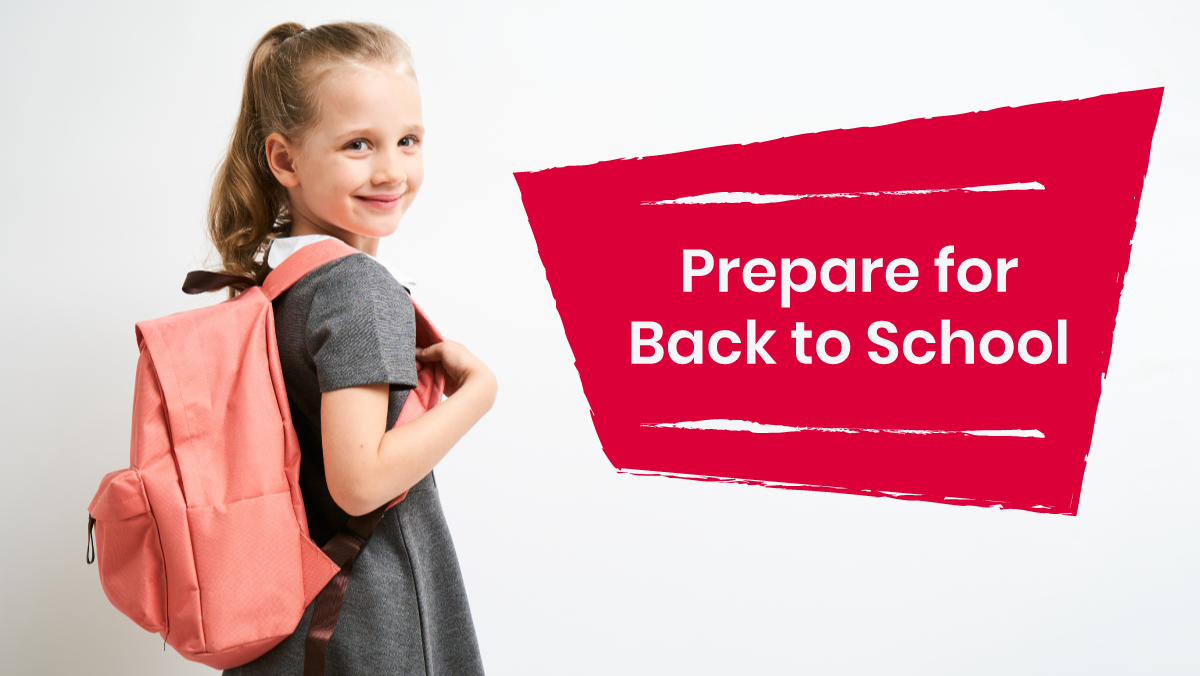 Whether your child is starting preschool or their senior year, the start of a new school year can be exciting and nerve-wracking. The last thing you want to do is worry about your child's health and safety. Ease your mind by marking a few items off your back-to-school checklist. 
Back-to-School Tips for Parents
Make the transition from summer to school by following these healthy tips: 
1. Schedule Your Child's Annual Physical 
An annual physical is essential to your child's overall wellbeing. Yearly exams allow your pediatrician to monitor your child's development both mentally and physically. Back-to-school exams vary based on age, but a doctor will typically check your child's height, weight, blood pressure, pulse, throat, vision, and nose. 
Children not participating in sports only require a physical every two years. Schools typically require yearly sports physicals and are slightly more extensive compared to a routine physical. Your doctor may pay more attention to your child's muscular strength, skeletal structure, and heart health.
2. Make Sleep a Priority  
Everyone needs sleep, but it's especially crucial for school-aged children. Getting the recommended 9-12 hours of sleep ensures your child gets enough time for the brain and body to grow and recharge. Make sure your child gets enough sleep at night by setting a bedtime, establishing a routine, and sticking to a few essential tips:
Limit screen time before bedtime. Screen lights can disturb circadian rhythms and cause sleep difficulties. 

A dark, quiet, and cool bedroom can help your child fall and stay asleep. 

Avoid nighttime snacks, especially ones containing sugar or caffeine.  
3. Stock up for Healthy Meals   
Studies show a good breakfast is essential to academic success, yet, nearly 30% of children skip this meal. Breakfasts containing protein improve cognitive performance, particularly in memory and attention.  
Make sure your fridge and pantry are stocked with brain-and body-boosting foods, such as eggs, berries, oatmeal, and bananas. 
Lunch is just as important as breakfast. Skipping lunch can slow down metabolism, and reduced blood sugar disrupts your child's ability to think straight. But all lunches aren't created equal. One study correlated less nutritious diets with poorer performance on standardized literary exams, and another discovered that 5th graders who ate fast food scored worse on math and reading tests compared to those with healthier lunches. Visit the Academy of Nutrition and Dietetics for healthy lunch ideas.
4. Figure out Transportation Needs   
Approaching and leaving the bus poses a significant safety risk to your child. Be sure your child knows how to safely wait for, maneuver around, and get on and off the bus. 
Your child is 70 times more likely to get to and from school safely via bus, but sometimes taking the school bus isn't an option. Students who attend private schools, schools outside their district, or schools that don't offer transportation have to find alternative ways to get to class. 
Follow these safety guidelines if you choose to drive your child to school:
Make sure everyone in the vehicle is wearing a seatbelt or using an age- and size-

appropriate car or booster

seat.

Children under 13 years of age must ride in the backseat. If a child needs to sit in the front passenger seat (like when carpooling), push the seat as far back as possible.

Many crashes occur while a driver is texting, using a cell phone, or eating. Remain vigilant by reducing as many distractions as possible.  
Children who walk or bike to school should learn and follow these safety guidelines: 
Always wear a bicycle helmet.

Respect traffic lights and stop signals and use appropriate

hand signals

.

Wear bright colors and reflective gear when possible.
You may want to walk or ride to school before the first day to ensure route safety. Younger children may need you to continue walking with them even once school starts. Try to find other children in the neighborhood your child could walk or bike with – there's always safety in numbers. 
5. Determine Before and After School Care   
If you're unable to make it home from work before school ends, find a responsible adult to supervise your child. Whether your designated supervisor is a friend, family member, or paid sitter, make sure they know what time to show up, whether they need to transport your child, and house rules. 
Ensure your child's safety at an after-or-before-school program by checking staff credentials, inspecting the facility, and assuring the required emergency equipment (AED, fire extinguisher, etc.) is on hand. 
Final Thoughts from USHEALTH Group
Send your kids back to school knowing they'll be healthy and safe. Schedule an annual physical early, help them set a regular sleep schedule, stock up on healthy foods, and make sure their routes to and from school are safe. 
Subscribe to our blog to learn more about healthy living.
USHA-WB6-0820