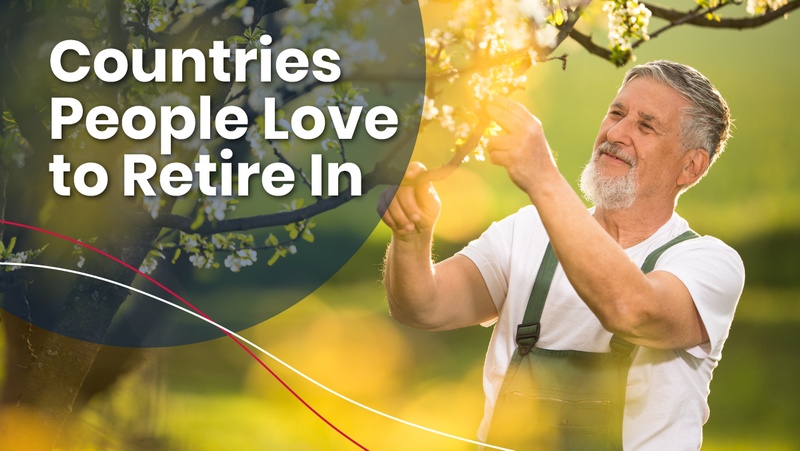 You've spent your life working hard and saving money for this very moment – retirement. Blissful retirement! Now that you're moving into this new chapter of your life, there's one very important question to answer. Where should you retire in order to live a happy, comfortable life?
Well, if you're looking beyond the United States, then you have an entire globe of beautiful countries to choose from. That can be pretty overwhelming. To assist in finding the best countries to retire, there are a few important things to consider when selecting your ideal location.
What to Consider When Relocating for Retirement
Moving is a big decision, so here are a few things to consider before choosing your new home:
Choose Your Ideal Environment: Would you prefer to settle down somewhere tropical so you can spend time on the beach? Or are you more drawn to the mountains where you'll experience all four seasons each year? And are you destined for city living or out in the country with plentiful expanse of land?
Check the Affordability: How much will it cost to live in your desired location? Research the cost of living, how much you'll likely pay for rent or a mortgage, and determine if you can live comfortably on your retirement savings and your Social Security payments. Don't stretch yourself too thin.
Consider the Quality of Life: Will there be a large population of people your age to socialize with? Is the area safe, allowing you to live in peace? Also, what's their healthcare like should you need to visit the doctor? There's a lot to think about before committing to moving to a new country.
The Most Affordable and Easiest Countries to Retire
To help plan for retirement, this post has plenty of great options to consider as your next home. There are budget-friendly choices, countries with the best healthcare, tips on where to go in Asia and Europe, the safest place to live overall, and where you should go if you want an easy move. Just make sure you check out these countries in person and really get a feel for the area before making a final decision.
Go Budget-Friendly in Panama
During retirement, you want to be smart about money so you aren't spending beyond your means. That's why many retirees choose to relocate to somewhere with a low cost of living. A great option for those who are sticking to a budget during retirement is Panama. (Their currency is the U.S. dollar, by the way.)
You could rent an ocean-view condo in Panama City for about $1,500 per month. However, you can find even more affordable locations if you look outside the city. Overall, you could certainly live comfortably on about $2,600 per month after factoring in expenses like rent, groceries, utilities, and entertainment. Plus, there's zero income tax in Panama on revenue that's earned in other countries.
Another reason that Panama is one of the best countries to retire is their Pensianado Program. It's known as one of the best retiree programs in the world and it's open to everyone. This program allows pension-holding retirees to receive discounts across a wide array of services. You can save on medical expenses, monthly energy bills, airline tickets, and hotel stays.
Try Malaysia if You're Interested in Asia Living
Malaysia is located south of Thailand and is known for its beautiful beaches and rainforests. Even though the official language is Malay, English has become an unofficial second language in the country. With English being widely spoken (and featured on road signs), your move to Malaysia will be much easier.
There's a lot to explore here, it is considered one of the best countries to retire in Asia for those who are active and looking to immerse themselves in the culture of a new location. Another bonus is that traveling between Asian countries is very easy, allowing you to experience even more of the continent. With 48 countries making up all of Asia, this will certainly keep you busy and entertained during your retirement.
Some other benefits of picking Malaysia as your retirement destination? Foreigners are allowed to own properties freehold, plus there's no inheritance tax or tax on income repatriated from overseas. Malaysia also offers great healthcare at low prices. And you could live comfortably there for about $1,500 per month in one of the country's smaller cities.
Check Out Italy if Europe is Your Dream Spot
For many, Italy is a dream vacation destination. What you may not know is that it's also an ideal location to consider for your retirement. Unfortunately, many people likely write Italy off as being too expensive, but when you look beyond the tourist locations, you can find some real gems for a little amount of money.
In fact, there are certain towns where you can find very nice apartments for only $500 per month. And you can even find homes for less than $70,000. Keep an open mind when exploring both the cities and the small towns to find what suits your needs and budget. Because living expenses tend to be consistent throughout Italy, you could certainly get by with under $2,000 per month. That's why it's one of the affordable countries to retire in Europe.
Head to Portugal for Safe, Affordable Living
Portugal topped the 2020 Annual Global Retirement Index, which is an in-depth survey conducted by International Living and published each January. In this European country, you'll experience city life in the busy capital, as well as the warmth and relaxation of several sandy beaches. And with a climate that's great year-round, you're sure to spend plenty of time outdoors.
However, it's not just the environment that makes Portugal one of the choicest countries to retire. It's also one of the least expensive countries to live in within Europe. According to Tricia Pimental, a correspondent at International Living, she and her husband live a comfortable life in Portugal for about $2,500 per month. While the cost of living certainly goes up when living in the city center, moving just 20 minutes outside the city can keep your monthly costs considerably down.
Besides being affordable, Portugal is a safe country to live in, ranking as the third safest country in the world based on the 2020 Global Peace Index. The political climate in Portugal has been stable for many years, and its crime rates are some of the lowest in Europe.
Move to Mexico if You Want an Easy Visa Process
If you choose to head south, you might find Mexico to be enticing. According to the U.S. State Department, there are 1.5 million Americans living in Mexico. The reason? It's a very affordable place to live. It's also fairly easy for Americans to move there, making it one of the easiest countries to move to after retirement.
To legally cross the border into Mexico, you will need to complete paperwork for a six-month stay in the country. This will grant you plenty of time to explore Mexico and find your ideal place to settle down. Once you've done this, you can then return to the U.S. and apply for a temporary resident visa.
A non-lucrative visa is popular among retirees. It only requires you to provide proof of economic self-sufficiency, which can be done through savings or regular income from a pension. After that, you're all set to plant your roots in Mexico. It's just up to you which part of it you choose to make your home.
Best Places to Retire in the United States
If moving to another country isn't your cup of tea, staying in the United States is a good choice too. You will be able to remain close to friends and family, plus you don't have to worry about visas and citizenship. However, you will want to consider if the state you're currently living in will serve you well throughout your retirement.
The reality is that there are states where your cost of living and quality of life will be much better than others. To help you decide, we've handpicked a few states you'll want to put on your consideration list and some you'll want to scratch off.
The Best States for Retirement
If you're looking for the cheapest state to retire so you can stretch your budget further, you'll want to check out Mississippi. Living here, you can expect low property taxes. The median cost of a home is $114,500 and the average household income is $46,084. If you're looking for a lower cost of living, warm weather, and a slower-paced lifestyle, Mississippi could be the place for you.
However, the best state to retire overall would have to be Florida. The Sunshine State is popular for its warm weather, sunny skies, and beaches. It's also a relatively affordable place to live, allowing you to stay on a slim budget comfortably. An added perk is that Florida has a high population percentage of residents aged 65 and older, you'll be able to explore new friend groups in your community.
The Worst States for Retirement
When it comes to the states you want to avoid for your retirement, it really depends on who you ask. The overall worst state seems to vary across the board. Some research has deemed Alaska to be the least desirable. Although there's no state income tax or sales tax, living here isn't ideal for many retirees due to the cold climate and dark, winter days. Besides that, the state also has a high crime rate, and you may not feel comfortable settling here.
Others say the worst place is New York because of its high cost of living – a one-bedroom apartment in the city will cost you about $3,300 per month. You'd also need to have a lot of money saved up to call NYC your retirement home.
Maryland also tends to rank at the bottom of the list, despite having history, mountains, and beaches. The state has a high cost of living, as well as high taxes. And while you may initially think Hawaii is a dream destination, think again. Its weather and beaches make it a great destination for vacations, but the average property costs make it unaffordable for many.
Your Happiness is Most Important
So many places can be considered the best countries to retire. However, it's ultimately about doing what makes you happy. Your retirement is meant to be enjoyed, so settle down somewhere that will make your golden years just a little brighter. And if you find that your first choice isn't right for you, there are plenty of other great locations around the globe to explore.
USHA-WB4-1120