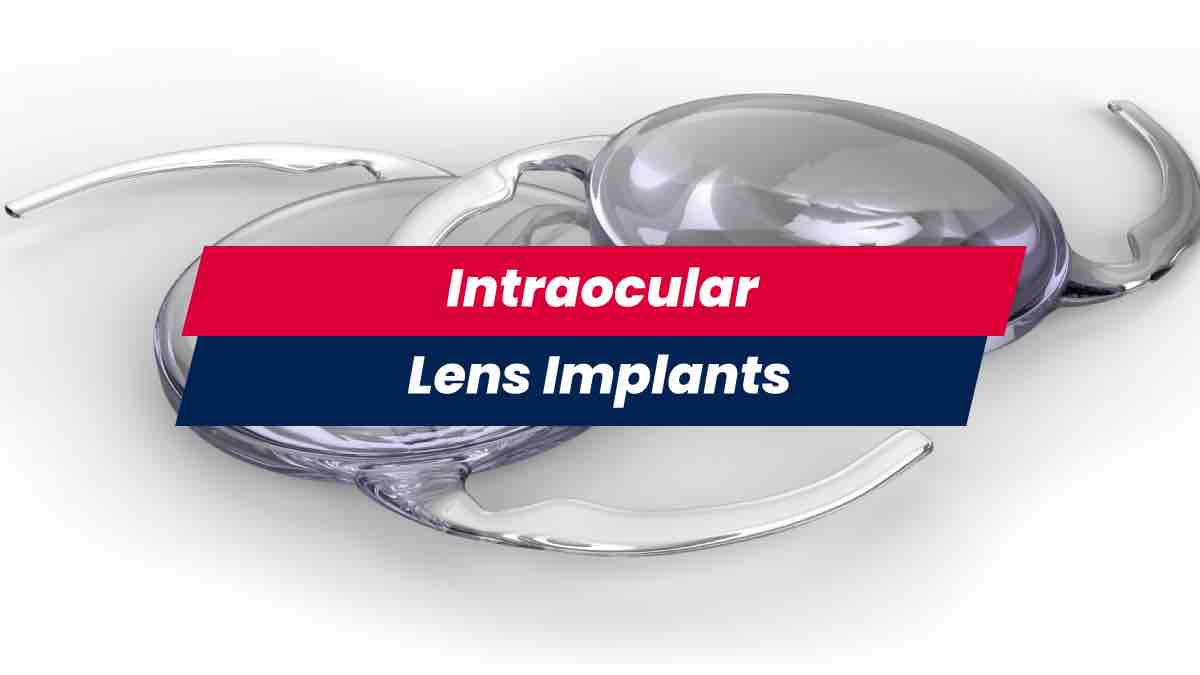 The human eye is a sensitive and complex organ that requires precise care to maintain healthy vision. However, as you age, you may begin to notice that your vision simply isn't what it used to be. This can be the result of many different conditions, one of them being cataracts. The prevalence of this condition is more widespread than most believe, with the CDC projecting that approximately 38,737,561 patients in the U.S. will be affected by the disease. 
Unfortunately, when it comes to cataracts, the only way to effectively treat them is through surgery. While you may be able to alter the prescription for your contacts or glasses, this is only a temporary solution. Instead, many patients choose to go with intraocular lenses implanted in their eyes.
What are Intraocular Lenses (IOL) and Intraocular Lens Implants?
Intraocular lenses are a type of medical device that is used to improve vision in patients with cataracts. They work by replacing the lens inside your eye. Two primary materials are used to create intraocular lenses: 
Acrylic Intraocular Lens Implants:

Acrylic intraocular lenses are made of a thin, clear material that is used to replace the lens inside your eye following cataract surgery. 

Silicone Intraocular Lens Implants:

Silicone intraocular lenses are created from a different material that is hydrophobic. This means it doesn't absorb water, which makes it perfect for use in the eyes because of their high moisture content. 
Who should get an Intraocular Lens Implant?
A patient who is in need of cataract surgery might be an ideal candidate for an intraocular lens implant. Cataracts are characterized by cloudy patches on the lens that can cause vision loss or blurriness, and they often develop as a person ages.  
An intraocular lens can be used to replace the damaged or cloudy lens, and it is often more effective than other types of surgery. 
While cataract patients are the most frequent candidates for intraocular lens implants, a person who has suffered a previous eye trauma may also benefit from this type of procedure. 
Intraocular lens implants for cataract surgery are very common, with approximately 4 million procedures done each year. 
How Do You Know If You Need an Intraocular Lens?
One of the first signs that a person may need an intraocular lens is if their vision becomes blurry. Patients who are experiencing any changes in clarity, double vision, or other eye symptoms should consult with an ophthalmologist as soon as possible to see if this type of surgery is necessary. 
The doctor will likely run tests and evaluate how your eyesight has progressed over time before deciding whether you would benefit from this type of procedure. In many cases, especially in younger patients, surgery is often put off until it's deemed absolutely necessary. For instance, in cases of blurred or double vision, prescription eyeglasses or contacts may be a suitable treatment option. These can then be altered as needed.  
However, if your ophthalmologist determines that an intraocular lens implant can improve your condition and overall quality of life, you will likely be asked to schedule the surgery when it's convenient for you. 
Seeking Out a Second Opinion
When it comes to intraocular lens surgeries, you should never be afraid of seeking a second opinion. There are many reasons that an individual might want to consult with another doctor before proceeding with the surgery. 
For example, they may not feel 100% confident in their surgeon's abilities or have questions about what type of surgery is best for them. 
Some people also like getting opinions from more than one professional to compare different perspectives and decide what option will work best for them.
Whether you're seeking out an initial or follow-up opinion, there are some questions you'll want to make sure you are asking the doctor, including:
What would the benefits of intraocular lenses be? What about the risks?

What are the different types of intraocular lens implants?

What is the cost for intraocular lenses, and what additional costs might there be associated with them? 

Can I have my old lens removed and a new one put in its place – and vice versa – or does that only happen during cataract removal surgeries? 

How long do these lenses last? 

How often will they need to be replaced after their initial insertion date?

Am I a candidate to have the procedure done on only one eye, or both eyes at once?

What type of intraocular lens do you recommend?

How long will I be in surgery for?

What does the recovery process entail?

Will I be restricted from any certain activities once I have the intraocular lens?
Of course, if you have any additional questions, you shouldn't hesitate to ask. The more informed you are, the better. 
Types of Intraocular Lenses and their Pros and Cons
In the United States, there are several different types of intraocular lenses available. The different lens categories are designed to address the patient's individual needs, and offer various benefits in terms of visual acuity and comfort levels following surgery.
Each type has its own set of pros and cons that should be considered before making a final decision. Your eye doctor will decide which lens is best suited for you based on their diagnosis of your eyes, and then discuss their decision with you.
Accommodative
This option is the most expensive type of lens and offers multiple focal points. These lenses are more likely to be dislocated or have complications, but they're becoming a popular choice due to their high level of precision.
Advantages: They provide better near vision than EDOF IOLs, making it easier for people who do lots of close-up work. And although these lenses deteriorate faster with age, you don't need as many replacements since there is no difference in quality between different parts of the lens.
Disadvantages: This type will require an operation every few years if you want to maintain good eyesight, meaning that your eye doctor may recommend accommodative IOLs only if you're highly active or spend a lot of time doing close-up work.
Extended Depth-of-Focus (EDOF)
These intraocular lenses are designed for patients who experience presbyopia due to aging and don't rely on up-close vision. The lens offers a single focal point, which may help with reading distances and tasks that require close attention or detail work.
Advantages: EDOF IOLs are the cheapest type of intraocular lenses, but offer only one focal point, so they're best suited for those who won't be doing much up close work such as following recipes in the kitchen, sewing on buttons, or putting together Lego toys. They can also provide better distance vision than monofocal IOLs, because you don't have to keep looking through different zones to see objects at various distances 
Disadvantages: These lenses are the most difficult to implant, so they're better for less active people, like the elderly. The lens needs to be replaced every few years and may change in appearance with age.
Monofocal
This lens is designed to correct distance vision.  This type of intraocular lens does not provide for any other level of vision correction, and the patient will need glasses for near or reading distances. Monofocal lenses are more economical than multifocal lenses, but have a higher incidence rate of complications following surgery compared to multifocal lenses, due to their single focal point. 
Advantages: Monofocal intraocular lenses are less expensive than multifocal ones and offer clear vision for distance, which is often all many patients need. 
Disadvantages: These lenses do not allow patients an additional point of focus, which may lead to difficulty seeing up close after cataract-removal surgery or with macular degeneration. They also cost less than two-focal (bifocals) and trifocal (which have two other focal points) intraocular lenses.
Multifocal
This type of intraocular lens gives many patients the best of both worlds – clear vision for near and far. 
They are a good option for people with macular degeneration or complicated cataract surgery, who may need to see clearly up close and want to focus on something in the distance at the same time.
Advantages: The multifocal intraocular lens offers two focal points, which may help with reading distances and close-up tasks. They're recommended for people who are experiencing presbyopia due to aging, or those who have cataracts in both eyes. 
Disadvantages: Multifocal IOLs cost more than monofocals but less than trifocals, because they require a second surgery incision on the inside of your cornea during implantation. Some patients report hazy vision after surgery.
Toric
Finally, toric intraocular lenses are made for people with astigmatism. You may be required to wear glasses or contact lenses outside of the lens to avoid double vision, but it can be worth it if you find that your eyesight is significantly improved.
Advantages: Toric intraocular lenses are custom-made for individual eye conditions.
Disadvantages: These lens implants can be expensive and may not provide as good of a range of vision correction. They may even need to be replaced every few years as your condition changes to maintain the best possible eyesight.
Intraocular Lens Implant Surgery
Once you have consulted with your ophthalmologist, they will discuss the procedure and what to expect. 
The surgery is performed in a sterile environment under local anesthetic, as well as sedation or general anesthesia. This means that you are awake, but you will not feel any pain during the surgical process. 
The intraocular lens implant procedure is a delicate process that requires precision and care. The incision to insert the lens may be made either at the back of the eye, or on the front surface. In most cases, the incision will be made at the front, since this allows for quicker recovery. However, there are some cases where an incision must be made on the back of the eye. This method can cause discomfort and a longer recovery, but typically results in greater visibility and improved eyesight over traditional glasses or contact lenses.
The total time the procedure will take will depend on the type of surgery, but most lens implants take about 15 to 30 minutes. However, depending on what your surgeon finds once they make the incision, additional time may be required to make any necessary corrections. 
Post-Surgery Recovery
After the intraocular lens implant, your vision should be fully restored in about two weeks. However, you will need to take a few precautions while healing so that your eyesight doesn't worsen over time. 
Some people develop dry eyes as a result of drooping eyelids after their operation. Others may have difficulty seeing objects up close because they do not have the muscle strength to focus on them. In these cases, wearing glasses would help make things clearer. 
You may also feel some discomfort for a few days after your intraocular lens implant surgery, but it should subside within a week or two. Some people have reported that their vision was still cloudy and blurry post-surgery. If this happens to you, contact your ophthalmologist immediately so they can determine whether there's been any damage done during the procedure.
Additionally, some patients may experience:
Pain

Swelling

Redness at the surgical site

Increased risk of infection (especially if medication isn't taken as prescribed)

Light sensitivity
Your ophthalmologist will also likely instruct you to avoid all strenuous activity for up to eight weeks, avoid getting water in your eyes, and avoid bending from the waist to pick anything up. Of course, that also means avoiding lifting anything heavy, as it could lead to pressure in the eyes.  
Intraocular Lens Implants Can Improve Your Long-Term Vision
Intraocular lenses are a safe and effective way to improve your vision. While they are most often used as part of cataract-removal surgery, they may prove beneficial to those who have experienced some other form of eye trauma. 
Determining which type of intraocular lens implant is the best fit for you will involve lengthy discussions between you and your eye doctor. So, don't be afraid to ask plenty of questions, conduct your own personal research, and ask for second and even third opinions to be sure you're comfortable moving forward.
USHA-WB11-0621