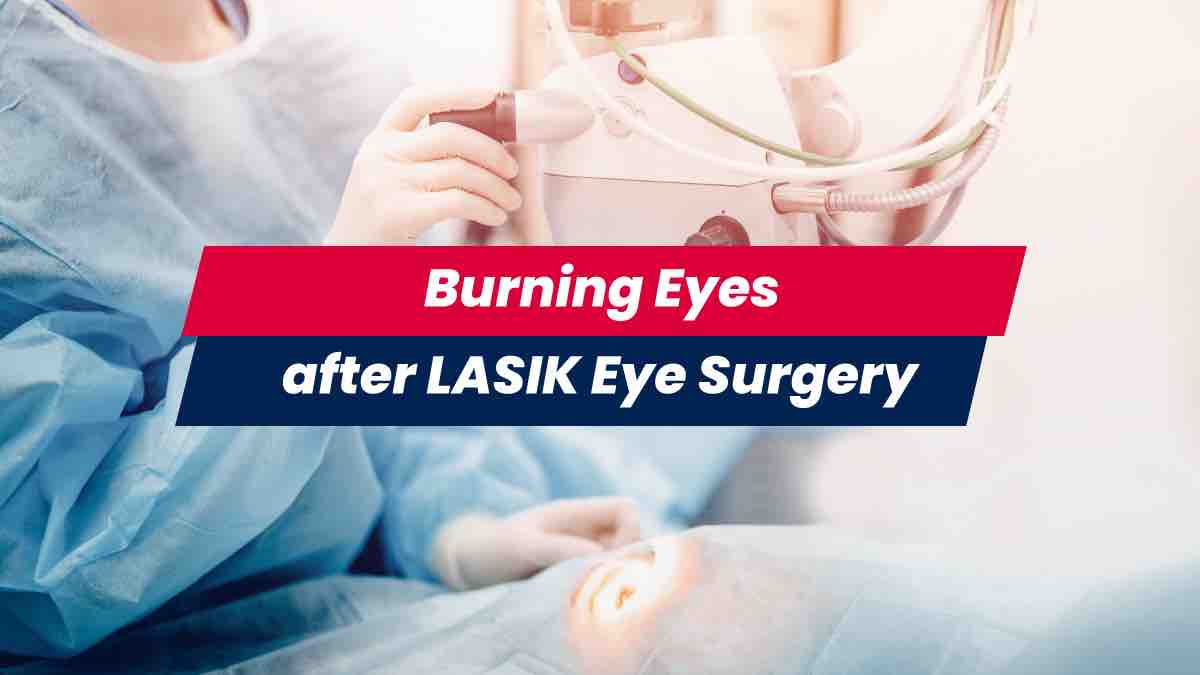 Often, people experience burning eyes after Laser-Assisted In-Situ Keratomileusis (LASIK) surgery. The reasons for this burning sensation depend on many factors, the main one being that during the procedure, the cornea is cut, and it needs time to heal.
Patients often have concerns about how long they should expect to experience this discomfort. While there is no set timeline for how long it will take for an individual to heal from  LASIK eye surgery, there are some basic guidelines for what patients should expect. 
What is LASIK Eye Surgery?
LASIK is a surgical procedure devised to reduce or eliminate the dependency on glasses or contact lenses. Doctors perform this procedure on the cornea. The cornea is the clear protective dome on top of a person's eye that shields it from injury. LASIK eye surgery removes a thin layer — approximately 10% of the thickness of the lens — of this protective tissue, reshaping and repositioning it to help improve vision.
Like any surgical procedure, there are some post-op side effects associated with LASIK. These include a mild burning sensation in the eyes. It is important not to panic, as these symptoms typically go away within one month after treatment.
Patients should consult with their doctor if they experience persistent discomfort related to dryness, pain, or other unusual sensations following LASIK surgery. These symptoms could mean an infection, blepharitis (swelling of the eyelid), or other potential causes.
How Long Do Eyes Hurt After LASIK
Some patients feel minor to moderate discomfort during the first 24–48 hours following LASIK eye surgery. However, it may take up to one month to fully heal from the surgery. Other side effects do occur, although they are rare. These side effects may include: 
Halos around images 

Glare

Dry eyes

Trouble with night driving 

Shifting vision 
Overall, healing time can vary depending on a person's general health and how well they follow their doctor's post-op instructions. For example, a person with cardiac issues may take more time to heal due to reduced circulation. The number of patients who experience pain lasting longer than a year after LASIK surgery is marginal, with less than 10% experiencing prolonged discomfort.       
5 Reasons Eyes Could Be Burning Months After LASIK
LASIK eye surgery is an incredible procedure that can be life-changing for those who have been struggling with vision problems. However, it's not uncommon to experience some burning in the eyes after having this procedure done. Here are the top five reasons why a person may experience burning eyes after LASIK eye surgery:
1. Severe Dry Eye
Severe dry eye can cause excessive burning in a patient's eye following a LASIK procedure. If these symptoms persist for more than a few weeks post-op, it is best to contact the doctor, who may prescribe eye drops. Serious cases are rare, but if severe dryness persists, a physician should be consulted.
2. Seasonal Allergies
According to the CDC, 68% of people suffer from seasonal allergies. These allergies are another reason a patient might suffer from burning sensations after LASIK surgery. Dry eyes accompanied by burning is a common symptom of allergies. For relief, patients should talk to their doctor before taking over-the-counter allergy medications.
3. Possible Infection
Infections such as conjunctivitis due to bacteria, viruses, or fungus may cause excessive burning. Bacterial infections include staphylococcus, streptococci, and viral outbreaks like shingles, along with burning lesions of the eye, can cause bacterial infection.
4. Improper Post-Op Care
Post-surgical irritation from LASIK surgery itself is a primary cause of burning. This irritation is usually due to a patient's non-compliance with the post-surgical protocols. Patients need to follow their doctor's instructions very carefully.
5. Post-Op Complication
Rarely people who have LASIK experience post-op complications. These complications may be due to numerous factors, many of which are outside of the patient's control. More than 8 in 10 people who have this procedure done experience no complications whatsoever. However, just over 10% who deal with post-op complications generally heal fully within a year after their surgery.
Frequently Asked Questions
Since the first LASIK procedure, more than 10 million people have had this corrective surgery, and more than 96% report complete success with long-term vision correction. Yet, people considering LASIK or those who have recently had the procedure done have many questions regarding what to expect. These patients also want to know how to manage the dry, burning sensation after surgery. 
Here are some of the most frequently asked questions about LASIK by patients:
How do you know if your eye is infected after LASIK?
If a patient has an infection, they will notice mucus discharge, redness, pain, irritation, and watery eyes. These symptoms can range from moderate to severe. Patients who think they might have an infection after LASIK needs to contact their doctor immediately. 
What happens if you get an eye infection after LASIK?
If left untreated, infections in a patient's eye may lead to other medical conditions such as cardiac problems, sepsis, and even blindness. Patients should not ignore these symptoms. Sepsis is a bacterial infection in the bloodstream and can lead to death. Eye infections should be handled with care and treated by a medical professional as soon as possible.
How long should you use antibiotic eye drops after LASIK?
You should use your antibiotic drops for seven to ten days. However, patients may react to medications used following their procedure and have dryness in their eyes. This dryness will last for about two weeks or less, depending on how sensitive the patient is to these medications. Patients should use artificial tears once the antibiotic drops are gone.
What happens if you get pink eye after LASKIK?
If a person gets conjunctivitis (pink eye) after having LASIK surgery, they need to see a doctor immediately. Conjunctivitis is a dangerous eye infection that can lead to more serious medical issues if left untreated in a patient who has recently undergone laser eye surgery.
Should your eye hurt after laser surgery?
Eyelids need time to adjust to the new shape of the cornea. This process can cause temporary irritation of the eye surface. Patients also experience dryness from lack of blinking, which leads to more tearing than usual. The pain associated with this side effect will last for about two weeks.
How long do eyes hurt after LASIK?
The eyes are usually uncomfortable for one to two days after LASIK surgery, but some patients will experience eye pain for as long as one month. On notably rare occasions, a patient might experience pain or burning of the eyes for as long as a year post-op.
Can your eyesight get worse after laser eye surgery?
Yes. However, this complication is rare. Approximately 10% of patients who have had LASIK eye surgery will need another procedure called "retreatment." This second surgery can take place after the first year of recovery from this corrective procedure. Only 4% still require the use of corrective lenses after their operation.
Should you experience eye pain one year after LASIK?
No. A LASIK surgery patient should not experience dryness, burning, or any moderate to severe pain after the first year. If a patient is experiencing any symptoms like these, they must speak to their LASIK surgeon about what else they might be dealing with post-op. 
LASIK Eye Surgery Risks
LASIK carries risks of overcorrection or under-correction and the potential for still being required to wear glasses after surgery. Surgical procedures are risky, and LASIK is no exception. Besides those from the surgery itself, there can be other risks to consider:
Risks of Infection
One out of 2,000 patients that undergo LASIK surgery is at risk of getting a dangerous infection. Most infections occur in the peripheral tissues and do not lead to loss of vision. Yet, it is a risk patients must consider.
Injury to the Eye Post-Op
Other concerns include bumping the eye and having a flap that moves away from its original position. This displacement could lead to inflammation of the thin membrane underneath the eyelid — a condition doctors treat with cortisone drops.
Glare and Hazy Vision
Some people experience glare or hazy vision after their procedure, but those symptoms will usually disappear six months after surgery. For a small percentage of patients, these symptoms do not go away in the allotted time frame. These symptoms will usually resolve themselves within two years.
What to Expect After LASIK Surgery
If everything goes as planned, most patients can anticipate what to expect after their LASIK procedure. Here is a timeline for what will happen immediately after surgery and what to expect in the future:
5 minutes after surgery:

Immediate vision correction, no discomfort while sedatives wear off.

30 minutes after surgery:

Itchiness, patients should take a nap

4 hours after surgery:

Wake up from a nap with even more improvement to vision

1 day after surgery:

Post-op appointment to check patient vision and for complications

1 to 5 days after surgery:

Careful following of post-op instructions

1 to 14 days after surgery:

Careful adherence to post-op after-care

1 to 12 months after surgery:

Post-op appointment scheduling and follow-through

Lifetime:

Annual eye exams to check the progress 
The doctor will advise a patient on how much time it will take for their vision to stabilize after the procedure. This process is typically anywhere from one day up until six months post-op. However, often within three weeks, a person's vision should be at least 20/40 in both eyes. Dryness symptoms are usually gone as well.
Patients should always follow instructions given by their LASIK practitioner during the consultation, including wearing protective eyeglasses while doing anything that puts pressure on the eye, such as bicycling, which may increase irritation.
Burning pain after LASIK surgery will usually go away after a couple of days, but could last as long as a month. In the rare case that it lasts longer, the LASIK doctor should be consulted.
USHA-WB9-0621