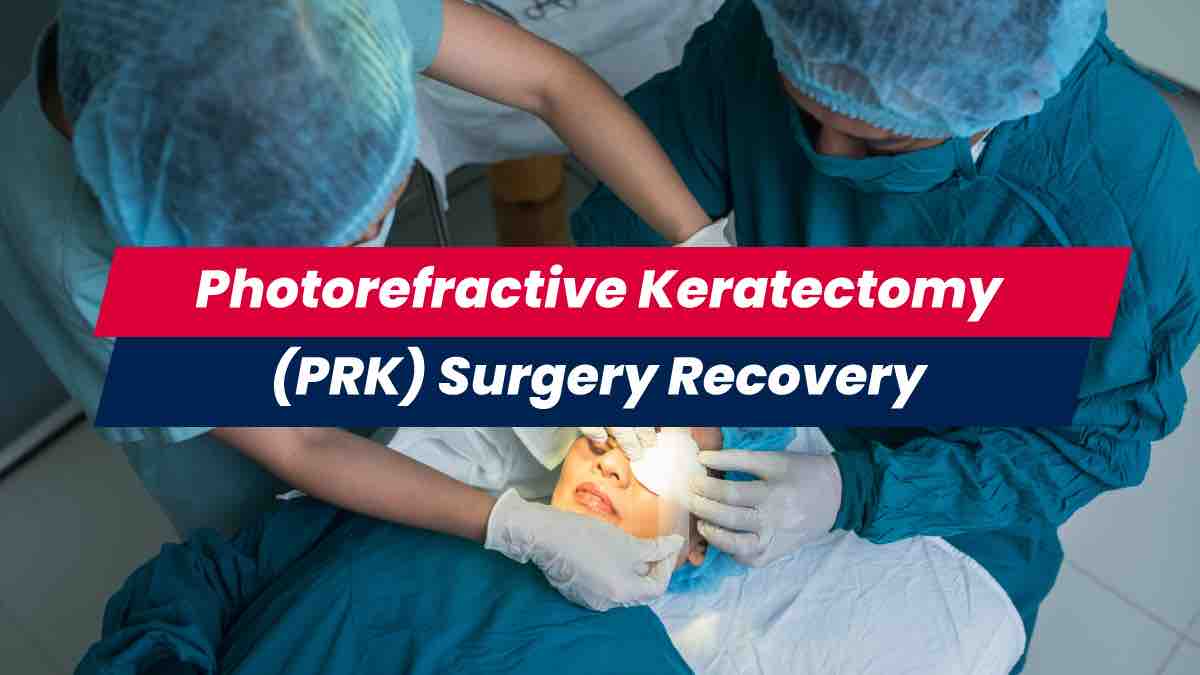 After laser eye surgery, a patient can experience mild to moderate pain. As long as the pain is tolerable, it is a normal part of the recovery process. 
However, there are a few steps people can take to manage their pain after photorefractive keratectomy (PRK) surgery. These steps can also help them heal faster. 
According to the CDC, postsurgical undertreatment of pain is linked to surgical complications and prolonged rehabilitation. It can also lead to the onset of chronic pain. Therefore, pain management in PRK recovery must be a priority for both the patient and the doctor.  
What is PRK Surgery?
This is a surgical procedure on the eye primarily used to correct myopia – also known as near-sightedness or short-sidedness. The technique uses a laser to reshape the cornea and the front of the eyeball. 
PRK is similar to laser-assisted in-situ keratomileusis (LASIK) surgery – the other surgical technique using lasers to correct vision problems. These two procedures are comparable in that they are both approved to correct myopia, hyperopia – known as farsightedness – and astigmatisms. 
The National Library of Medicine published a report stating that the effectiveness of these two procedures is comparable. However, the procedure, recovery, and pain management differ considerably.
Managing Pain After PRK Surgery
Pain after laser eye surgery is generally a result of the healing process. During this time, the eyes are notably sensitive, and patients should avoid activities that could damage their eyes. 
When recovering from PRK surgery, patients should try to rest as much as possible. It's also essential to follow the post-operative care instructions given by the doctor.
Typically, a patient will experience PRK pain relief 72 hours after the procedure. Most of the pain occurs within the first day or two. The severity of the pain is commonly reported on the pain scale as a seven out of 10. 
PRK Post-Op Protocol
During recovery, patients will likely experience moderate discomfort. Their eyes may feel dry, scratchy, or irritated. They may also experience some sensitivity to light, especially immediately post-op. While these symptoms are uncomfortable, they are all normal and should go away on their own. 
However, severe pain after PRK surgery is not normal. If a patient is experiencing this or any of the following, they need to contact their doctor:
Irregular drainage 

Swelling

Bandage contact lens falls out (do 

not

 put the lens back into the eye)

A steady decrease in vision
Patients should expect somewhat blurry vision after PRK surgery. So, there is no need to contact their doctor for this. 
Also, it is not uncommon for one eye to experience discomfort (or any other symptom) and the other eye doesn't. Patients should not be alarmed by this either. 
PRK post-op for corneal modifications will consist of three main steps to ensure eye health during PRK recovery. Adherence to these post-op protocols is critical for recovery. Also, patients should listen carefully to any instructions given by their doctor. 
1. PRK Recovery Periods
During the first seven days of PRK surgery recovery, patients experience the most discomfort. These sensations will decrease each day. Patients must not rub their eyes during this time. Many patients can return to work within the first week, around days five to seven.
Patients should avoid washing their faces with tap water and avoid swimming for three weeks. Taking this precaution will help limit the risks of infections or other complications. 
Altogether, patients can plan to return to life as usual within a month of getting the PRK procedure. However, patients should discuss what they should expect about individual recovery times with their doctors. 
2. Medication Instructions
Doctors prescribe oral analgesics to patients after surgery, including over-the-counter (OTC) medications and opioids or other narcotics. Vicodin is the most commonly prescribed narcotics medication. Also, a topical prescription drop – usually tetracaine – will be given. 
Doctors instruct patients to take one to two tablets of opioid pain relievers every three to four hours as needed for the pain. If pain persists, OTCs can be taken every four to six hours at intervals that do not interfere with the narcotics. 
3. Eye Care Guidelines
Aftercare for PRK recovery includes using artificial tears eye drops every hour to avoid irritation and dryness. Also, it is encouraged to avoid wearing makeup or applying moisturizers around the ocular cavities. 
For the first two weeks after PRK surgery, patients should wear protective eye shield while sleeping, even if they are taking a short nap. They should also limit screen time, reading, and other activities that require patients to focus their vision for extended periods. 
Around day five or six post-op, the doctor will remove the PRK contact lens bandage. Moderate pain will be associated with this. However, PRK contact bandage removal pain should never be severe. If the pain is not tolerable, they need to contact their doctor immediately. 
Frequently Asked Questions
PRK surgery is one of the early laser eye surgery techniques used to treat vision problems. It pre-dates LASIK and has benefits that LASIK doesn't offer. For one, it is the only surgery available to people with thin corneas or who do not qualify for LASIK.
However, even though it has been around since 1988, people still have numerous questions regarding PRK surgery. Especially in regard to the pain and how long it will take to heal. Other frequently asked questions include:
Why is PRK painful?
Pain is subjective. The reason PRK surgery is painful for one person may not be the reason it is painful for another person. What one patient considers as severe pain after PRK surgery may be moderate pain for another.
How long does the pain last after PRK surgery?
This depends on the patient, how quickly they heal, and how well they follow the post-op protocols. Healthcare professionals recommend sleep. However, some patients find that too much rest causes other health concerns.
What helps with the pain after PRK surgery?
How well a patient follows the instruction given by their doctor will help them manage the pain after PRK surgery. It is best for people considering PRK surgery to speak with a healthcare professional about their expectations with PRK surgery recovery and the pain associated with this procedure. 
What should you expect before PRK surgery?
On the day of the surgery, patients must not wear any makeup, perfume, or jewelry. They should wear comfortable clothes and arrive early. 
Doctors will prescribe medications three days before surgery. Patients must pick up these prescriptions before the surgery so there is no delay in pain management post-op. Doing these things before surgery will aid in the recovery time post-op.
How to Speed Up PRK Recovery Times  
The first thing that patients can do to accelerate healing times after PRK surgery is to follow all pre-operative care instructions. Anyone who wears contacts to correct their vision must remove them for two weeks before surgery. They will need to wear their glasses during this time. 
PRK recovery times vary depending on the person getting the surgery. Recovery is different for everyone. The time it takes to recover depends on factors like the severity of the vision correction needed, the condition of the patient, and the age of the patient.
Regardless of those considerations, there are some things people can do to help speed up the process: 
Taking supplements: 

According to the FDA, 

vitamin C supplements

 contain healing components best for post-op care. Therefore, doctors may suggest this to their patients before and after surgery. Patients can also talk to their doctor about what other supplements may be appropriate.
Rest often: 

Healthcare professionals recommend adequate sleep since it promotes healing by preventing any increase in pain associated with fatigue from lack of restful sleep.
Limit strenuous activity: 

Patients should not sit for long periods, and they shouldn't try to do anything strenuous such as picking up heavy items. They will need to avoid anything that may cause pressure to build up in the eye, which could prolong healing time.
Use prescription and OTC eye drops: 

Patients need to use the eye drops prescribed during recovery. As mentioned previously, patients must use drops every hour. If the patient is not diligent about doing this, it might affect the healing time. Patients must use the eye drops and all other prescriptions given to them by their doctors.
Furthermore, patients should continue taking NSAIDs (nonsteroidal anti-inflammatory drugs) as needed for pain. This is because refusal to take these medications could interfere with PRK recovery times and lead to more problems down the line like side effects caused by increased inflammation.
The most important thing to remember is that PRK recovery time depends on the individual's healing process. The best way for a patient to know how quickly they are recovering and what types of symptoms to expect after surgery is by researching PRK recovery times in advance or talking with their healthcare practitioner about it.
USHA-WB12-0621