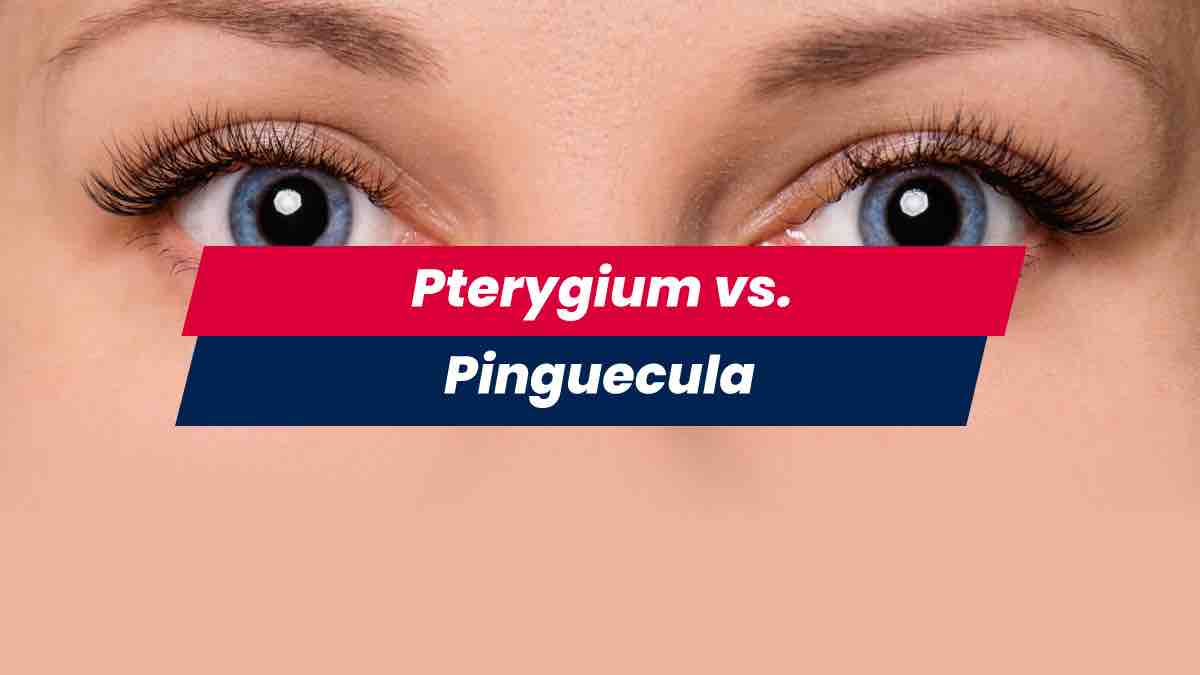 Eye irritation and pain are two very common symptoms experienced by millions of patients globally. While most patients are dealing with common eye conditions, such as dry eye, it's vital that you never self-diagnose or self-treat unless you are 100% sure you know what you are dealing with. This is because you could be dealing with a more significant issue, such as pterygium or pinguecula. 
Pterygium and pinguecula are two eye conditions that can cause irritation or pain, but the correct diagnosis is essential to ensure you get the right treatment. Before you can dive into potential treatment options, you need to understand what each condition is.
Pterygium vs. Pinguecula: Two Very Different Eye Conditions
It's important to understand the difference between pterygium and pinguecula. These conditions need a medical professional's opinion before you decide how to proceed with treatment. This will help ensure you don't miss any critical information about what might work best for your needs.
What is Pterygium?
Pterygiums are a common eye condition that can affect anyone. However, they are most often seen in adults and those in low-latitude regions. The overall prevalence of pterygium is approximately 10.2% and is greater amongst men (14.5%) as compared to women (13.5%)
The condition is described as a small, triangular-shaped growth (clear in color) found on the white of your eye.
Pterygiums may cause you some slight discomfort if they block out light from entering into the surface layer of your eye, but they will not impair vision unless there is scarring. Scarring is typically caused by irritation from rubbing against something else in close proximity, such as your eyelashes.
Common Symptoms
The signs and symptoms can differ from one person to another. Some of the most common signs and symptoms of a pterygium include:
itching and eye irritation 

redness in the white of your eye or sclera 

a darkened patch on the eyelid, conjunctiva, cornea, or iris
In some cases, pterygium can cause distorted vision due to its size. Larger growths can obstruct light from entering into the surface layer. It is also common for people with this condition to see blurry images when they use their peripheral vision. One should seek medical attention immediately if you are experiencing any severe pain, redness, or blurred vision.
What is Pinguecula?
Pingueculas are benign corneal irregularities seen as yellow-white patches or plaques which appear to be raised from an otherwise healthy cornea. 
As compared to pterygium, pingueculas are far more common. The overall prevalence of pinguecula falls around 47.9%, and like pterygium, it is more prevalent amongst adults and in men (56.4%) as compared to women (42.7%). It's also been noted in those who wear their contacts more often than not, and in those who have dry eye syndrome.
If you're experiencing pingueculas for an extended period of time while wearing contacts (over three months), stop using them until your doctor gives you advice on how to proceed. 
Common Symptoms 
Like pterygiums, symptoms of pinguecula can and will vary by the individual and the severity of the condition. While some patients won't experience severe symptoms, they may experience: 
Blurred vision

Feeling like you have something in your eye (foreign body sensation)

Having to blink more often than usual

Painless, elevated lesion of the eye conjunctiva that most often occurs on the lower eyelid and may be found in both eyes

Small white spots with a reddish hue in the center and an irregular margin, which is sometimes ulcerated
When patients with pinguecula experience any symptoms, it will typically result in blurry vision, because the irregularity blocks some light from entering the eye correctly. This can then lead to sensitivity to light, or even a feeling like there is something on your eye that won't go away. Other common symptoms of a pinguecula may include eye pain and redness in the white of the eye.
When to See Your Eye Doctor for Pterygium or Pinguecula
If you experience any symptoms related to pinguecula or pterygium, it is best to see your eye doctor as soon as possible. They will then be able to diagnose the specific condition and prescribe a treatment.
The best way to diagnose pinguecula or pterygium is with an eye exam. The doctor will use a slit lamp, which provides a detailed view of the eye surface, and other instruments to assess the condition for any irregularities that may be present on your eyelids. From there, they will be able to determine what the next steps are for treatment.
What Treatment Options are Available?
Once your eye doctor has officially diagnosed you with either pterygium or pinguecula, they will be able to determine the best course of treatment based on your specific condition.
Unfortunately, there are currently no non-surgical remedies that can completely remove either a pterygium or a pinguecula. However, your eye doctor may be able to suggest non-surgical options to help you reduce the size and symptoms of each one.
Pterygium Treatment Options
There are many treatment options for pterygiums, which can vary depending on the severity of the condition. 
Surgery is typically recommended if there is any risk that your cornea could be scratched during everyday activities, like using a handkerchief to wipe away sweat from your face or rubbing your eye against something else. Laser surgery has been proven effective at treating superficial scarring caused by pterygiums but may not work well with patients who have very large growths.  
If surgery is not an option, other treatment methods, like cryotherapy with liquid nitrogen or carbon dioxide, can be used. These treatments can destroy pterygium growths as well as reduce their size and the pain caused by them. Cryotherapy is usually done on a weekly basis for two months before seeing if it will cause any scarring around the area where it was performed. 
If there isn't any evidence of injury from your pterygium, you should expect to use conservative treatment options such as laser therapy, medicated eye drops for dry eyes, and occasionally wearing protective eyeglasses.
Pinguecula Treatment Options
To treat pinguecula, your eye doctor may suggest an anti-inflammatory steroid drop to help reduce swelling in the area and speed healing. If your pinguecula is making it difficult for you to see, you may want to consider having a laser procedure done, which will help flatten it out.
The size of your pinguecula is an essential factor when deciding which treatment option to go with, as laser surgery may not work on larger growths or in cases where the pinguecula has spread over a large area.
In some people, pingueculas, if left untreated, can continue to grow and get worse, which is why it's vital to follow up with your eye care specialist regularly (at least once every year). 
Frequently Asked Questions
Having a basic understanding of both pterygium and pinguecula is only the beginning. If you have more questions or are looking to build your own list of questions to ask your eye doctor, then you may want to review this FAQ:
What is This Clear Bump on My Eyeball?
These clear bumps are known as a pterygium growth of the conjunctiva (the mucous membrane that covers the whites of your eyes). While it's most often described as a clear wedge thanks to its triangular shape, some describe it as a bubble or blister in the eye, or a raised bump on the eyeball.
What is the Difference Between Pterygiums and Pingueculas?
Pterygium is caused by an overgrowth or irritation of tissue on the cornea (the transparent inner surface at the front of your eyeball), while pinguecula growths typically occur as small lesions just in front of the tear duct opening. Although both conditions may cause some discomfort for patients, they have different causes and treatments.
Are Either Pterygium or Pinguecula Hereditary or Caused by an Underlying Health Condition?
Neither pinguecula nor pterygium is hereditary. They may, however, be the result of an underlying health condition that is not being treated properly, such as chronic dry eye syndrome.
Can a Pterygium Be Removed Without Surgery?
Unfortunately, no. However, the size of the pterygium can be reduced significantly by following a strict regimen that includes eye drops, artificial tears, and steroids to reduce the inflammation of pterygium tissues.
Can a Pinguecula Be Removed Naturally?
No. Pinguecula cannot be removed without surgery. However, as long as your quality of life isn't disrupted by the pinguecula, then treatment may not be necessary at all. Although, if you are finding your pinguecula bothersome, then your doctor will likely prescribe you eye ointment or drops to help relieve redness and any irritation. 
Can You Go Blind from Pterygium?
Pterygia can cause eye irritation and dryness, resulting in temporary vision changes, including distortion or blurriness. In some cases, however, pterygia can lead to serious complications such as inflammation within the eye, leading to increased pressure on your eyeball and blindness if not treated promptly.
How Can you Prevent Pterygium?
One way you may lower your chances of getting pterygiums is to wear a protective eye shield and avoiding going out in adverse weather, such as high winds, which can kick up debris that can come into contact with your eyes. 
Can You Get Pterygia from Using Contact Lenses?
Contact lenses can cause pterygia if they are not worn correctly, or if the contact area is too large for your eye. If you wear a contact lens prescribed by an optometrist or ophthalmologist, it is less likely to get pterygium from them. Talk to your doctor about other ways you may be able to prevent pterygium formation with contacts, including wearing protective eye shields. 
Is Pinguecula Permanent?
Pinguecula are considered relatively permanent unless removed through surgery. They are caused by exposure to ultraviolet light or other factors that may cause damage to the eye surface, such as cigarette smoke.
Is Pterygium Permanent?
Pterygium is considered permanent, though it can be surgically removed. It can also be treated without surgery with laser eye treatment, or other types of eye drop treatments.
Can Computer Screens Cause Pterygiums or Pingueculas?
Computer screens can cause pterygiums as well as pingueculas. Eye strain from too much computer time or improper lighting conditions is the most common cause of eye irritation and subsequent cornea growths, such as pinguecula and pterygiums. 
Can Children get Pinguecula or Pterygium?
While both pinguecula and pterygium are found most frequently in adults, children may also develop these growths. In these cases, pinguecula and pterygium are caused by eye strain from looking too closely at a computer or other screens for long periods of time, but they may also result from physical irritation such as frequently rubbing their eyes or potential eye trauma.
Can Pinguecula or Pterygium be Spread to Others?
Pinguecula or pterygium can't be transmitted from one person to another. Since both of these conditions result from excessive eye irritation or trauma, the chances of them spreading to another person are non-existent.
Does Being Outdoors Cause Pterygiums and Pingueculas?
While outside contaminants, such as dust or pollen, can cause eye irritation, they do not directly lead to either pterygiums or pingueculas. These eye conditions develop from excessive physical irritation such as rubbing one's eyes too often, frequently touching them with dirty hands, improper contact lens use (chronic dry eye syndrome), etc.
Always Seek a Professional's Opinion
Since pterygiums and pingueculas are so similar, those who choose to try and self-diagnose often confuse one with the other. From the similarities in symptoms to how these eye problems affect your vision, it can be difficult for people to know which is which. 
This uncertainty can lead to improper care, leading to worsening conditions that could become quite disastrous. While there is quite a lot of information available to patients about both pingueculas and pterygiums, it's crucial that you always seek out a professional opinion before you try any remedy. 
If you ever have questions, comments, or concerns, you should always reach out to your eye doctor for further information.
USHA-WB13-0621