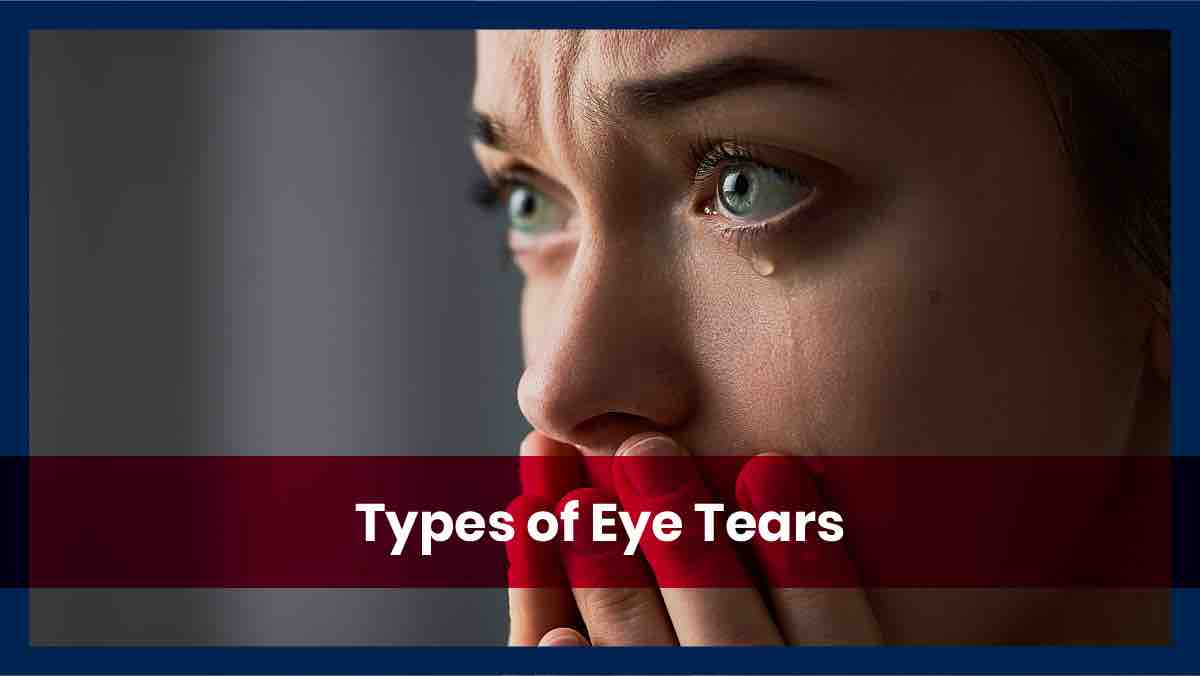 The eyes are a very complex organ. Tears are the protective lubricant that cleans and moisturizes the eyes to keep them from drying out. They also have three different layers that make them up. 
People produce roughly thirty gallons of tears each year.
There are even different types of eye tears that each serve different functions.  
This guide will help explain the different layers and types of tears. It will also cover how tear production is affected by both external and internal factors. Finally, all of this gets wrapped up by what makes tears different and frequently asked questions.  
What Makes Tears?
Tears consist of saline and have a similar compound to saliva. They contain lipids, electrolytes, metabolites, and enzymes. The three layers of tears include:
Outer oily layer

: This layer keeps the outermost part of the tear smooth. It also ensures it is see-through and prevents evaporation of the other layers.  

Middle watery layer

: This layer is the thickest and is what hydrates the eyes. It also repels bacteria and protects the cornea. 

Inner mucus layer

: This layer keeps the entire tear joined to the eyeball.
Tear production occurs in the lacrimal glands and is spread across the eye when a person blinks. The puncta – the tiny holes in the lower and upper eyelids – is where the tears drain. 
Tears empty into the nose after traveling through the small canals from the lids. After that, the body either reabsorbs this biological fluid or evaporates.
When there is an overproduction of tears, the body is unable to drain them. This occurrence results in them spilling from the eyes. 
Types of Eye Tears
This protein-rich, antibacterial liquid is responsible for healthy vision and comes in three kinds. The composition varies, depending on the type of tears. Here are the three types of eye tears:
Emotional Tears
The body produces these tears when an emotional response is triggered. They are known as crying or weeping tears. They are not only a result of negative feelings. 
Familiar types of emotional tears:
Tears of joy

Tears of sorrow/sadness

Laughter tears

Stress tears

Angry tears

Tears of pain
Reddening of the cheeks, nose, and ears is associated with emotional tears. They can often cause convulsive breathing and body spasms. They stabilize the mood, increase heart rate, and sometimes slow down breathing.
Basal Tears
These tears are the eye's standard lubricating tear. They are continuously secreted in small amounts to keep dust clear from the eyeball. 
This function is necessary to ensure comfort in the eyes and is part of the body's immune system. Basal tears fight off bacterial infections.
When a person suffers from dry eye, this is the tear their body fails to produce in adequate quantities. Dry eye is the most commonplace eye condition outside of typical vision problems. About 9.3% of adults in the U.S. deal with this condition. 
Reflex Tears
These tears are also called irritant tears and occur when eyes become exposed to foreign bodies. Vapors, fragrances, gas, chopping onions, or exposure to pepper spray or mace also cause reflex tear production. 
These are also the types of tears that occur when bright lights and hot or spicy stimuli to the mouth or tongue occur. In addition, coughing, vomiting, and yawning also cause reflex tear production. 
They get released in quantities more substantial than basal tears. Basal and irritant tears have the same goal, to protect the eyes.
Weepy Eye Conditions
Dry eye is the leading cause of weeping eyes. This fact may seem like a contrary notion. However, the body is attempting to resolve the issue. As a result, it begins producing more tears. 
However, extra tear production doesn't cure the dry eye problem. The cause of dry eye might keep the membrane from absorbing the fluids.
Drainage Issues 
Another prevalent condition associated with weepy eyes is drainage issues. If the tear ducts are clogged or do not function properly, tears will build up in the eyes and cause them to drain down the face. 
This condition could be a symptom of a much more significant issue. If weeping eyes are a persistent issue, a person should visit their eye doctor.  
Thyroid Eye Disease
A symptom of Thyroid Eye Disease (TED) is weepy eyes. TED is an autoimmune disorder that causes the body to mistake physiological tissue surrounding the eyeball for a foreign body and attack those cells. This condition will cause the eye to tear up.  
Tear Production and Aging 
As people age, tear production decreases. This condition is a result of decreased function of the anatomical components of the eye. There are three primary causes:
Lacrimal Gland Dysfunction
Around the age of 50, people begin to lose lacrimal gland function. This condition usually leads to dry eyes. It can also cause an overproduction of tears. This disfunction happens to women with this more than men, and menopause is the leading cause. 
Meibomian Gland Degeneration 
This disorder is another condition that occurs with aging. This gland produces essential oils and lipids that lower the evaporation of tears. Degeneration of these glands leads to excess tears in the eyes. 
Dry Eye Disease
Dry Eye Disease (DED) is a condition characterized as severe dry eye. Elderly people have about a 75% chance of developing this condition. It is classified as dysfunction of any part of the eye, including:
Lacrimal gland

Ocular surface

Eyelids

Nervous system
Factors that predispose the elderly to this condition are:
Lid laxity

Hormonal changes 

Inflammatory systemic conditions

Oxidative stress
The Impact of Injury on Tear Production
Injuries to the eyes cause the eyes to tear up. From minor scratches to catastrophic trauma and even surgery will impact tear production. Tear enzymes are healing. Excess tears are the body's response to these injuries. 
Here are the most common eye injuries:
Corneal abrasion

Foreign object penetration

Chemical burn

Eye swelling

Subconjunctival hemorrhage

Iritis

Orbital fractures
Frequently Asked Questions About Tear Production 
Everyone cries, but not everyone knows how valuable tears are for eye and vision health. Often, people have questions when it comes to this fluid. Here are several of the most frequently asked questions regarding tear production:
Do different types of tears look different?
Yes. When examined under a microscope, different types of eye tears have altered characteristics. Also, much like snowflakes, no two tears are the same.
Does reduced tear production affect vision?
Yes. Reduced tear production usually occurs when there is another underlying condition. These conditions could affect the eye, ducts, or glands. If a person believes they have any severe conditions causing reduced tear production, they must see a doctor to avoid further damage to the eye.
What causes an overproduction of tears?
Many variables can cause an overproduction of tears. Irritants, allergies, and injury are the most prevalent reason eyes overproduce tears. If there seems to be an issue unrelated to these factors, contact an eye doctor.
What is the meaning of tears in the left and right eyes?  
There is no difference in tears produced from one eye or the other. Unless there is an anatomical abnormality or physical injury, tear production in specific eyes has no meaning.
What eye does the first tear come from when you're sad? 
There is a commonplace misnomer that there is a meaning behind which eye tears up first. The answer is that there is no difference between the tears produced from one eye versus the other. If one weeps more than the other, there is likely something wrong with the eye. 
Also, anatomical differences could mean that one person cries first from one eye over the other. However, there is no need for concern if this occurs. 
What is the difference between tears from outside of the eye versus inside?
Tears originated outside the eye versus ones produced inside the eye is what causes the teary eye. If the conjunctiva – which lubricates the eye – is creating mucus, tears production occurs outside the eye. 
The sclera – which protects the inside of the eye – may cause tear production to keep the internal operations of the eye healthy.
Can tears be white?
White, or "milky" tears, are a sign that something internal is happening. Usually, an infection has caused this to occur. Some medicated eye drops may also create a milky tear. However, this is still a reason for a person to contact their eye doctor.  
Are happy tears and sad tears different?
Types of eye tears have distinctly structured molecules. For that reason, sad, happy, and stress tears are different from one another. 
Does burning in the eyes mean there is a lack of tear production? 
Burning pain or discomfort could mean there is a lack of tear production. However, burning, painful eyes are not always associated with this symptom. 
Multiple factors cause burning sensations in the eyes. Those who wear contacts are likely to experience many symptoms unrelated to tear production. Yet, they will mimic this condition. 
Patients must see a doctor if the burning sensation does not cease. If there is no known cause of the painful, burning feeling, something needs addressing to relieve symptoms. 
Healthy Tears for Healthy Eyes 
Throughout a human's lifespan, their bodies undergo changes that affect how their eyes function. Some of these changes are normal and expected. However, some changes may indicate a more severe problem. If a person notices any changes in their eyes, they should see an eye doctor.
The most prevalent eye problems are treatable. However, when a change in the eye is severe, people must not delay treatment. A delay could impact a person's eye health and vision. The eye doctor will determine if the eye problem is pressing.
For optimal eye health, a person should visit their eye doctor regularly. Their doctor will ensure that tear production is regular and that the eye is functioning appropriately.
Most people will see their doctor once a year or once every two years. Those wearing corrective lenses may see their eye doctor more regularly. Also, those with disorders will see their eye doctors more frequently.
USHA-WB6-1221