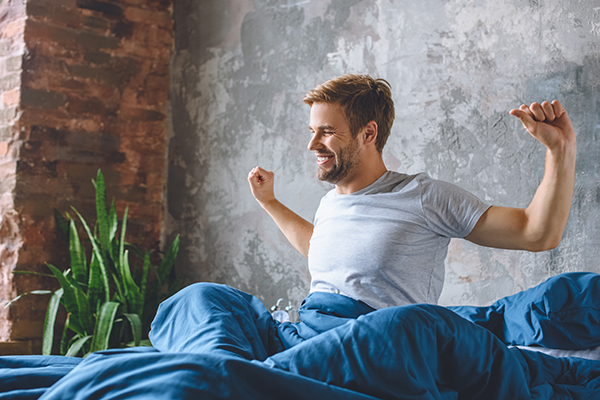 Everyone has a morning routine—a list of things to do every day between the time you wake up and when you leave for the day. Items on your list may shift, change and vary as the seasons change or as you adopt new practices, but every day has an agenda you follow out of habit. Adding items to your morning routine can take some time getting used to but can change the overall tone of your day if you pick activities to start your day on a healthy foot.*
Develop Good Habits lists 34 morning routine items1 for you to pick and choose which ones sound the most beneficial to you. However, incorporating just one of these healthful habits can jump-start your day, increase your energy and productivity levels and—depending on the habit you choose—aid in your weight loss and fitness goals.
Below are a few healthful suggestions to begin including in your morning routine to start your day off right.1
1. Have a Glass of Cold Water with Lemon
The nutrients found in lemon juice, paired with ice-cold water, can be the perfect thing to wake you up in the morning. Lemon water packs a healthy punch, because it:2
Promotes hydration
It is a good source of vitamin C
It supports weight loss, improves your skin quality
Aids digestion
Freshens breath
Prevents kidney stones
The real benefit of this trick is how much time it takes to make—just add a few drops of lemon juice to your glass of ice water and you are ready to go. Simple, right?
2. Let Natural Light in
As simple as it sounds, opening your curtains to let natural light flood into your room in the mornings can have some health benefits. In fact, natural light affects your health in a variety of ways:3
It boosts vitamin D
Wards off seasonal depression
Improves sleep
Reduces health risks of fluorescent lighting
Therefore, begin your morning by drawing back the curtains and saying hello to the sun. You will not regret the effect the light has on your health and mood.
3. Have a Mint
Whether your intake is in the form of an Altoid or essential oil, mint can spruce up your morning routine due to its potential benefits:4
Increases mental alertness
Relieves seasonal allergy symptoms
Acts as a natural decongestant for the common cold
Calms and soothes indigestion and gas
Soothes irritable bowel syndrome (ibs)
Prevents gastric ulcers
Relieves pain
Calms and cools insect bites, rashes or other reactions
Is a natural anti-microbial agent and breath freshener
Incorporating mint into your morning routine is as easy as rubbing a drop under your nose, sucking on an Altoid, brushing your teeth with minty toothpaste or chewing mint-flavored gum. Another plus? You will smell so good.
4. Complete a Short Workout
Especially if your day involves sitting at a desk for long hours, it is important to utilize a portion of your day to physical fitness. In fact, morning workouts have a few proven health benefits5 and cause you to:
Consume fewer unnecessary calories
Be more active throughout the day
Burn more fat
Have lower blood pressure
Sleep better at night
Protect yourself from diabetes
Build more muscle more efficiently
Tap into the health benefits tied to exercising
Daily exercise is important no matter when you do it, but making it part of your morning routine will make you more likely to be consistent and make exercising a habit.
5. Make an Antioxidant Smoothie
While we all know breakfast is the most important part of the day, it can be hard to prepare something healthy in the mornings when you are on a time crunch. Making a smoothie can be an efficient way to make sure you are getting a nutrient-rich breakfast to fuel your day while saving time and eating on the go.
A simple recipe for your smoothie:1
1 cup of frozen berry mix (preferably containing strawberries, cherries, pomegranate, raspberries and blueberries)
4 ounces plain, nonfat Greek yogurt
1 cup almond milk
2 tablespoons of milled flax
Just throw all your ingredients in a blender—adding water to make it as smooth or thick as you like—and you have a quick breakfast that takes little time out of your morning.
Takeaway
No matter what you choose to do in the morning, being more intentional about those things and making sure they benefit you can make your day-to-day more enjoyable and stress-free. But, if you are needing additional ideas, check out the daily routines of Fortune 500 leaders. The results just might surprise you and inspire you to create a morning routine catered just to you and your success.
*This material is provided by USHEALTH Group® for informational/educational purposes only and should not replace medical/clinical advice or direction from your health care provider.
Scott, S.J., "34 Daily Morning Routine Habits for an Amazing Start to Your Day," DevelopGoodHabits.com, accessed February 27, 2019. https://www.developgoodhabits.com/morning-routine-habits/