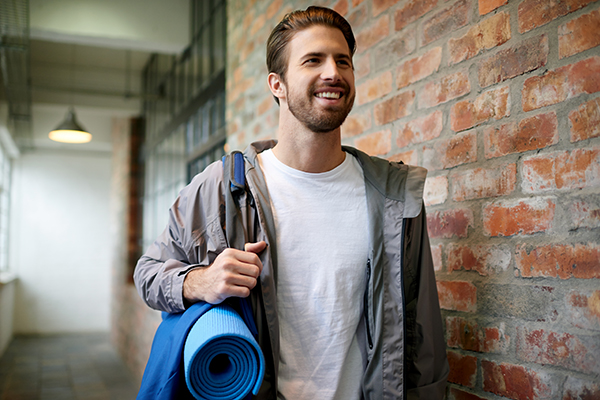 There are several ways to combat stress. While some individuals manage their stress by talking to friends and family, sleeping, watching movies, eating or listening to music. However, the activity encouraged most by physicians to manage stress is exercise.1 If you do not know where to start, USHEALTH Group® has a few ideas.
Seventy percent of adults say they suffer from stress and anxiety, according to the Anxiety and Depression Association of America.1  Stress, though a natural part of human life, can have serious effects on the body if not managed properly. All in all, your musculoskeletal, respiratory, cardiovascular, endocrine, gastrointestinal, nervous and reproductive systems are compromised by chronic stress. These factors make stress an important issue to address.2
Due to these statistics, USHEALTH Group wants to assist you in finding ways to tackle your stress and live healthier. Below are some exercises you can do to manage your stress and benefit your body.* So, keep reading and find which exercise best suits you.
Yoga3
Often going hand-in-hand with meditation, Yoga is a great way to slow down and ease stress. The stretching, breathing and postures involved can "strengthen your body's natural relaxation response and bring you into a healthy balance."3 In addition, yoga is easy to incorporate into your week. So, try joining a yoga class or check out Healthline's "Definitive Guide to Yoga" to learn how to start.
Riding Your Bike3
If your bike is collecting dust in your garage, it is time to take your forgotten friend for a spin! This outdoor activity will provide you a good dose of fresh air and possibly a change of scenery. In addition, the peaceful setting you choose to ride in may be just the thing your mind needs to unwind. Just be sure you remain aware of your surroundings and ride safely.
Aerobics or High-Intensity Exercise3
When you think of aerobics, you may immediately think of water aerobics or rhythmic exercise. However, aerobics just refers to high-intensity exercise designed to strengthen the heart and lungs. These exercises can include swimming, running, walking, dancing and in-line roller skating. Doing these exercises increase your heart rate and makes your body release endorphins, which are natural opiates. In other words, while you may not love running, your mind and body do.
Martial Arts3
If you consider the factors causing you stress, frustration may be one of the underlying emotions. One way to release the pent-up energy caused by your frustration is to learn and practice martial arts. There are several types to choose from, including Krav Maga, karate, tae kwon do, etc. Along with letting go of stress, martial arts also teach you self-discipline and self-defense, which can make you feel safer.
Bonus Tip: Studies show listening to music can improve your mood, decrease stress and enhance performance.4 So, next time you need a little pick-me-up, listen to your favorite song and your spirits should be lifted. However, if you choose a sad song, you are setting yourself up for failure. Instead, pick a happy song. Your mood should reflect the music—no matter where you are or what you are doing.
Takeaway
In the long run, stress can be very detrimental to your health. How you manage your stress could be worse than the stress itself. Instead of coping with food or sitting around watching TV, make a healthy choice by utilizing exercise to decompress. Your mind and body will thank you later!
*This material is provided by USHEALTH Group ® for informational/educational purposes only and should not replace medical/clinical advice or direction from your health care provider.