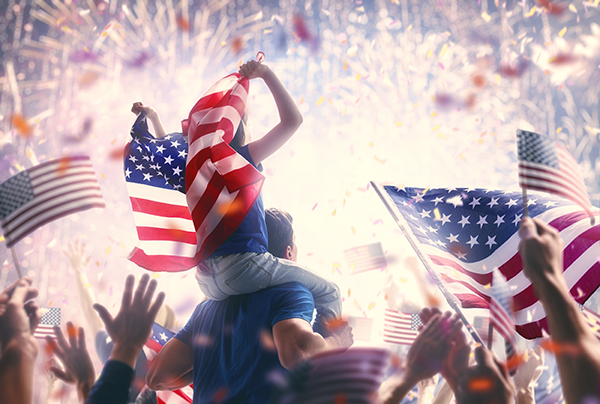 July 1, 2019 | Abby Caviness
With the 4th of July quickly approaching, many individuals and families are out gearing up for the celebration with hotdogs, hamburgers, and—most importantly—fireworks. Everyone knows the 4th of July is not complete without a cookout and a colorful light show to top it all off. However, families must not forget to take precautions to ensure everyone stays safe. So, USHEALTH Group®  is providing some 4th of July safety tips to keep yourself, your family, and your friends out of harm's way.*
Safe Cookouts
Before the sun sets and the fireworks start flying, families and friends often gather together on the 4th of July for some good food fresh off the grill. However, children running around paired with the hot coals and sharp grilling tools can be a disaster waiting to happen. Therefore, it is important to always make sure you are prepared during these special occasions to ensure no one gets hurt. So, we have provided a few of those tips below to help you protect yourself, your family, and your friends from any hazards this holiday. For example, grilling fires can be prevented by:1
Keeping the grill away from your home and deck railings
Opening your gas grill before lighting
Periodically removing grease or fat in trays below your gas or propane grill
Similarly, injuries can be prevented by:
Declaring a three-foot "kid and pet-free zone" around the grill1
Avoiding loose clothing while grilling1
Using sunscreen to protect your skin while outside grilling in the sun2
Safe Fireworks
While it should be obvious that fireworks are dangerous, many people do not take the necessary steps to protect themselves and their families. For example, there are steps for disposing of fireworks, so they do not reignite in your kitchen trashcan. According to USA.gov, 250 people go to the emergency room each day leading up to the 4th of July.3 Therefore, fireworks pose serious risks if you, your friends, or your family members are not careful. So, how can everyone stay safe?
Safe Ignition
The first step for safe fireworks is not just to light the fuse—it starts when you buy the fireworks. The following are steps you should follow when considering buying fireworks and how to stay safe once the fuse begins to burn.3
Make sure fireworks are legal in your area
Never let young children play with or set off fireworks
Do not carry fireworks in your pocket or shoot them off in metal or glass containers
Never place any part of your body directly over a firework while lighting the fuse
Back up a safe distance immediately after lighting fireworks
Keep a bucket of water or garden hose handy in case of fire
Never re-light or immediately pick up fireworks that have not ignited fully
Safe Disposal
Once all the fireworks have been lit, many people view this stage as they end of their safety duties. However, half the work of being safe using fireworks is making sure you have disposed of them properly to avoid delayed firing. If you are unfamiliar with proper disposal techniques, we listed a few tips below.3
Fully submerge used fireworks in a large bucket of water until fully saturated
Double wrap the soaked fireworks in plastic wrap so they do not dry out
Place double-bagged fireworks in the household trash or deliver to local solid waste facility
Ask your local fire department or solid waste facility for additional disposal options
Takeaway
The 4th of July is an American holiday made for the whole family. The good food paired with pyrotechnic entertainment makes for the perfect celebration. However, the party can get a little too "lit" if you do not practice being safe while grilling and setting off fireworks. So, protect yourself, your family, and your friends by taking all the steps necessary to keep the party fun and hazard-proof!
*This material is provided by USHEALTH Group for informational/educational purposes only and should not replace medical/clinical advice or direction from your health care provider.
Federal Emergency Management Agency, "Ten Safety Tips for this 4th of July," Federal Emergency Management Agency, FEMA.gov, published June 30, 2016, https://www.fema.gov/news-release/2016/06/30/ten-safety-tips-4th-july#
Mohney, Gillian, "How to Avoid the Health Hazards of the July Fourth Holiday," Healthline.com, published June 30, 2017, https://www.healthline.com/health-news/avoid-health-hazards-of-july-fourth#1
USA.gov, "USAGov's Fireworks Safety Tips for the Fourth of July," USA.gov, published June 18, 2018, https://www.usa.gov/features/usagov-s-fireworks-safety-tips-for-the-fourth-of-july