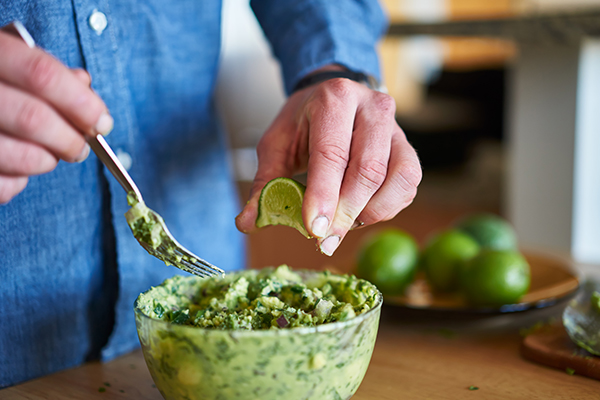 Odds are, you were not aware guacamole had its own holiday. To be honest, we have never heard of it either but, hey, we are not complaining! Guacamole, when made with fresh ingredients, can be a delicious and healthy snack because avocados are amazingly nutritious. The health benefits of avocado are plentiful, and USHEALTH Group® wants to tell you just how great they are and how you can incorporate them into your meals for an added health kick!*
Health Benefits of Avocado
The avocado has so many health benefits, one could fittingly refer to it is a "power fruit." (Yes, avocados are fruits). In fact, there are 12 scientifically proven health benefits of avocados, which are listed below.2
Avocados are:
Amazingly nutritious
Home to more potassium than bananas
Loaded with heart-healthy monounsaturated fatty acids
Loaded with fiber
Able to help lower cholesterol and triglyceride levels
Connected to people who tend to be healthier
High in healthy fats, which may help you absorb nutrients from plant foods
Loaded with antioxidants that can protect your eyes
Able to relieve symptoms of arthritis with their extract
Linked to weight loss
Linked with the prevention of osteoporosis2
Antimicrobial, meaning they can fight food poisoning2
According to the USDA National Nutrient Database, one-fifth of an avocado (a single serving) contains:2
64 calories
Nearly six grams of fat
3.4 grams of carbohydrate
Less than a gram of sugar
Nearly three grams of fiber
They also are great sources of vitamins C, E, K, and B-6, as well as potassium, pantothenic acid, magnesium, folate, riboflavin, and niacin.2 Many of the calories in avocados come from fat, but these fats are healthy and beneficial for your health, so you feel full and satisfied by your meal.2 So, while "fat" does not sound like a good thing to you, fat is actually essential for every cell in your body. In addition, eating fat is vital for skin health, absorption of fat-soluble vitamins, minerals, and even boosting the immune system.2
These benefits are enough to convince us that avocados are worth incorporating into a healthy diet—are you convinced? Regardless, avocados would be the perfect addition to your meals and if you are not sure how exactly to use them, we have you covered!
Risks of Avocados
Thankfully, avocados have more benefits than they do risks. In fact, we only have two concerns to report, and one of those is not directly related to avocados. (Firstly, some individuals with latex allergies have experienced symptoms after eating avocado.) So, it is important to talk to your doctor before adding avocado to your diet if you have had previous issues with latex.3
Secondly, as with any healthy food, you cannot solely rely on eating avocados as the key to being healthy.2 Instead, try to incorporate a variety of healthy foods in your diet—like eggs, chia seeds, and an array of vegetables, unless otherwise advised by a physician. A word of caution: Individuals who take blood thinners should first consult their physicians prior to adding a food containing vitamin K to their diet, as vitamin K can affect blood clotting.2
22 Ways to Eat Avocados
Another great thing about avocados is the never-ending list of ways you can prepare them. In fact, there is a recipe for every meal of the day, even dessert!
So, here are 22 examples of ways to eat and prepare avocados:4
Seasoned with salt and pepper
Stuffed
In scrambled eggs
On toast
In guacamole (of course)
As a substitute for mayonnaise
In salads
In soups
As a substitute for sour cream
In sushi
Grilled
Pickled
As fries
As a topping
In smoothies
As an ice cream
In salad dressing
Inside desserts
In bread
Inside hummus
In pasta sauces
Inside pancakes
In short, avocados can be used in every dish imaginable—this list just scratches the surface. There are so many ways to reap the health benefits of avocado. In fact, if you have a favorite healthy dish, you can likely incorporate avocados in some way. If you do not have a dish in mind and need some inspiration, we have you covered!
Healthy Avocado
Recipes
Aside from the obvious guacamole (like this chunky guacamole recipe from BBC Good Food), there are endless avocado recipes you may want to consider. For example, try one of these:
The great thing about this recipe is that you can make changes to it based on your own personal taste. For example, this recipe uses quinoa as a base, avocado, and eggs for protein, and roasted sweet potatoes for bulk. However, if you want to swap out one of the ingredients that you are not fond of, you can! Additionally, you can use this recipe to meal prep for the week—just remember to add the avocado the morning of so it stays fresh.
While this recipe is not complicated or fancy, it is delicious, healthy, and fast—sometimes that is exactly what we need. Also, like the breakfast bowls, you can make this salad what you want it to be. Additionally, if you like vegetables on your salad, feel free to throw them in. Remember, healthy food does not have to taste bad, and making your meals taste good to you will ensure you stick to your plan.
This recipe highlights one of the most unexpected ways you can use avocados: in dessert! This chocolate avocado recipe enlists the power of dark chocolate, maple syrup, cocoa powder, and vanilla extract to turn the green fruit into a sweet and creamy treat. Also, for all those out there with lactose intolerance, this recipe is dairy-free. In other words, how could you possibly resist? So, indulge yourself with this quick dessert that is sure to satisfy your chocolate cravings.
Takeaway
Avocados are full of vitamins and nutrients essential to the health of many of your body's functions, so why not give them a spin? In fact, try out one of our suggested recipes to start, and you might not be able to stop. Then, you will be "guac 'n' rolling" to a healthier life!
*This
material is provided by USHEALTH Group for informational/educational purposes
only and should not replace medical/clinical advice or direction from your
health care provider.