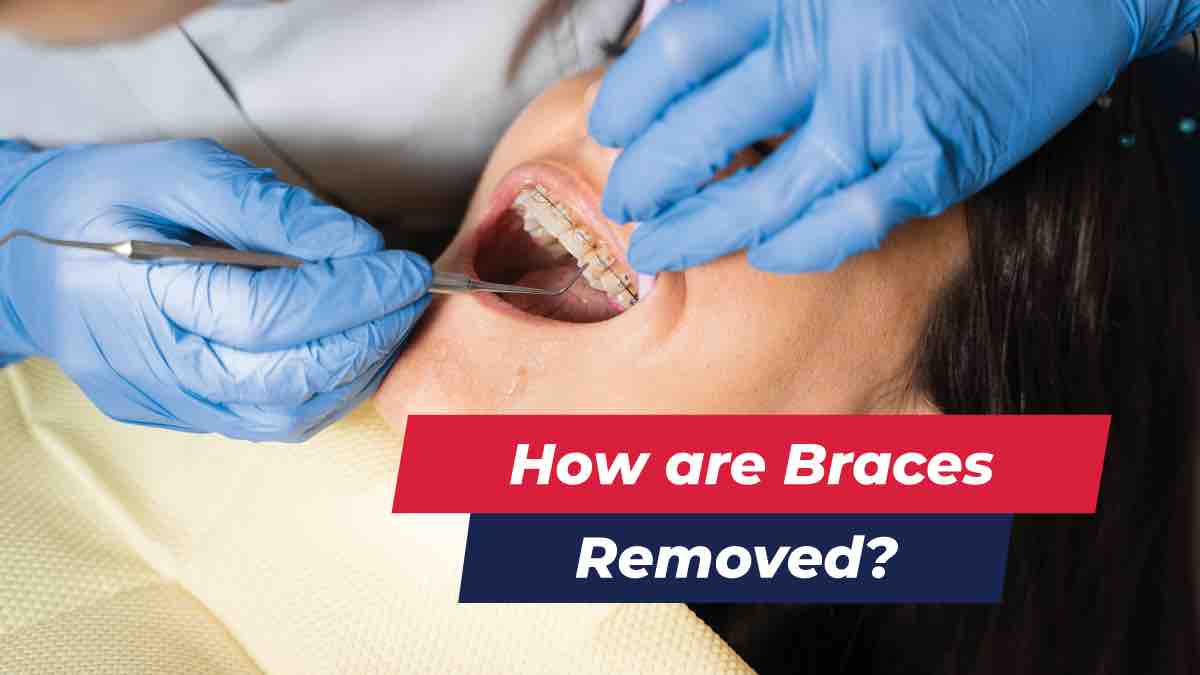 Braces are a common orthodontic treatment that many people must endure at some point in their oral health care. Over time, the metal and wire braces will move your teeth into a more straight and better-aligned position for your face shape and jaw size. When it's all said and done, getting your braces removed is a great feeling. 
Before diving into tips on taking care of your new smile, it's essential to address a few commonly asked questions about the cost of getting braces removed and what the process may look like. 
How Much Does Braces Removal Cost?
Orthodontia can be quite an expensive process, especially if you don't have dental insurance or your insurance doesn't cover all the associated costs. 
The good news? If you've been able to make it this far, then all that's left is the removal process! From there, it will be up to you to take proper care of your new smile. 
The cost of getting braces removed will depend on the type of braces you have and how many teeth need to be moved. However, a removal appointment can cost anywhere from under $100 to a few hundred dollars depending on your insurance coverage. 
Some dental offices might offer payment plans or other discounts for those who qualify.
What Does Your Final Orthodontist Visit Entail?
Throughout your orthodontic journey, your visit likely included a simple band change every month or so or may have included the addition or removal of certain brackets as they were needed. Now that it's time to get your braces off, your final visit with your orthodontist is going to look a little different.
The first thing your orthodontist will do is take x-rays of the teeth and jaw to make sure that everything has moved into its correct position. 
If something isn't lined up correctly, they'll likely have you come back in for a minor adjustment or treatment before completely removing your braces. 
At some point during your final visit, your orthodontist may want you to bite down on an impression material tray so that they can get a better idea of how much space was created by wearing braces for all these years. He might also want to take a look at the shape of your face and jaw. 
The last thing your orthodontist will want to do before taking off your braces is to make sure that you know how to care for your teeth at home after getting them removed.
How Long Does It Take to Get Your Braces Off?
A single appointment should be enough time for your orthodontist to remove the brackets and wires. It can vary from each person, but typically you will have between 30 minutes to two hours in total with the orthodontist. 
Getting Your Braces Removed: A Step-by-Step Guide
If your images come back okay and your orthodontist thinks everything is good to go, then it's time to start the process of getting your braces removed.
Step One: Exam and Walkthrough 
The first step in getting your braces removed will be a thorough examination (if your orthodontist hasn't already completed one up until this point.) They have likely already taken some images and deemed your alignment to be good to go. So, now they'll take a few minutes to examine the teeth and gums up close so the orthodontist can look at what is going on below the gum line.
Step Two: Band, Wire, and Bracket Removal
Once everything has been checked out, there are three ways of removing brackets from wires:
Pliers/Wire Cutters:

This is the most common method of bracket removal as your orthodontist will need to remove any bands from your brackets and then remove the wire used to align the teeth. Your orthodontist will likely use a pair of pliers or wire cutters. The orthodontist will then take the object in their hand and grasp it on one side of the bracket while applying pressure on it with both hands until it breaks off at the gum line.

Rubber Bands:

This method involves your orthodontist placing an elastic band around a single bracket and then pulling back steadily but not too hard. This should break any remaining bands holding the teeth together and help loosen (if not break) the bond between the bracket and the tooth. 

Cotton rolls

: This is a personal preference for some people who don't like using elastics or pliers/wire cutters as it's less intrusive and slower than other extraction methods. That's because you'll need to apply pressure with cotton balls (or something similar) to get rid of all brackets without damaging tooth enamel.
At this point, all bands, wires, and brackets will have been completely removed from each of your teeth. However, you may still feel some rough spots where the brackets once were. That's because there may still be some leftover cement/adhesive remaining on the tooth's enamel. 
Step Three: Orthodontist Removes Cement/Adhesive 
If you're still experiencing that annoying roughness, your orthodontist may need to use a drill to remove any leftover cement/adhesive. 
Some orthodontists choose to leave some of the remaining adhesives so they don't get too near the enamel with the drill. However, if it's bothering you, never try to remove the adhesive yourself, as you could cause significant damage to the tooth. Instead, reach out to your orthodontist and have them handle it for you.  
Step Four: Fitting for Your Retainer
Now that your braces are off, it's essential to start thinking about how you'll be able to maintain the straight teeth and bite alignment you've just achieved. 
That means getting fitted for a retainer as soon as possible, so all of those hard-earned changes don't go down the drain. Once your wires and brackets are removed, your teeth will begin to move as they wish, and over time, it could result in the loss of your newly aligned smile. This is why most orthodontists will fit you for your retainer as soon as your braces are removed.  
It typically takes a few appointments with your orthodontist to get fitted for the best possible retainer. If the first one doesn't fit ideally, your orthodontist will take new molds and make sure the necessary adjustments are made.
Once you receive your new retainer, you'll need to wear it as instructed. This means wearing your retainer all the time, except when you're sleeping or eating, unless otherwise instructed. In some cases, you may simply need to wear them at night while you sleep. 
Step Five: Showing Off Your New Smile
Once you're all set up and ready, it's time to show off that smile! Again, don't forget to keep brushing and flossing every day. You deserve the brightest white smile ever after all this work you've put in!
Caring for Your Teeth After Getting Braces Removed
Aside from wearing your retainer as instructed, you'll want to make sure you correctly take care of your new teeth to ensure they remain healthy. Depending on your teeth, you may struggle with tooth sensitivity or feeling like food is getting caught between them. It's important to brush and floss regularly so that no plaque builds up, leading to cavities forming in the future.
Remember to:
Brush at least twice a day (morning and night) 

Floss before bedtime 

Use proper brushing techniques – this includes using an angled head as well as moving in circular motions when scrubbing from the top of the tongue toward the back teeth

Instead of hard-bristled brushes, use soft nylon ones, which are easier on sensitive gums 

No straws! Straws can be harder than necessary on new teeth. So simply take small sips instead.

Drink lots of water – not only is it good for your overall health, but it also helps keep teeth clean and healthy 

Eat a balanced diet – no sweets unless you brush afterward. Sugary foods can lead to tooth decay.
Once your braces are gone, you may notice some yellowing where your brackets once were. If that dampens your smile, you may want to inquire with your dentist or orthodontist about having your teeth professionally whitened.
If you're thinking of getting your teeth whitened, you may need to wait a few weeks after your teeth have had a chance to adjust to life after braces. If you do it too soon, they may be too sensitive, and you could end up in quite a bit of pain. You should also seek professional whitening over DIY whitening kits because they're less likely to be harmful.                                                                                                                                               
Getting Braces Removed: FAQ
Still have questions about getting your braces removed, what to expect, or your necessary aftercare? Here are some of the most frequently asked questions answered for your convenience:
How Long Do You Have to Wear Braces Before Getting Them Removed?
It can take anywhere from a few months to a year. This is determined by how fast the teeth are moving and how long they have been impacted. The average time it takes for braces removal is about one year, with some people taking up to two years before their teeth move enough.
How Long Does It Take to Get Your Braces Off?
During your final appointment to have your braces removed, you may spend anywhere between 30 minutes to two hours getting your braces removed. 
Does It Hurt When You Get Braces Off?
The removal of braces may hurt a little. This is because brackets are removed from the back teeth, and the wire that has been protruding for years will have to be pulled out gently, so there isn't any pain. You can also ask your dental technician to give you some type of numbing medication to help reduce any pain or sensitivity. 
Can Another Dentist Remove Your Braces?
While in most cases, your orthodontist will be able to remove your braces for you, should you need to see someone else, it may be recommended that you see an oral surgeon. This person has more in-depth training on how to remove your braces safely. 
Can You Remove Braces Yourself?
While brackets may break by accident, you should never remove your own braces.  Doing so can lead to a lot of pain and complications such as infection.
How Long Will Your Teeth Hurt After Getting Braces Off?
After getting braces off, it is common to experience some pain and sensitivity for the first few days. This can be helped by using an ice pack on your face where you feel any discomfort.
Itchiness may also occur soon after getting braces taken off as the gums are exposed, which can be treated with an ice pack.
Once the discomfort and pain have subsided, your teeth should no longer hurt. If they continue to be sensitive or it feels like something is sticking in them, you may have a tooth that was not properly prepared for braces removal.
Will My Teeth Be Yellow After Braces?
If you took appropriate care of your teeth while wearing your braces, then chances are no, they won't. However, if you had "a few bad days" or your oral hygiene simply wasn't up to par, then you will likely have some yellowing once you have your braces removed. 
Do Dentists Whiten Teeth After Braces?
Yes – some orthodontists and dentists will offer to whiten your teeth once your braces have been removed. Just remember, if your teeth are sensitive after the removal process, you may want to allow your teeth some time to heal and adjust before whitening them. 
Take Proper Care of Your New Smile
Having undergone an extensive orthodontic treatment should make you feel proud. The smile that you've worked so hard for should be celebrated and properly cared for. If you don't, then all that hard work can quickly revert. 
So, listen to your oral health team, wear your retainer as instructed, and keep up with your regular oral hygiene practices and visits to maintain your new beautiful smile for years to come.
USHA-WB4-0621