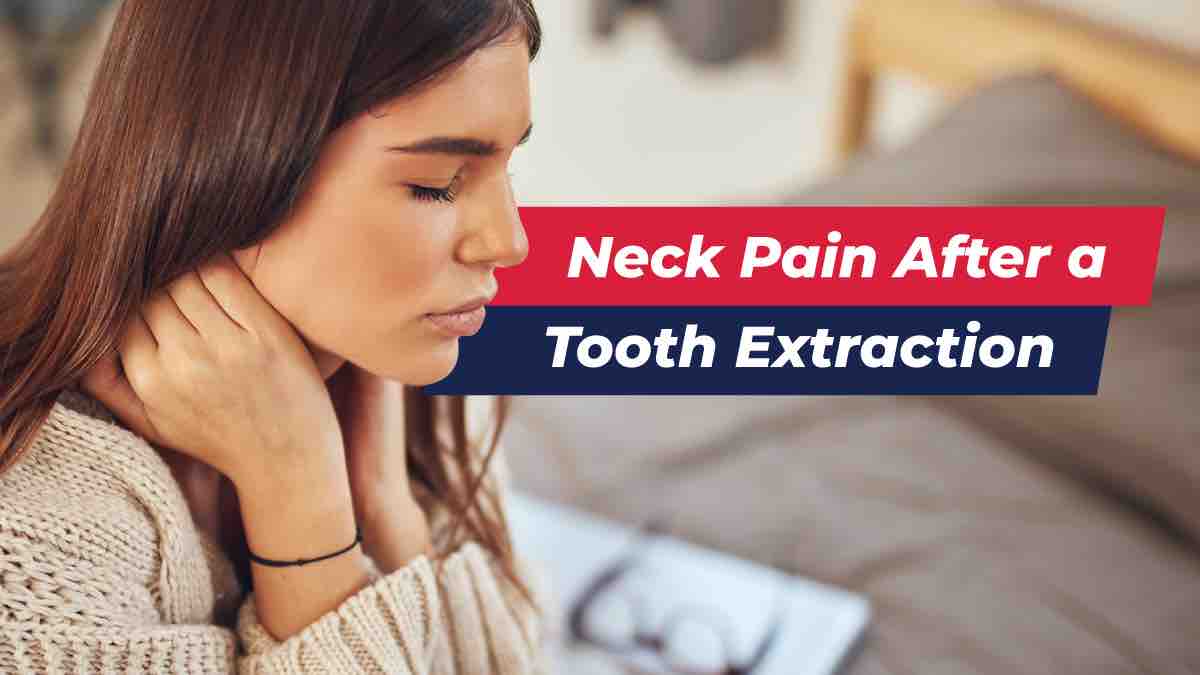 Neck pain after a tooth extraction is a common experience and can be both frustrating and uncomfortable. The first few days following tooth extraction are critical for quick and healthy recovery. While every individual has different pain tolerance levels, pain following extraction can usually be addressed by keeping the head elevated, avoiding excessive bending or turning of the neck, and taking ibuprofen (or acetaminophen) as needed. 
However, before you reach for over-the-counter pain medications, it's vital to understand what could be causing your pain, especially if it surfaced a day or more after the procedure.
What is a Tooth Extraction, and Why Might You Need It?
Tooth extraction, also known as dental exodontia or endodontic therapy, refers to removing a tooth (or multiple teeth) from the mouth with minimal trauma to the surrounding tissue. Tooth extractions are typically performed for various purposes, including: 
Relieving pain caused by an impacted tooth

Dealing with problems associated with wisdom teeth

Creating space for orthodontics and dentures 

Treating severe

gum disease

around the teeth or a bad (decaying) tooth
If you are experiencing neck pain and have a bad tooth or cavity on the same side as your neck pain, your jaw nerves could be inflamed due to the infected/decaying tooth or gingivitis.
Common Causes of Neck Pain After Tooth Extractions
A little neck pain after a tooth extraction is perfectly normal and should subside within two or three days. However, if the pain lingers on or appears a few days after the extraction, you may need to reach out to your oral surgeon to ensure nothing is wrong.
Sore Throat: Hours or Days Post-Extraction
If you have a sore throat, it's likely due to the extraction site. Mouth tissue can become inflamed soon after extraction. This is because there are more white blood cells in the mouth than anywhere else in your body.  
If you experience a sore throat after a tooth extraction, your neck pain will usually be less severe. The best way to relieve this is by gargling with warm salt water or taking over-the-counter fever reducer medication, like acetaminophen (Tylenol) or ibuprofen (Advil). However, don't take aspirin because it can cause bleeding at the site of surgery.
Swollen Lymph Nodes: Weeks Post-Extraction
A swollen neck might be caused by lymph node inflammation. This is typically caused by an infection of the lymph nodes and surrounding glands, causing excessive swelling of the glands around your ear. The pain and swelling are caused by inflammation in your body's defense system, called an immune response. If not treated promptly, then your glands can start to push on the nerves surrounding your jaw. 
This nerve compression can then cause inflammation at the base of your skull, resulting in a headache as well as neck pain. The headaches typically come about four days later than their corresponding neck pain after tooth extraction symptoms begin. Still, they are often worse because they're near more sensitive areas such as your sinuses and eyes. 
Deep Neck Infection: Days to Weeks Post-Extraction
Another reason you may be experiencing neck pain following a tooth extraction could be the development of a deep neck infection. These infections are severe and should be addressed right away by a medical professional. They often occur when there's been trauma to the area, such as a tooth extraction. 
If you experience the above symptoms following your procedure, something may have gone wrong, and you should contact your doctor immediately. This doesn't always mean surgery, but it might lead to severe complications down the line if left untreated.
Dry Sockets: Weeks to Months Post-Extraction
A dry socket is a condition that happens all too often post-tooth extraction. This occurs when the blood clot at the site of the extraction either fails to develop, dissolves before the wound has had adequate time to heal, or is otherwise dislodged from the site. 
When this happens, your underlying bone and nerve endings become exposed and can result in intense pain that radiates through your jaw and often down your neck.
3 Tips for Post-Tooth Extraction Recovery 
You can do many things to help prevent neck pain after tooth extraction and ensure that your surgery site heals properly.
1. Stay Hydrated
This is one of the most essential recovery steps you'll need to take. 
Staying hydrated helps to promote blood circulation, which will increase healing time for your neck. It also keeps mucous membranes in the throat and esophagus moist, so there's less chance for a deep neck infection. 
You'll want to make sure you are drinking at least eight ounces of water every four hours to stay adequately hydrated. It can be difficult to swallow while your throat is still sore, so try drinking water in small sips. Some people find that they can feel a sense of relief after taking just one sip of cold water.
If you don't want to drink plain old H20, consider other options such as tea (with or without honey), sugar-free beverages like Crystal Light®, and fruit juice diluted with water.
2. Practice Proper Hygiene
This includes washing your hands regularly and not touching your face. If you don't practice proper hygiene, you run a high risk of introducing harmful bacteria or viruses to the extraction site, leading to a serious infection. 
Additionally, while you may want to return to your usual oral hygiene routine after a tooth extraction, it's essential to make some minor changes to avoid complications as your surgery site heals, including:
Brushing your teeth gently (especially if you're usually a rough brusher)

Rinsing with warm salt water to help reduce swelling and pain

Avoiding the use of mouthwash containing alcohol

If you wear dentures, take them out before bed so the contact surface can heal properly

Refrain from smoking or chewing gum as this will cause more bleeding at the surgery site and increase the risk of infection. 
3. Educate Yourself on Signs of Infection
While some level of pain is expected during your post-extraction recovery, you need to be able to distinguish between what is considered "normal" and what could be a sign of infection. 
If you're experiencing any of the following symptoms, be sure to visit your dentist: 
White or yellow pus from the surgery site

Foul-smelling drainage

Increased pain in the neck while swallowing 

Redness and swelling at the extraction site

Fever 

Persistent lethargy

Difficulty swallowing

Ear pain/drainage

Hoarseness
If you aren't experiencing any of these symptoms but still feel something isn't right, or you're experiencing more jaw or neck pain than what you think is normal, reach out to your oral surgeon and schedule a follow-up to see if anything went awry.
How to Prevent Neck Pain After a Tooth Extraction
It is possible to take steps before and after the extraction procedure to minimize neck pain. 
Before your surgery, you want to make sure you are taking adequate care of your teeth. This will help lessen the chances of infection and neck pain as there won't be large buildups of bacteria in your mouth. 
After your extraction, you can prevent neck pain by making a few lifestyle changes. These may include:
Continuing to brush and floss your teeth regularly

Avoid lying down flat on your back, especially when healing from an infection

Take ibuprofen as recommended by your dentist

Avoid chewing excessively on one side or the other post-surgery, as this will increase swelling and pressure in your jaw and neck 

Get lots of rest and be sure to elevate your head and neck so they are not level with but higher than your heart
With the Right Precautions, You Can Prevent Neck Pain After a Tooth Extraction
Tooth extractions can be necessary for many reasons, such as infection or decay. In some cases, teeth may need to be removed because they've been chipped or otherwise damaged in an accident. 
Whatever the reason, you want to talk with your oral surgeon about all your post-recovery needs to ensure you don't suffer too much neck pain after the tooth extraction. By knowing what to watch out for, you'll be able to put your mind at ease once you return home from your procedure. And of course, should something seem out of place, your medical team is but a phone call away.
USHA-WB3-0621