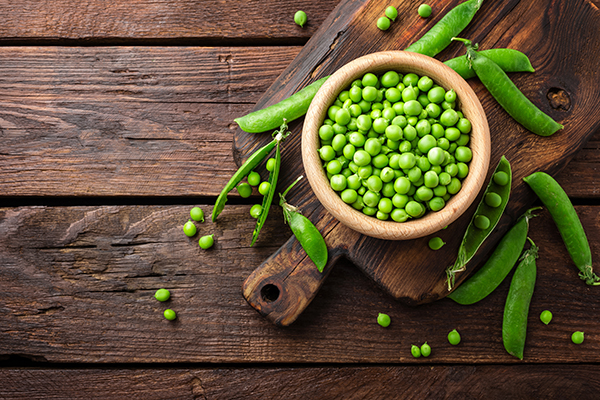 Green peas may not be your favorite vegetable, but USHEALTH Group® wants you to know they do serve a purpose. No, we are not referring to the frozen bag of peas you occasionally use as an ice pack. According to Healthline, green peas are one of the best plant-based sources of protein.1 So, as much as you may not like them, they are worth adding to your diet for the extra benefits.*
Health Benefits of Green Peas
Along with protein, green peas boast high amounts of fiber, so they also slow digestion and promote feelings of fullness. Because of this, you can control your appetite and avoid eating excessively throughout the day.1
Though some may not think green peas are very delicious, there are several ways to make them bearable. So, give peas a chance and try some of these recipes—then you can decide if you really do hate peas.
I cannot stress enough how easy this meal is. As long as you have three cups of leftover rice, the process takes only 15 minutes. Then, you have a delicious meal ready to feed four people. So, if you like meal prepping, this recipe works for cooking ahead and stores in the fridge for 3-4 days. The best part: you will barely notice the peas. If you are looking for a downside, there is not one.
If you have an aversion to chicken pot pie, this recipe may not be for you. However, if you already love it, these muffin-sized versions of this classic are a fun way to mix it up. So, try varying the size of muffin tin you use, and you can make pot pies of any size. Therefore, they are perfect for packing your lunch and easy to reheat in the microwave.
Peas are easy to incorporate into your own recipe, or you can follow this recipe from Real Simple. In addition, all the fresh ingredients in this dish make it an all-around healthy meal. Then, add peas and you pack a protein punch sure to energize you and help you power through the day.
If you enjoy packing sandwiches for your lunch each day, this recipe may do the trick! In fact, add the smashed peas to your favorite sandwich recipe and see what you get. Afterward, you may be surprised at how delicious this quick addition is to your typical sandwich.
Let's say you already love peas—lucky you! In fact, this bacon and pea salad is pretty much all peas. So, the mix of flavors from the peas, bacon, ranch and cheese should fulfill your "sweet and savory" craving. This dish is also incredibly easy to make as you just have to mix all the ingredients together and voilà!
This recipe takes the current cauliflower trend and builds on it to add the benefits of green peas. Furthermore, people who are vegan or lactose intolerant should enjoy this dish as it uses coconut milk and only vegetables. In fact, serving this dish over rice gives you a delicious, filling and satisfying meal.
Takeaway
Peas do not have to be avoided. Besides, if you pair them with things you enjoy eating, you will barely notice they are there. This way, you are benefitting from the protein and fiber found in peas but not suffering through the taste. It really is a win-win.
*This material is provided by USHEALTH Group® for informational/educational purposes only and should not replace medical/clinical advice or direction from your health care provider.
1. Elliott, Brianna, "Why Green Peas are Healthy and Nutritious," Healthline.com, published February 24, 2017, https://www.healthline.com/nutrition/green-peas-are-healthy#section3
2. Kim, Judy, "Easy Fried Rice," Delish.com, published February 9, 2017, https://www.delish.com/cooking/recipe-ideas/recipes/a51448/easy-fried-rice-recipe/
3. Abraham, Lena, "Chicken Pot Pie Cups," Delish.com, published February 23, 2018, https://www.delish.com/cooking/recipe-ideas/recipes/a58360/chicken-pot-pie-cups-recipe/
4. Perry, Dawn, "Chicken and Rice With Peas," RealSimple.com, published October 2012, https://www.realsimple.com/food-recipes/browse-all-recipes/chicken-rice-peas
5. Hunt, Lindsay, "Turkey, Smashed Peas, and Pesto Sandwich," RealSimple.com, published September 2013, https://www.realsimple.com/food-recipes/browse-all-recipes/turkey-peas-pesto-sandwich
6. Taste of Home, "Bacon Pea Salad," TasteofHome.com, published June 2017, https://www.tasteofhome.com/recipes/bacon-pea-salad/
7. Simple and Delicious, "Garbanzo-Vegetable Green Curry," TasteofHome.com, published October 2013, https://www.tasteofhome.com/recipes/garbanzo-vegetable-green-curry