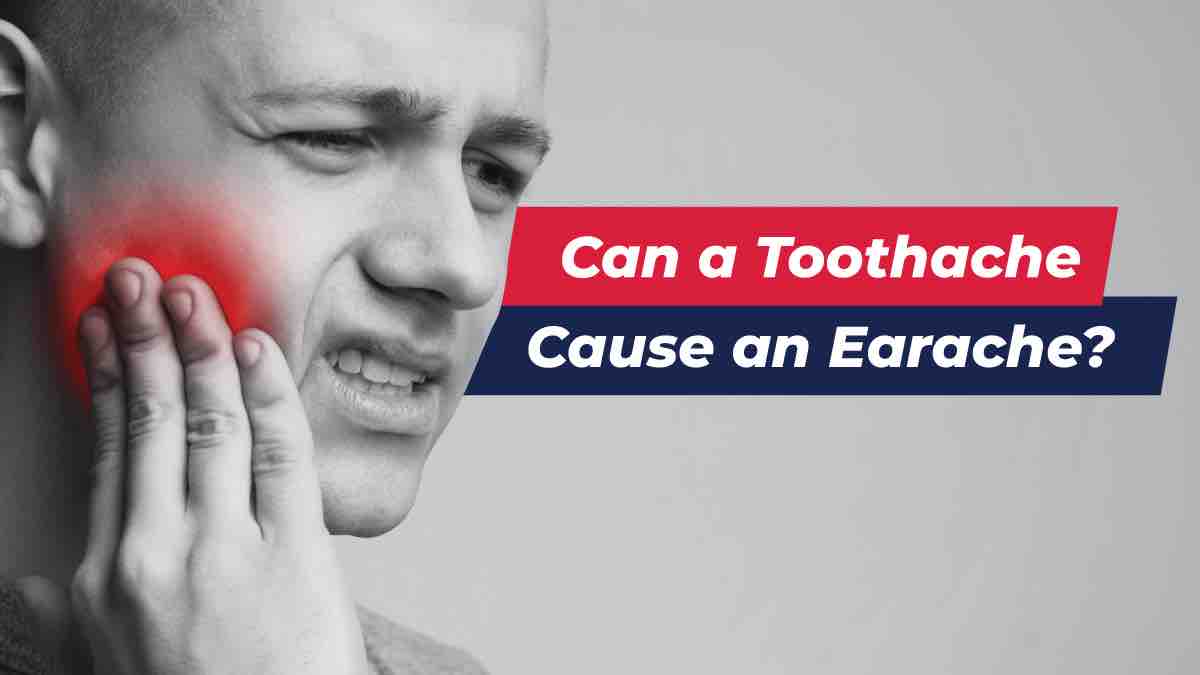 The short answer is yes – a toothache can cause an earache. 
Often, this is due to the close proximity of the jaw joint, known as the temporomandibular joint (TMJ), to the ear. When a tooth has decayed or is infected, the problem with the tooth can radiate from the jaw and be felt in the ear.
Conversely, a toothache can be the sign of an earache. In this case, cold and flu symptoms will likely be present as well. There are various causes and symptoms associated with each case. These will be discussed more thoroughly below. 
The most pressing concern for many will be how to alleviate this pain, regardless of its source. Until a medical or dental professional can be seen, there are a number of home remedies that can be used to provide relief from jaw, tooth, and ear pain.
While 40% of annual costs for chronic pain are due to orofacial problems, research has shown that roughly half of those experiencing tooth pain do not seek treatment – and only 33% of those who did not seek treatment cited financial reasons.  
Yet, dental pain has been shown to have a massive effect on a person's ability to function, interfering with sleep, mood, eating, work, and social life. 
The following will explain why a toothache may be the cause of ear or jaw pain, how to differentiate between a toothache and an earache, and the symptoms, causes, and home remedies for each. 
Why Can an Ear Hurt from a Toothache?
Jaw, tooth, and ear pain is part of the trigeminal system. In short, this system is a three-pronged sensory nerve that encapsulates the head and face, providing sensory input for touch, pain, and temperature. 
The largest nerve system in the body, the trigeminal system is responsible for sensation in several structures in the body, including the ears, eyes, nose, mouth and meninges. Researchers note that the fear and angst associated with orofacial pain from this specific nerve is likely a cause of dentist phobia. 
Inversely, a toothache may accompany an ear or sinus infection because of the proximity of teeth to sinuses. The back top teeth are located right below the sinuses. When those sinus cavities become infected or inflamed, the pressure can radiate pain within the mouth. 
How to Differentiate a Toothache from an Earache
Inevitably, there is crossover between the symptoms of a toothache and those from an earache. However, there are some defining differences between pain from a tooth or the jaw and pain caused by an earache or sinus blockage:
Headaches suggest a toothache.

While not a guarantee, tooth and ear pain alongside a headache generally indicates a tooth problem, likely a cavity or other tooth decay.

Cold or flu symptoms suggest sinus infection.

Ear and tooth pain alongside symptoms thought to be from a cold or the flu could be signs of a sinus infection or an earache.

Consider past history.

Those who have chronic ear infections are more likely to be dealing with an ear infection. Likewise, those who have experienced toothaches as the result of dental work, decay, or infection should

contact their dentist

. 
Common Symptoms of a Toothache
Additionally, a toothache may have any of the following symptoms:
Pain, generally aching, after consuming food or a cold or hot drink

Bad breath (halitosis)

Local pain inside or around the tooth

Fever

Earache

Swollen glands
If any of these symptoms accompany a toothache for more than a day or two, a dentist appointment should be made.
Common Causes of a Toothache
There are many potential causes of a toothache, including:
Infection

Sinus Infection

Gum Disease

Wear from teeth grinding

Dental Work
Ultimately, a dentist will need to determine the cause and provide a plan of action.
Can a Toothache Cause a Sore Throat?
A toothache and sore throat, accompanied by other cold or flu symptoms, is likely an earache or sinus infection.
However, when cold and flu symptoms are not otherwise present, a toothache and sore throat may be an indication of:
Impacted wisdom teeth

Tooth infection
In either case, it is recommended to see a dentist as soon as possible. A toothache that is causing a sore throat is the sign of bacterial growth, often due to poor dental hygiene, a high-sugar diet, or dry mouth due to age or medication. 
When Dental Pain is Trigeminal Neuralgia
If someone is experiencing chronic pain in their teeth or face that is described as a sharp, shooting pain, the problem may not be dental at all. Trigeminal Neuralgia (TN) occurs when the trigeminal nerve is compressed. Because this pain is often felt in the teeth, jaw, and face, it is often misdiagnosed as a dental issue. 
Pain that is triggered by chewing or swallowing, talking, head movement, vibrations, or a cool breeze could indicate trigeminal neuralgia (TN). Described as a monotonous pain with bouts of electric shocks of pain, TN may worsen overtime. Medical treatment can help and should be sought. 
Common Symptoms of an Earache
Many of the symptoms of an earache mimic those of a toothache. However, there are some symptoms that stand out and help to determine whether a dentist or doctor needs to be consulted. Common symptoms of an earache are:
Pain around or inside the ear

Fever

Loss of appetite

Sinus issues

Difficulty balancing

Hearing problems

Trouble with sleeping
Common Causes of an Earache
The following are potential causes of an earache:
Infection

Fluid in eardrum

Injury or blockage

Cold or flu

Pain from jaw or tooth
While most earaches will heal on their own, it is important to see a doctor should any of the symptoms become severe enough to interrupt daily life or sleeping. 
Home Remedies to Relieve Jaw, Teeth, and Ear Pain
For minor toothaches, the following home remedies may alleviate pain. However, anyone experiencing persistent tooth, jaw, or ear pain should see a medical or dental professional. While waiting to be seen, many of the following suggestions may help:
Ethnomedicinal Plants.

This includes clove, bark of the mango plant, guava leaves, eucalyptus, and more. A 2015 study evaluated a number of

medicinal plants used by traditional healers

. See the study for specifics on the part of the plant used and how it is administered, and talk to a doctor or dentist before using these natural remedies. 

Ibuprofen and Acetaminophen.

Known as Advil and Tylenol respectively, over-the-counter pain medications are useful for minor pain. To alleviate more severe pain while waiting to see a dentist or doctor, alternate ibuprofen and acetaminophen for significant relief. 

Numbing Pastes and Gels (Benzocaine).

These types of products can be used to numb local tooth pain. For tooth pain that interferes with sleep, benzocaine is a commonly used solution. Read the label on the product and take notice of any warnings associated with its use. 

Ice Pack or Microwave Heating Pad.

Ice is generally recommended for toothaches. However, alternating between an ice pack and warm compress may be ideal for earaches. 
What is a Tooth Infection & Can It Spread?
When bacteria or pus forms inside the tooth or gum, a tooth infection, or tooth abscess, has started. Treatment should be sought immediately when symptoms are present. It's important to be aware of the symptoms because a tooth infection can spread to other parts of the body and become life-threatening. 
The following are common symptoms of a tooth infection. Anyone with the following symptoms should seek dental care as soon as possible:
Fever

Continuous and severe throbbing toothache which may radiate to jaw, ear, and neck.

Swollen lymph nodes under the jaw or neck

Swelling of the cheeks

Sensitivity to hot and cold food or beverages

Sensitivity to the pressure from chewing and biting
Symptoms of a Tooth Infection Spreading
The following are symptoms of a tooth infection spreading to the body. If any of the following symptoms are present, seek medical attention as soon as possible. If any of the following symptoms accompany a fever, seek medical attention immediately:
General feeling of unwellness: headache, fogginess, fatigue, dizziness

Fever, including flushing of the skin, sweating, chills

Swelling of the face to the point it impedes swallowing or breathing

Dehydration, including reduction in urination, darker urine, and confusion

Increase of heart rate

Increase of breathing rate 

Stomach pain, including vomiting or diarrhea
While rare, a tooth infection can spread to other parts of the body and become life-threatening. These symptoms should not be taken lightly. 
Tooth infections are generally preventable with good oral hygiene. However, a high-sugar diet, aging, and certain medications can increase the risk. 
When to Call the Dentist or Doctor
A toothache that persists for more than a day or two should be evaluated by a dentist. This is especially true when the toothache is accompanied by a fever, jaw or ear pain, or a sore throat. 
If the symptoms indicate an earache, a primary care physician will need to be visited instead. 
An emergency dental appointment should be made if a persistent toothache coincides with any of the following symptoms:
Fever

Difficulty breathing or swallowing

Red gums

Pain with chewing or swallowing
While most toothaches are minor, they should not be taken lightly. Any tooth or ear pain that does not resolve on its own should be evaluated by either a doctor or dentist. 
How to Stop a Toothache or Earache
Whether an earache is causing a toothache, or a toothache is causing an earache, pain is an indicator that something is not right. A primary care physician or dentist will be able to determine the problem. 
If the problem is with the ear or sinuses, antibiotics may be prescribed to treat either an ear infection or the flu causing the earache. 
Similarly, if the problem is with the teeth or jaw, a dentist will be able to determine if the source of the pain is from tooth decay, impacted teeth, a broken tooth, or something else entirely. 
Any pain, regardless of the source, should not be ignored. If tooth, jaw, or ear pain does not go away on its own within a couple days, treatment should be sought. 
Pain of the teeth, jaw, or ear can interfere significantly with the ability to function in daily life. According to a study published by the National Institutes of Health,
"Findings suggested that toothache sufferers were less likely to report impacts on daily functioning when compared to those who had backache and earache, which could be a reason for delaying dental care and its underutilization."
Delaying dental care will only extend the amount of time spent suffering with pain. Even when the pain is considered minor, a doctor or dentist should be seen if it does not subside.
USHA-WB7-0621